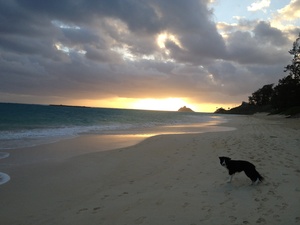 Pet/House Sitter needed for Hawaii home for 3 weeks
House Sitter wanted

June 3, 2014 and June 20, 2014

Animals & Pets that require sitting

Dog(s)

Suitable for families with children

No
Introduction
We are looking for an experienced, non-smoking pet and house sitter for approximately 3 weeks in June. We travel frequently and are looking for someone that we can depend on and trust with our dog.
The home is a work in progress/fixer-upper. It is not a show-room perfect home and many things are being worked out, torn down, fixed, and repaired. If you are ok with 2x4's holding up the stove top, read on!
What responsibilities are required of house sitter?
We don't need much - just the peace of mind knowing our dog is being looked after and our house is lived in!
--2 daily walks for our 11 year old Border Collie. One in the morning before 7am (it gets hot!) and one in the afternoon after 5pm. We are just a quarter mile from a park where we usually take her. She should remain on leash and the pet sitter should be aware of other dogs in the area that may be aggressive.
--Clean up of dog poop in the yard.
--Basic watering of the citrus trees and some plants in the front and back.
--Keep the home as tidy as you found it.
--Bring in the mail.
--Take trash bins to the curb once a week.
--We work from home so our dog is not used to being alone for more than 5-6 hours at a time so we would expect someone to be able to be here within that timeframe.
••••Couples are welcome, non-smoking only, prefer House sitter with experience and TrustedHousesitter references.
Features of the property and location
We are located in a residential area of Kailua, Oahu that has a walk score of 80. We are in walking distance to everything! We are around the corner from some great places to eat, less than half a mile from Whole Food's, coffee shops, juice places and lots and lots of shopping. We are half a mile direct to Kailua Beach. 1 mile to Kailua Beach park.

•High Speed Wifi available
•We do not have cable, but we do have a large LED TV hooked up to an Apple TV.
•Option to stay in our Airbnb unit for 2 days before we depart and up to 2 days after we return so you can get situated and not have to hurry in or out.
•Cal King Bed in bedroom that has air-conditioning in case it gets really, really hot.
•All-Clad cookware
•Blender
•Small Convection Oven/toaster
•NO COFFEE MAKER OR TEA POT
•Brand new washer/dryer
•Out door shower
•Keyless door locks so no need to worry about losing a key
•Cul-de-sac location
•Great neighborhood
•Walk to free community pool, beach, shopping, hiking