TrustedHousesitters charity partner, Battersea Dogs & Cats Home, relies on the generous support of thousands of volunteers to make the work they do caring for thousands of dogs and cats possible. Every year Battersea cares for over 7,000 dogs and cats, but none of this would be possible without an incredible army of volunteers. Last year 1,400 wonderful people gave up over 80,000 hours of their time to volunteer for the world-famous charity.

TrustedHousesitters decided that Battersea's volunteers deserved a big thank you for the work they do, and held a prize draw to offer one lucky winner a free weekend as a housesitter in a beautiful, rural farmhouse. The winner was Verity, a volunteer cat socialiser at Battersea's Old Windsor centre. Her charge was quite a lot larger than the cats she normally works with, in the shape of seven-year-old Ellie, a deerhound. Verity spent a long weekend taking Ellie for leisurely walks, exploring the local scenery and relaxing in a stunning farmhouse in Derbyshire.

Verity spoke to TrustedHousesitters about her experience…

Q: How long have you been volunteering at Battersea? Can you explain your role a little?

A: I've been volunteering at Battersea Dogs & Cats Home since I returned from living in Madrid in 2010. I love cats and dogs in equal measure so I was happy to work with either. While I was doing my volunteer training, I learned there was a shortage of Cat Socialisers at that time, so I ended up joining the cattery team. The role of Cat Socialiser varies enormously depending on the cat you're spending time with. Some cats are immensely sociable and just want a warm knee to sit on and lots of fuss. Others may be stressed, nervous or wary, so it might mean just sitting with them, chatting or reading, giving the reassurance of positive, non-threatening human interaction.

Q: How excited were you to win the TrustedHousesitters competition at Battersea, what were you looking forward to the most?

A: I was thrilled, and surprised, to win the TrustedHousesitters competition. I have to admit the website hadn't really crossed my radar, but when I started mentioning the prospective 'sit' to friends I realised everyone else seemed to be in the loop, and I got lots of positive feedback. Although I often sit my sister's whippet cross, and am known to dogs in the neighbourhood as the go-to person for biscuits, I had never spent time with a deerhound before and couldn't wait to meet Ellie. She proved to be the absolute icing on the cake of the experience - a lovely gentle, friendly soul.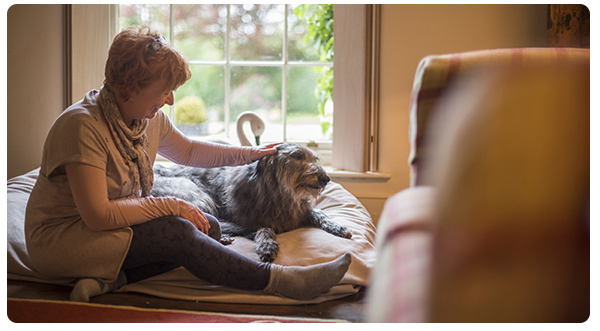 Q: How was your weekend away looking after Ellie? What kind of activities did you get up to?

A: Ellie came straight out to meet us in her gentle, friendly way and as far as I was concerned it was love at first sight. We also met with Ellie's owners Hazel and John. They were really friendly and before heading off talked us through everything we needed to know about Ellie and their home. Ellie lives in a beautiful 17th century farmhouse set amidst stunning countryside a short drive from the Peak District, so there was lots of see and do. We enjoyed gentle strolls in the local area and also took in a couple of stately homes, visiting the glorious Hardwick Hall, a National Trust favourite, and discovering Haddon Hall, renowned as the UK's 'most perfect house to survive from the Middle Ages.'

Q: Would you recommend TrustedHousesitters to your friends and family?

A: Yes, definitely. It is a win-win situation. Pets stay in the comfort and security of their own home while animal-loving sitters get to enjoy new places and experiences in a pleasant environment. As a cat owner myself, I'd much prefer to avoid placing my pet in a strange and potentially stressful environment while I'm away. TrustedHousesitters offers a fantastic alternative by providing the structure and checks to reassure you your animals are in safe, trustworthy hands.