Brittany and Charlie (also known as the Trading Travellers) are an American couple who recently traded in the hustle and bustle of a 9 to 5 job to live their dream and see the world. Since building their own sucessful online business they can now live and work from anywhere and are using house sitting as an affordable means of travelling the world. Here's their story...

After a three-week backpacking trek around Europe last summer, we discovered that we never were and never are going to be backpackers. We just couldn't do it. As passionate as we are about traveling and wanting to see the world, we are creatures of habit. We need routine. And if there is one thing we've learned in the past two years, it's that you have to travel for YOU. We decided from there on out, slow travel would be our thing. We need time to adjust to a new place, get our bearings and explore on our time without feeling the need to rush to fit everything in. Also, we have spent the past two years working on a start up business and this business we take with us on our travels. Therefore, we need to be able to mix work and travel. But hotel expenses quickly add up and hotel rooms get cramped after more than a few nights. And short-term apartment rentals aren't always easy to find making slow travel difficult in most parts of the world.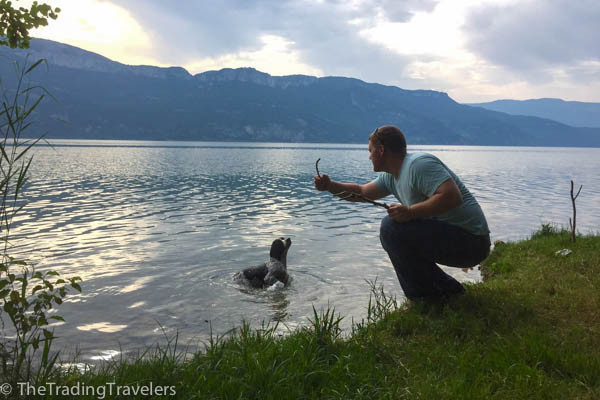 When we were introduced to house sitting, we knew it was the perfect solution for digital nomads, like ourselves, that prefer to stay in one place for weeks, or even months, at a time. It has completely changed the way we travel and has opened up so many opportunities for us this past year. Last year we rushed through Europe and crammed to fit everything in because, lets face it, Europe is expensive. However, we ended up cranky and exhausted most of the time because we were trying to do too much. This summer we came back to Europe, this time not only for 3 weeks, but for 3 months! The sole reason we were able to afford to do this was because of the two housesitting assignments we had arranged in France and Germany. These allowed us to not only save on accommodations, but dining out as well.

House sitting in Europe allowed us to experience some incredible off-the-beaten path destinations we probably never would have considered visiting otherwise. We were able to buckle down and work with stunning mountain and lake views most days and when we needed a break from the laptops, we would head out for a drive and explore the surrounding villages. We visited the local bakeries and supermarkets to prepare our own meals and pack picnics for lunch when we would go exploring for the day. We truly got a taste for living life as a local which was a much more meaningful experience than a day of museums and monuments could give us.



This is not to say that there is no work involved, because we definitely have our responsibilities to uphold as house and pet sitters. But it quickly becomes part of the routine. For instance, in France we took care of three of the sweetest Springer Spaniels and each morning took them on an hour-long hike so they could get some exercise. It was a great way to start our mornings and because we did not have access to a gym, the perfect way for us to stay active as well (which is often difficult while traveling).

House sitting has allowed us to build our start-up to a successful online business over the past year while continuing to travel and explore new places. It allows us to slow travel while saving on expenses at the same time. We've met so many interesting people with fascinating stories and made connections with some of the most loving animals. We've spent Christmas in the expat friendly neighborhood of Bangsar in Kuala Lumpur, summer on a turquoise lake in the French Alps, and two weeks in Munich after falling in love with the Bavarian city on our first visit to Germany last summer. Our next house sit is taking us to New Zealand, a destination that has always been at the top of our list to visit, and we can't wait to see what the rest of our house sitting future holds!

Many thanks to Brittany and Charlie for sharing their story. If you have a pet story you would like to share, please email stories@trustedhousesitters.com. To view Brittany and Charlie's TrustedHousesitters profile, click here.