Whenever we speak to our members, we are always in awe of their stories and the connections that they have made through house and pet sitting. Whether that is making new friends with like-minded people, or enriching travel experiences whilst ensuring the happiness and comfort of pets all over the world, there is always a great story to share.

Inspired by these heartwarming stories, we launched a competition in which we asked our community to submit their favourite house and pet sitting Moments & Memories for the chance to win some great prizes. Once again, our community delivered and we were absolutely blown away by the wealth of wonderful entries.

From over 1,000 touching submissions, we had the tough task of selecting just five winners. From heartwarming videos, to hilarious images, there wasn't a dry eye in the room.

Today, we are thrilled reveal the overall winners of the Moments & Memories completion and the winners of the grand prize, two flights to anywhere in the world!

We will also reveal the winners of each of the four categories, #Freedom, #LivingTheDream, #NewFriends, and #HappyPets.

----------------------------------------


Of all the entries we received, this one really highlighted how house and pet sitting can enrich the lives of our members. Johnnie and Slava, known as the Sunshine Couple, joined TrustedHousesitters in November 2014 in a bid to live their dream of helping people and the planet, whilst expanding their horizons.


Our judges thoroughly enjoyed watching the special moments that these pet loving sitters had captured whilst on their house sitting adventures. Watch the video below and see all the wonderful memories that Johnnie and Slava have created throughout their house and pet sitting journey.



Congratulations Johnnie and Slava! You've won our Grand Prize of two flights to anywhere in the world!

----------------------------------------


Lynn submitted this adorable photograph illustrating perfectly the close bond that she formed with a canine companion whilst completing her house sit.

Our judges loved the photo and the great story that Lynn had to share about her life changing decision to sell her house to travel the world using TrustedHousesitters.



"Selling my home in search of a new life, I put my house up for sale and after three long years got a buyer. I also handed in my notice at work. This was when I was introduced to TrustedHousesitters.

Travelling and having the opportunity to house and pet sit has helped me realise what's important to me in life and appreciate the things I took for granted back in the UK. The only credentials you need are those that come naturally; common sense, and being trustworthy, honest and reliable are key.

It's very rewarding knowing that the pets are not going into kennels and are able to carry on with normal family life, receiving love and care in the absence of their family.

You're never too old to learn, and you do learn something new everyday, no matter how old you are! " - Lynn

Congratulations to Lynn who has won a polaroid camera to help her capture those special moments of her #LivingTheDream!

----------------------------------------


For many of our members, leaving their pets at home whilst they are away on holiday or travelling can be heartbreaking, only made worse when they have a pet that needs special care.

That is exactly what home and pet owner Kathryn had to do shortly after her dog Azzurra was diagnosed with cancer and was only given a few months to live. Thanks to TrustedHousesitters, Kathryn had the freedom to go away knowing her beloved four-legged friend was going to be well looked after.

Our judges had their heartstrings tugged when they read this story, but they loved to hear of the transformation Azzurra made whilst being cared for by sitters Jason and Katy.



"In April 2016, our beautiful Azzurra was diagnosed with cancer and given a few months to live without an operation. We were due to leave for Europe 6 weeks later and couldn't cancel. We went ahead with the operation and for the next 4 weeks, she was nursed, carried and loved by us as she slowly got back on her feet.

Our trusted house sitters Katy and Jason, who were doing a second sit for us, arrived to carry on the convalescence but unfortunately Katy slipped the night before coming to us and shattered her wrist. They still drove the 4 hours to our place and after an operation, Katy spent the rest of the 9 week sit convalescing with Azzurra.

By the time we returned home, both of the patients were much fitter, especially Azzurra who was walking longer walks than before the operation. Now 6 months later, our 11 year old cocker spaniel has the energy of a much younger dog and is a sheer delight to have around.

In the meantime, our house sitters Jason and Katy have enjoyed a 2 month holiday in our house in Italy and we have spent 2 weeks in their house in Australia beside the sea. Azzurra came too and had the holiday of her lifetime, walking for hours and swimming in the calm waters of the inlets that ran down to the sea.

I wish I could send more photos to illustrate my story as just one doesn't really show the transformations that we have seen in 6 months. We are eternally grateful to Jason and Katy and we have made a photo album of Azzurra's holiday at the beach so we can treasure the moments. Thanks to TrustedHousesitters we found a match that has truly enriched our lives." - Kathryn

Congratulations to Kathryn who has won the luggage set which she can use on her next adventure.

----------------------------------------


We couldn't help but laugh when you see this wonderful image of pet sitter Kris singing to her new canine companion Sasha, who also loved to "sing" along.

Our judges loved this singing duo and the sheer enjoyment on Sasha's face and the love in their eyes.



"Sasha, half beagle (the howling part) and half husky would sing with me every morning.

I think we both looked forward to it equally but it was debatable who sang the best or the loudest!"

Congratulations to Kris who has won a pet portrait to help her remember this special moment.

----------------------------------------


There is nothing we love to see more then the great connections that our sitters and furred friends make. Many of our sitters don't have pets of their own, so pet sitting gives them the enjoyment of caring for some furry friends as if they were their own.

Our judges loved the clear admiration that Eddy the dog has for his new sitter friend in this photo.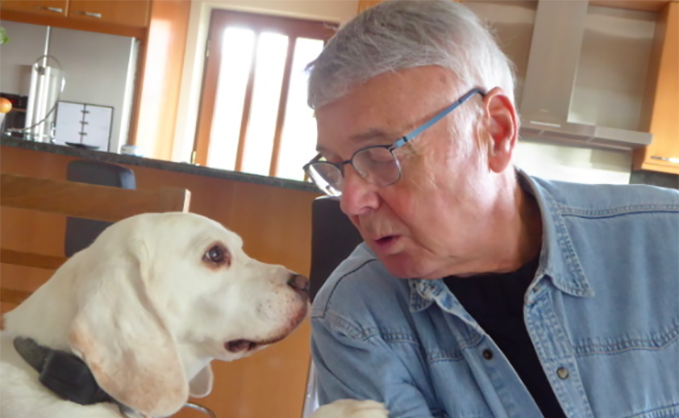 "Meeting up with our new furry family has been a joy. We had to say goodbye to our own dog earlier in the year and couldn't face having another. Looking after other people's animals is providing just the answer and filling that awful gap that is left when you lose a pet. Here is Eddy (he's the one on the left) hinting that he'd like his ears scratched again." - Jane

Congratulations to Jane who has won two 12 month TrustedHousesitters memberships to help them make more #NewFriends!