For a limited time only, you can win fantastic prizes every time you successfully refer a friend. Michael and his family have won big, and there's still time for you to do the same! Refer your friends and you'll have the chance to win a prize every time, including free months and years of membership, and memberships that last a lifetime. Meet our lucky lifetime membership winners, Michael, his wife and two children.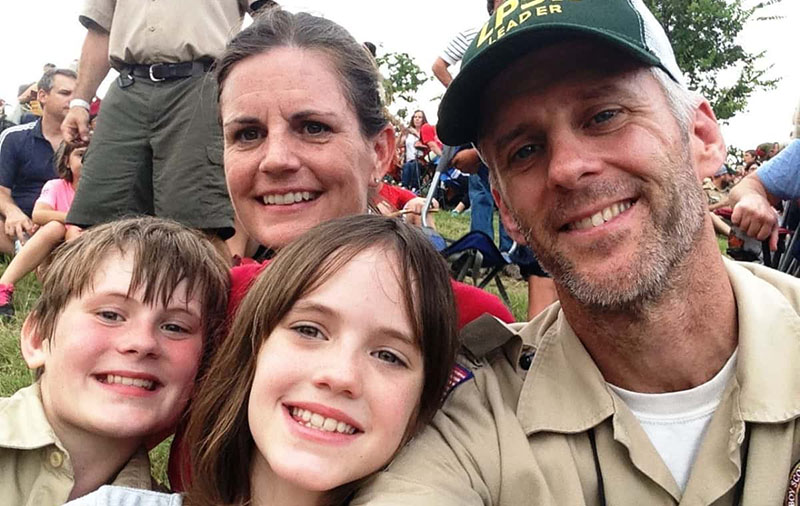 "When I received the notification that we'd won a lifetime membership, I initially thought it was a joke. Not until I received this email from TrustedHousesitters to say 'Congratulations', did I know it was actually for real! The whole family was sitting around the living room when I read the first notification, but they weren't nearly as excited as I was! We all really appreciate this prize."
Once hearing back from Michael about how excited he was to receive a lifetime membership, it became apparent that this prize could not have come at a better time for him and his family.
"This lifetime membership prize will become invaluable to us as we become full-time global travellers next year."
Michael joined TrustedHousesitters in 2017, and since has carried out multiple local house sits over long weekends, gearing towards the owner's needs.
"I joined TrustedHousesitters to begin building our reputation and profile locally before we hit the road and really rely on house sits."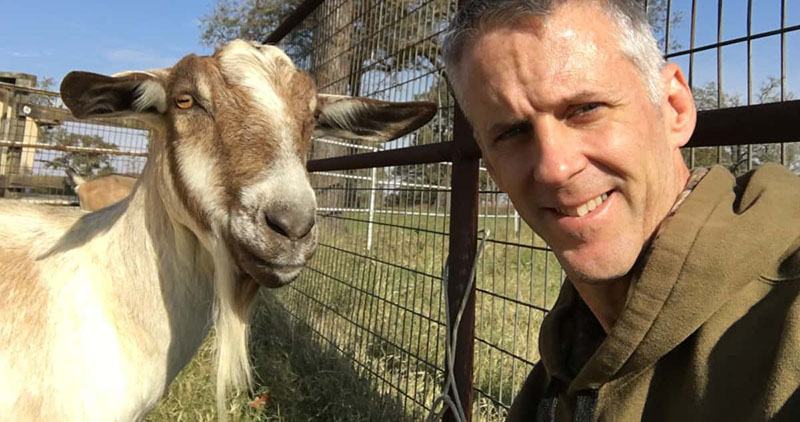 Michael's plan is to build his profile and reviews before him and his family pack their bags in April next year, and head off on a worldwide adventure;
"We have two children ages 12 and 14, almost 13 (in December) and 14 and we currently homeschool them both. My wife and I have travelled internationally on multiple occasions in our lives, both single and as a couple. We definitely have the travel bug. We want to introduce our children to travelling and move from "homeschooling" to "world-schooling." We've worked very hard for years to make this happen and I will retire early in April 2019. We're selling our house and everything we own to travel the world as a family with only backpacks. I believe our children will be better global citizens if they can experience the world and see the different cultures, governments and economic systems firsthand."
Michael and his family have been managing a 16-acre hobby farm in Texas for the last 8 years, owning a variety of livestock and 5 dogs, most of which have now sadly passed. Unfortunately, the time has come for it to be sold before their next big journey commences, but all the animals are now in good hands, and their final two dogs are off to stay with family members. For this reason, the family are excited to have a lot of pet company along the way, especially Michael's daughter who absolutely adores the two little dogs!
"The whole family would like to get SCUBA certified so we are starting our adventure in Roatan, Honduras for a month. From there we will tour Central and South America, making our way to the Inca Trail and Machu Picchu in the shoulder season. Even before we had world travel plans we planned to take the kids in their teen years to Machu Picchu. We also want our family to learn Spanish along the way. We've already travelled to Costa Rica, Panama, Belize, Puerto Rico and I lived in Bermuda for 7 years in my 20's. We're excited to return to some of these locations and learn about new ones. We plan to visit Cuba, Colombia, Brazil, Costa Rica, Ecuador, Guatemala and Mexico at a minimum. Most of the family has trained in Brazilian Jiu-Jitsu for years so we'd love to find locations with a local gym/school where we can continue our training."
We're so excited to hear all about Michael's up and coming adventures with his family. He also plans to get a Facebook and Instagram account to document where they travel to so we'll make sure to link to these profiles here when they become available.

And don't forget, there is still time for you to win some incredible prizes each and every time you successfully refer a friend, including one more lifetime membership!

If you'd like to see more of Michael and his family, check out their profile here and you could be the one to help them on their next big adventure.