TrustedHousesitters members, Richard and his wife, Jo, were recently announced as the lucky winners of two free flights to anywhere in the world. Why you may ask? Simply because they referred one of their pet-loving pals to TrustedHousesitters. We spoke to Richard about the big win and found out exactly why they recommend TrustedHousesitters...
Civil Servants, Richard and Jo own two adorable German Shorthaired Pointers, Woody and Tilly. These characterful, four-legged family members are their pride and joy. Coming from rescue homes at the ages of 14 months and 4 years, Richard always felt unsure about leaving their pups when heading off on holiday.

After taking Woody to kennels and finding that he hadn't had the smoothest of stays, they decided that this was no longer an option — that's where TrustedHousesitters came in.
While planning their next holiday, a quick online search for alternative pet care led Richard and Jo to TrustedHousesitters. After creating their listing, the applications from sitters to care for Woody and Tilly came in right away. Three years and seven 5-star reviews later, the couple (and the dogs!) have never looked back.
"We always like to have a face-to-face conversation prior to choosing our sitter, but once we've found the right one, we always know straight away. It's a win-win situation. Woody and Tilly can stick to their routine, we know the house is secure, and the sitters can enjoy some time away in the countryside. We've never had any problems — we usually invite sitters over the night before, show them the ropes, take them through the welcome guide, and everything goes smoothly from there"

"We have made many friends through the platform — Marian and Phil from Australia have stood out the most to us. They have come to sit for us many times after making the big move from Australia to Brighton, UK."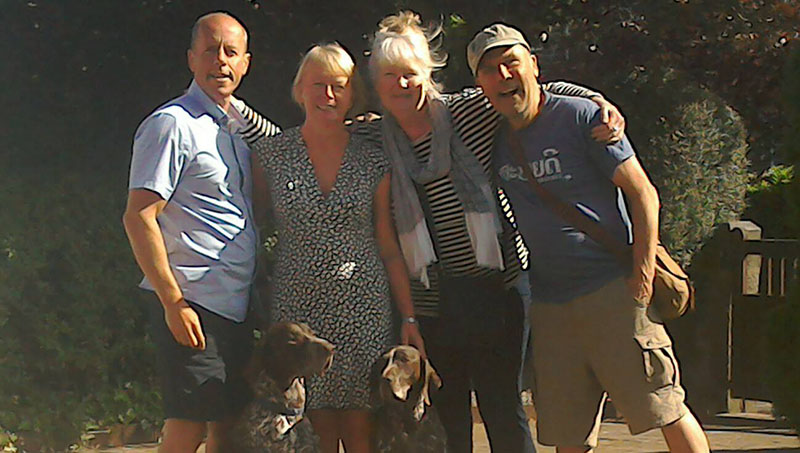 You've won two free flights to anywhere in the world, where do you think you'll be heading?

"After we picked ourselves up of the floor…! We were so excited to find out we'd won this incredible prize. The possibilities are truly endless. At the moment we're thinking of visiting the west coast of Canada, or maybe Mexico!"

Richard and Jo were very deserving winners of this incredibly sky-high prize. We cannot wait to see where their free flights eventually take them, and we'll make sure to check in with them once their travels have commenced.
If you have a particular story that you'd love to share with us, please send it our way by emailing stories@trustedhousesitters.com - we love to hear them!

As a member, by referring your pet-loving pals you give them 25% off and you earn 2 free months — another win-win! Find out more here