With arthritis and more than a few lumps and bumps between them, elderly Labrador duo Lucky and Lucy should have been looking forward to a quiet retirement. Instead, the pair, both 11 years old, found themselves at Battersea Dogs & Cats Home.

Lucky and Lucy had been in their previous home since they were puppies - but their heartbroken owners were forced to give them up when they had to move.

Tomorrow, Lucky and Lucy's story will feature on ITV's Paul O'Grady: For the Love of Dogs, where the show's famous host will try to help them find their perfect retirement home.

Battersea's Centre Manager Robert Young said: "It always tugs on my heartstrings when older dogs come into us, as they should be enjoying their twilight years in a comfy home – not waiting here in the kennels. Many of our more mature canines have lived with the same family for most of their life, so they can find coming into kennels confusing and frightening. They often end up with us because their owners have gone through a sad change in circumstance. They might have died or ended up in hospital, or – as was the case with Lucky and Lucy's owners – had to move and have not been able to take their dogs with them."

Last year Battersea helped 292 dogs aged nine and over to find their retirement homes.

Robert Young adds: "While the average length of stay for a dog at Battersea is 35 days, it jumps to 43 days for those aged nine and over. Puppies and younger dogs tend to fly out the door, but many sadly people dismiss our golden oldies. It's a real shame, because our mature residents still have so much to give, and we have older dogs that suit every kind of lifestyle. Some still act like puppies, with plenty of get up and go, while others are more laid back and perfect for owners who like to take life at a more leisurely pace."

Lucky and Lucy will star in Paul O'Grady: For the Love of Dogs at a time when Battersea has many older dogs waiting for a home across their three centres. These include:

Missy: This 12-year-old Staffordshire Bull Terrier is Battersea's oldest canine resident and she's been through a terrible time. Missy was given up to the local council by her previous owners, after the neighbours complained about her barking. She'd been living outside in a damp kennel 24/7 with little love or affection – a life ill-suited to a dog who loves nothing more than human company. Since coming into Battersea's London centre, affectionate Missy has become a firm favourite of the staff and shown herself to be a lovely, calm dog. Now she's looking for a forever home where she can get all the cuddles and affection she deserves.
Florrie: With her inquisitive face, wiry hair and keen Terrier intelligence – 10-year-old Parson Russell Terrier Florrie is sure to bring a smile to your face. Florrie's past is a bit of a mystery to us. She was taken in by a family who found her wandering the streets. They soon realised they didn't have the time to commit to a dog, so brought her into Battersea's Brands Hatch centre, in Kent. This terrific Terrier can be a shy lady, and she finds the world a scary place sometimes, so she's looking for owners who can help her with this. Florrie's a loving little lady, who enjoys cuddles on the sofa and is looking for the right owner to snuggle with.
Gypsy: Nine-year-old Staffordshire Bull Terrier Gypsy was brought into Battersea's London centre because her owner became too ill to look after her. She's been living in the same home for years as a much-loved pet, and she's finding kennel life overwhelming and confusing. Gypsy has plenty of get-up-and-go and loves playing in Battersea's paddling pools. She is finding kennel life quite stressful, as she adores people and hates being left by herself. She'd love to live with a family who were home for most of the day and could spoil her with cuddles.
Max: He might have adorably large ears, but 10-year-old Max can't hear a thing out of them – and he's looking for owners who are prepared to take on a deaf dog. This loveable Manchester Terrier was brought into Battersea's Brands Hatch centre because his owner's circumstance changed, and they could sadly no longer keep him. Max can take a while to warm up to new people, but once he gets to know you he's a terrific little dog with a big personality. He's looking for owners with some Terrier experience and he's longing to find a new home, having been at Brands Hatch for almost seven months. If you can give Mighty Max a chance, please get in touch.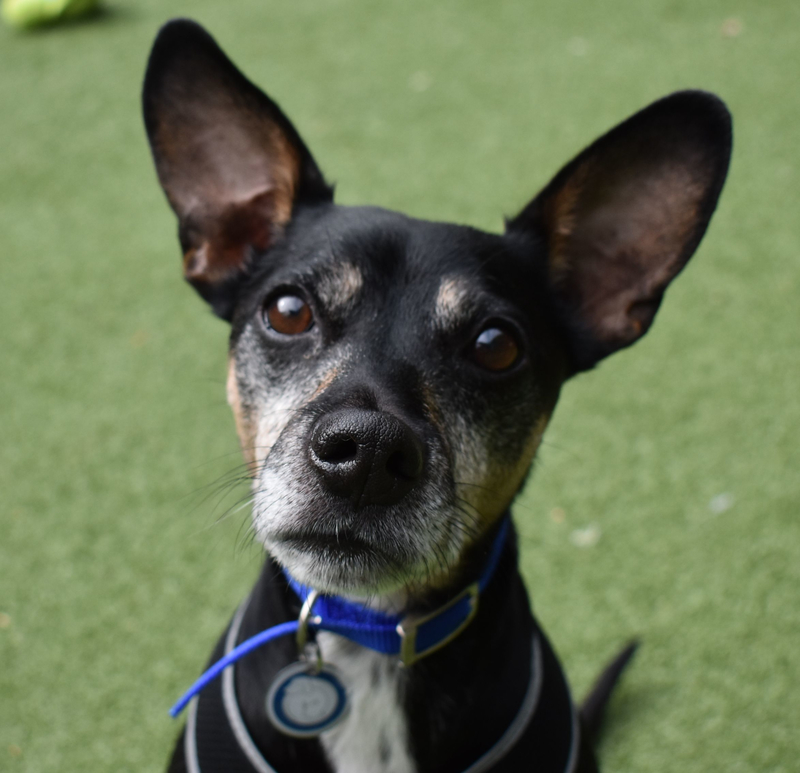 To find out more about the Battersea 'Golden Oldies' looking for a home, visit our website www.battersea.org.uk or call 0843 509 4444.