Trusted Tools: Sitter ID Verifications - a guide for sitters
As part of your TrustedHousesitters membership, you can earn free Sitter ID Verifications. You may have noticed these before, but we want to ensure you know exactly how this trusted tool can help provide that extra bit of reassurance to owners, enabling you to start enjoying the house and pet sitting experiences of your dreams.
What are Sitter ID Verifications?
Identification checks and verifications are designed so that you can offer owners peace of mind when they are selecting who will take care of their pet and their home. These can be especially useful if you are new to the community and are yet to build up reviews, or simply to offer owners that extra bit of reassurance that you are trustworthy and verified.
There are two levels of verification, Basic and Standard - both of which are free as part of your membership! Although Sitter ID Verifications are optional, we would encourage you to complete these to make your sitter profile the best it can be. Once you earn your Basic or Standard verification, you'll earn a badge for your profile that shows owners at-a-glance that you are verified.

What is a Basic verification?
You can complete your Basic verification once you have set up your profile. There are three ID verification checks required in order to earn your Basic verification:
Email address - once you've supplied an email address, you'll be asked to confirm this by clicking on a link sent to you via email.
Phone number - once you have provided a phone number, you'll receive a code via SMS or over the phone. You'll then be to enter this code on the verification section of your profile. Don't worry if you don't have a phone - you can contact our Membership Services team to be manually verified.
External reference - You can choose someone to provide a character reference for you. This could be a landlord, employer or someone you've previously house or pet sat for. Simply fill out the form provided and we'll send you an email you can forward to the person you're requesting a reference from. The email includes a link so that they can easily find where to write your reference.
How do I set up my Basic Verification?
Firstly you need to visit your verification page. You can do this by:
Logging into your TrustedHousesitters account. 
Once logged in, click your name on the top right-hand corner
Select 'Verifications' from the drop-down menu.

Now it's time to get set up. Firstly, let's verify your email address.
To the left, you'll see a few options — select 'Basic' from the menu.

A new page will appear. Within the 'Email address' section, click the green 'Verify now' button.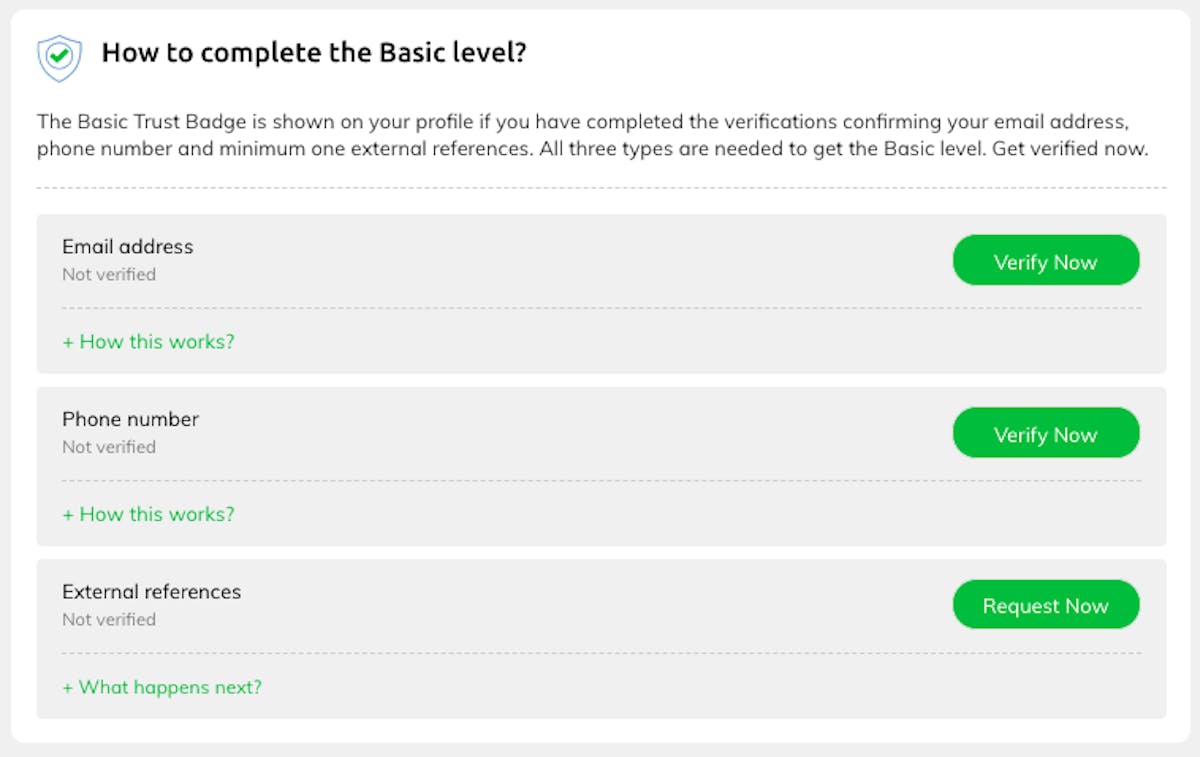 Keep an eye on your emails, and click the link in the email we send you.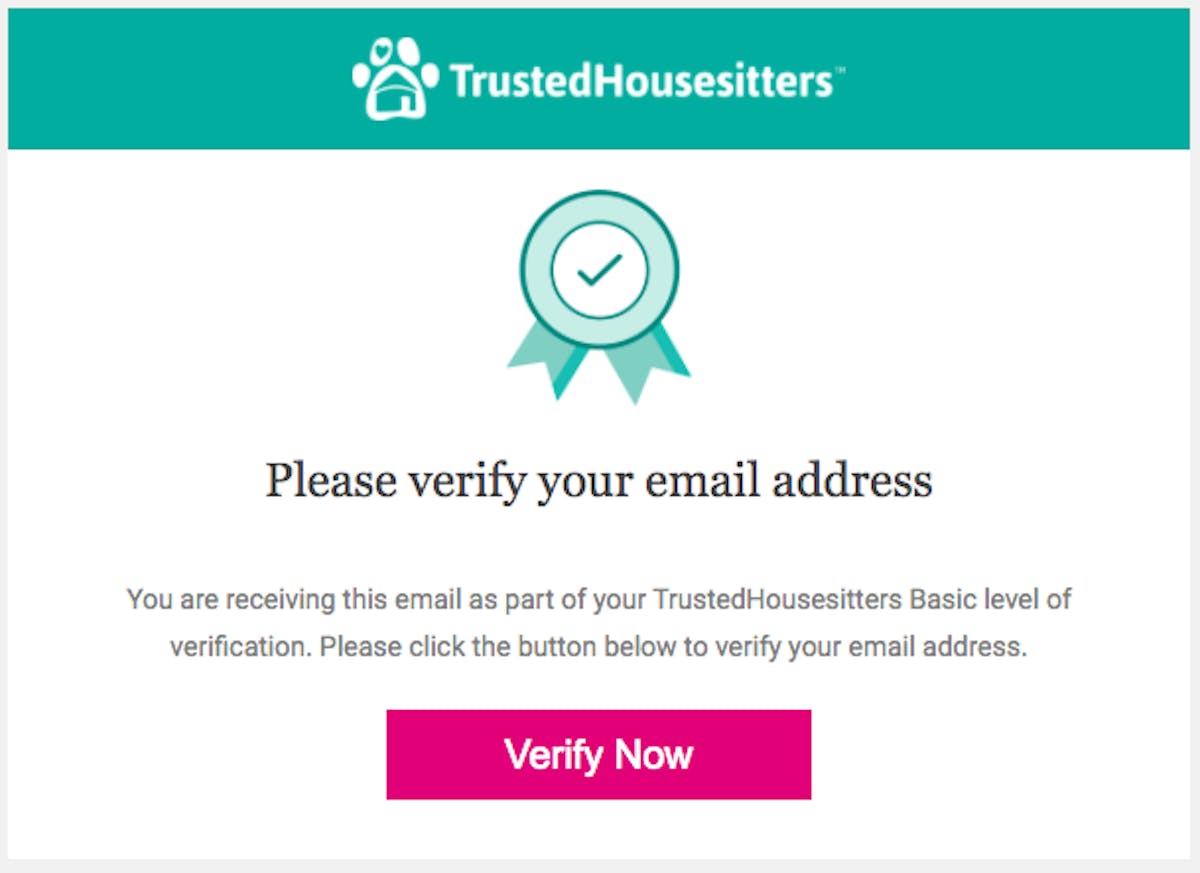 Now it's time to verify your phone number — make sure to have your phone close by as you'll need it for this stage.
Again, choose 'Basic' from the menu. 
In the 'Phone number' section, click the green 'Verify now' button.
Then, select your country from the drop-down menu — this will automatically enter your area code at the start. 
Type in your phone number, excluding your area code and any symbols that aren't numbers.
Click the green 'Verify number' button and we'll send you a 4 digit code.
Collect this number from your phone and type the code into the 'Verifications' page you were previously using.
That's it — you will now have both the email and phone number verification set up, which will showcase on your profile for owners to see.
What is a Standard verification?
Standard verification is an identification document check. You will need to provide a visual document - such as a scan or clear photograph - of an identification document, for example a passport, driving licence or National Identity Card. Identification checks are then performed on this document to ensure that it is valid. This includes cross-checking databases to ensure that it has not been reported as lost, stolen or compromised. We work with an industry leaning partner, Evident, who complete the identification document check.
How do I know that my personal details will be kept confidential?
We do not keep any of the personal information you provide during the identification check. Our verification partner maintain a bank-grade, encrypted security system - meaning your information will be kept safe, confidential and secure.
How can owners identify my level of verification?
Once you have completed each level of verification, you'll receive a confirmation email. Your level of verification can be identified on your Trust Badge, which will appear on your sitter profile once you have completed your Basic level of verification.
Trusted tip: Trust Badges are also shown below your profile in relevant search results.
Any more questions?
If you have any further questions or queries on how Sitter ID Verifications work, what they are, or where they are located, then don't hesitate to contact your Membership Services team, who will be more than happy to help.