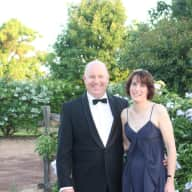 Judith & Simon
Judith & Simon
Simon and Judith Turner
Saint George, Queensland, Australia
About Judith & Simon
Hi
We live in St George which is about 6hrs drive west of Brisbane
I am a nurse and we own a small earthmoving business with excavators.
We have house sat a few times in Brisbane and house sat in Sydney after Christmas for a week in 2015.
We enjoyed participating in feeding and looking after their pets and homes.
We have a couple of references a...
Hi
We live in St George which is about 6hrs drive west of Brisbane
I am a nurse and we own a small earthmoving business with excavators.
We have house sat a few times in Brisbane and house sat in Sydney after Christmas for a week in 2015.
We enjoyed participating in feeding and looking after their pets and homes.
We have a couple of references and I have a police check. We hope to help someone with a house sit so they can go away and know that their pets are looked after as well as their home.
Hope to hear from someone
Thanks
Judith
Why we want to house sit
We would love to do house sitting to see parts of Australia have a holiday and look after similar pets to what we have. We own a labrador and take her for walks everyday she waits for me evry afternoon at the laundry door for her walk.
We owned 2 ginger cats for 13 years but they have sadly passed on.
we would love to house sit in the United States of America as our son has just recently arrived in New York on a working visa since finishing his Law Degree in Australia, he has a twin sister who would join us on the journey they are 23years old just stating out their careers sice finishing university
Our experience
We have two references for viewing one from a resident from our local town and the other from a House sit in Sydney last December 2015. Plus I have a Police Check
Reviews (1)
Warren And Sheree - Coogee, New South Wales, Australia

27 December - 02 January 2017

Judith and Simon did an excellent house sit for us. They did a fantastic job taking care of our pets and home. We were very happy leaving for our holiday as they made us feel confident they could take care of everything in the day to day running of our home and care of our pets that may arise.
...

Judith and Simon did an excellent house sit for us. They did a fantastic job taking care of our pets and home. We were very happy leaving for our holiday as they made us feel confident they could take care of everything in the day to day running of our home and care of our pets that may arise.
When we arrived home our pets were happy and healthy .... it was like we had not been away. We would gladly have Judith and Simon back again and do recommend them highly to other members. Once again thankyou to our trusted house sitters and the amazing opportunities this site provides

Organised

Reliable

Self-sufficient

Tidy

Pet care
External references (1)
Brendan - Character Reference

16 November 2016

Simon and Judith are outstanding home carers. They have a large brick veneer home on acreage. Both inside and outside are immaculate!! I have no hesitation is recommending Simon and Judith to house sit anybody's home and pets. Brendan Devine, St George QLD

Simon and Judith are outstanding home carers. They have a large brick veneer home on acreage. Both inside and outside are immaculate!! I have no hesitation is recommending Simon and Judith to house sit anybody's home and pets. Brendan Devine, St George QLD

Organised

Reliable

Self-sufficient

Tidy

Pet care
About Judith & Simon
Hi
We live in St George which is about 6hrs drive west of Brisbane
I am a nurse and we own a small earthmoving business with excavators.
We have house sat a few times in Brisbane and house sat in Sydney after Christmas for a week in 2015.
We enjoyed participating in feeding and looking after their pets and homes.
We have a couple of references and I have a police check. We hope to help someone with a house sit so they can go away and know that their pets are looked after as well as their home.
Hope to hear from someone
Thanks
Judith
Hi
We live in St George which is about 6hrs drive west of Brisbane
I am a nurse and we own a small earthmoving business with excavators.
We have house sat a few times in Brisbane and house sat in Sydney after Christmas for a week in 2015.
We enjoyed participating in feeding and looking after their pets and homes.
We have a couple of references and I have a police check. We hope to help someone with a house sit so they can go away and know that their pets are looked after as well as their home.
Hope to hear from someone
Thanks
Judith
Why we want to house sit
We would love to do house sitting to see parts of Australia have a holiday and look after similar pets to what we have. We own a labrador and take her for walks everyday she waits for me evry afternoon at the laundry door for her walk.
We owned 2 ginger cats for 13 years but they have sadly passed on.
we would love to house sit in the United States of America as our son has just recently arrived in New York on a working visa since finishing his Law Degree in Australia, he has a twin sister who would join us on the journey they are 23years old just stating out their careers sice finishing university
Our experience
We have two references for viewing one from a resident from our local town and the other from a House sit in Sydney last December 2015. Plus I have a Police Check
Verifications
Basic level
Email Address, Phone Number, External references (1)
Animal Care Experience
Dogs

Cats
Availability
MON
TUE
WED
THU
FRI
SAT
SUN
Preferred Countries
Profile Details
Occupation
Home Care Coordinator, Earth Moving Contractor
Previous house sitting experience
Yes
Member benefits
Sitter is connected to
Vet Advice Line
Vet Advice Line
Member since
November 2016
House & pet sitting timeline
Judith and Simon have done 2 house sits since 2016
Buderim

Australia

Apr 2017

Coogee

Australia

Dec 2016 - Jan 2017