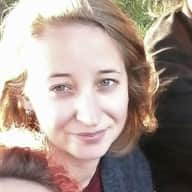 Teresa
Teresa
Female traveler who will do her best to take care of your house and pets!
Vienna, Austria
About Teresa
Hi and welcome to my profile! :-)

My name is Teresa, I'm 23 years old, I was born in the western part of Austria but I live in Vienna now. I love to travel and discover new places/cultures around the world. I would describe myself as open-minded, helpful and a honest person who is always willing to learn new things.

What I enjoy:
Reading & Li...
Hi and welcome to my profile! :-)

My name is Teresa, I'm 23 years old, I was born in the western part of Austria but I live in Vienna now. I love to travel and discover new places/cultures around the world. I would describe myself as open-minded, helpful and a honest person who is always willing to learn new things.

What I enjoy:
Reading & Literature, drawing, traveling, geoghraphy, learning about diffrent cultures and countries, photography, music, concerts, cooking, nature, writing, knitting, adventures, being creative, long walks
Why I want to house sit
I didn't hear about this website until a friend of mine recommended it to me not long ago. It seemed to be a perfect way to stay abroad with the advantage of discovering how natives live, looking after pets and enjoying their company in a peaceful way. :-)
My experience
Taking care or looking after a household is no problem for me, I currently live in a flat with two roommates where everyone has their tasks. Also I often looked after houses/flats when one of my parents was traveling, mostly I watered the plants, collected the mail, fed the pats etc.
I have some experiences in sitting pets from friends or family members. I also did some pet sitting as a workawayer in Norway for a couple of weeks where I had taken care of a cat and two dogs. Thanks to those experiences I totaly understand the worries from pet owners when they leave their beloved behind. This worries I would like to minizmize for you! Species-appropriate and respectful dealings are obvious for me. I really love to look after animals and just enjoy their company. :-)
About Teresa
Hi and welcome to my profile! :-)

My name is Teresa, I'm 23 years old, I was born in the western part of Austria but I live in Vienna now. I love to travel and discover new places/cultures around the world. I would describe myself as open-minded, helpful and a honest person who is always willing to learn new things.

What I enjoy:
Reading & Literature, drawing, traveling, geoghraphy, learning about diffrent cultures and countries, photography, music, concerts, cooking, nature, writing, knitting, adventures, being creative, long walks
Hi and welcome to my profile! :-)

My name is Teresa, I'm 23 years old, I was born in the western part of Austria but I live in Vienna now. I love to travel and discover new places/cultures around the world. I would describe myself as open-minded, helpful and a honest person who is always willing to learn new things.

What I enjoy:
Reading & Literature, drawing, traveling, geoghraphy, learning about diffrent cultures and countries, photography, music, concerts, cooking, nature, writing, knitting, adventures, being creative, long walks
Why I want to house sit
I didn't hear about this website until a friend of mine recommended it to me not long ago. It seemed to be a perfect way to stay abroad with the advantage of discovering how natives live, looking after pets and enjoying their company in a peaceful way. :-)
My experience
Taking care or looking after a household is no problem for me, I currently live in a flat with two roommates where everyone has their tasks. Also I often looked after houses/flats when one of my parents was traveling, mostly I watered the plants, collected the mail, fed the pats etc.
I have some experiences in sitting pets from friends or family members. I also did some pet sitting as a workawayer in Norway for a couple of weeks where I had taken care of a cat and two dogs. Thanks to those experiences I totaly understand the worries from pet owners when they leave their beloved behind. This worries I would like to minizmize for you! Species-appropriate and respectful dealings are obvious for me. I really love to look after animals and just enjoy their company. :-)
Animal Care Experience
Dogs

Cats

Reptiles

Horses

Fish

Farm animals

Small pet
Availability
MON
TUE
WED
THU
FRI
SAT
SUN
Preferred Countries
Profile Details
Travelling as a
Single Sitter
Previous house sitting experience
No
Member benefits
Sitter is connected to
Vet Advice Line
Vet Advice Line