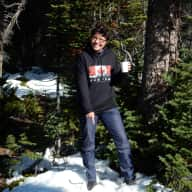 Lieve
Lieve
Enthusiastic animal and nature lover!
Antwerpen, Belgium
About Lieve
Hi!

Being an animal (and nature) lover, and loving to travel around, this site sounds like a great opportunity to combine both!

I'm a social, easy going girl (or should I say woman) of 39, living in Belgium.
When I'm there, I mostly work as a social care worker.
I don't have any pets because I'm off to travel to much to be able to give them ...
Hi!

Being an animal (and nature) lover, and loving to travel around, this site sounds like a great opportunity to combine both!

I'm a social, easy going girl (or should I say woman) of 39, living in Belgium.
When I'm there, I mostly work as a social care worker.
I don't have any pets because I'm off to travel to much to be able to give them a good stable home. :-)
But I 'll take every opportunity to take care of the pets of friends. :-)

If you have any more questions, just ask!
I'm looking forward to help out!

Lieve
Why I want to house sit
I believe that spending some time in the same place when traveling gives you the opportunity to get to know the country/place better.
It gives you the possibility to interact with locals and experience a little bit of the live there.

House sitting is a win win situation: the house and animals are looked after and for me it's an original, fun and easy way to stay for a while in the same place, taking care of animals and knowing that I'm helping people out. :-)
My experience
Hi!

I grew up having dogs around me all the time. We had Great Deans and after that Labradors.
In general, I'm crazy about nature, and animals, so I also ended up having rabbits, chickens, goose, and hamsters.
Not all at the same time, but there were always animals around.
Being an animal lover, I take care of the cats, dogs and other animals of friends when they are away on holiday.
And I voluntered for more than 5 years in a rescue center for wild animals in Belgium. There, I took care of the reptiles sometimes, and helped feeding different kinds of animals. Cleaning cages was also a big part of the job.

Since I also love to travel, house - and pet sitting seems like a great combination!
On some of my previous travels, I did some voluntary work with animals as well.

Hope to hear from you soon. :-)
About Lieve
Hi!

Being an animal (and nature) lover, and loving to travel around, this site sounds like a great opportunity to combine both!

I'm a social, easy going girl (or should I say woman) of 39, living in Belgium.
When I'm there, I mostly work as a social care worker.
I don't have any pets because I'm off to travel to much to be able to give them a good stable home. :-)
But I 'll take every opportunity to take care of the pets of friends. :-)

If you have any more questions, just ask!
I'm looking forward to help out!

Lieve
Hi!

Being an animal (and nature) lover, and loving to travel around, this site sounds like a great opportunity to combine both!

I'm a social, easy going girl (or should I say woman) of 39, living in Belgium.
When I'm there, I mostly work as a social care worker.
I don't have any pets because I'm off to travel to much to be able to give them a good stable home. :-)
But I 'll take every opportunity to take care of the pets of friends. :-)

If you have any more questions, just ask!
I'm looking forward to help out!

Lieve
Why I want to house sit
I believe that spending some time in the same place when traveling gives you the opportunity to get to know the country/place better.
It gives you the possibility to interact with locals and experience a little bit of the live there.

House sitting is a win win situation: the house and animals are looked after and for me it's an original, fun and easy way to stay for a while in the same place, taking care of animals and knowing that I'm helping people out. :-)
My experience
Hi!

I grew up having dogs around me all the time. We had Great Deans and after that Labradors.
In general, I'm crazy about nature, and animals, so I also ended up having rabbits, chickens, goose, and hamsters.
Not all at the same time, but there were always animals around.
Being an animal lover, I take care of the cats, dogs and other animals of friends when they are away on holiday.
And I voluntered for more than 5 years in a rescue center for wild animals in Belgium. There, I took care of the reptiles sometimes, and helped feeding different kinds of animals. Cleaning cages was also a big part of the job.

Since I also love to travel, house - and pet sitting seems like a great combination!
On some of my previous travels, I did some voluntary work with animals as well.

Hope to hear from you soon. :-)
Animal Care Experience
Dogs

Cats

Reptiles

Fish

Poultry

Small pet
Availability
MON
TUE
WED
THU
FRI
SAT
SUN
Profile Details
Occupation
Social care worker
Travelling as a
Single Sitter
Previous house sitting experience
Yes
Member since
October 2016