Geneviève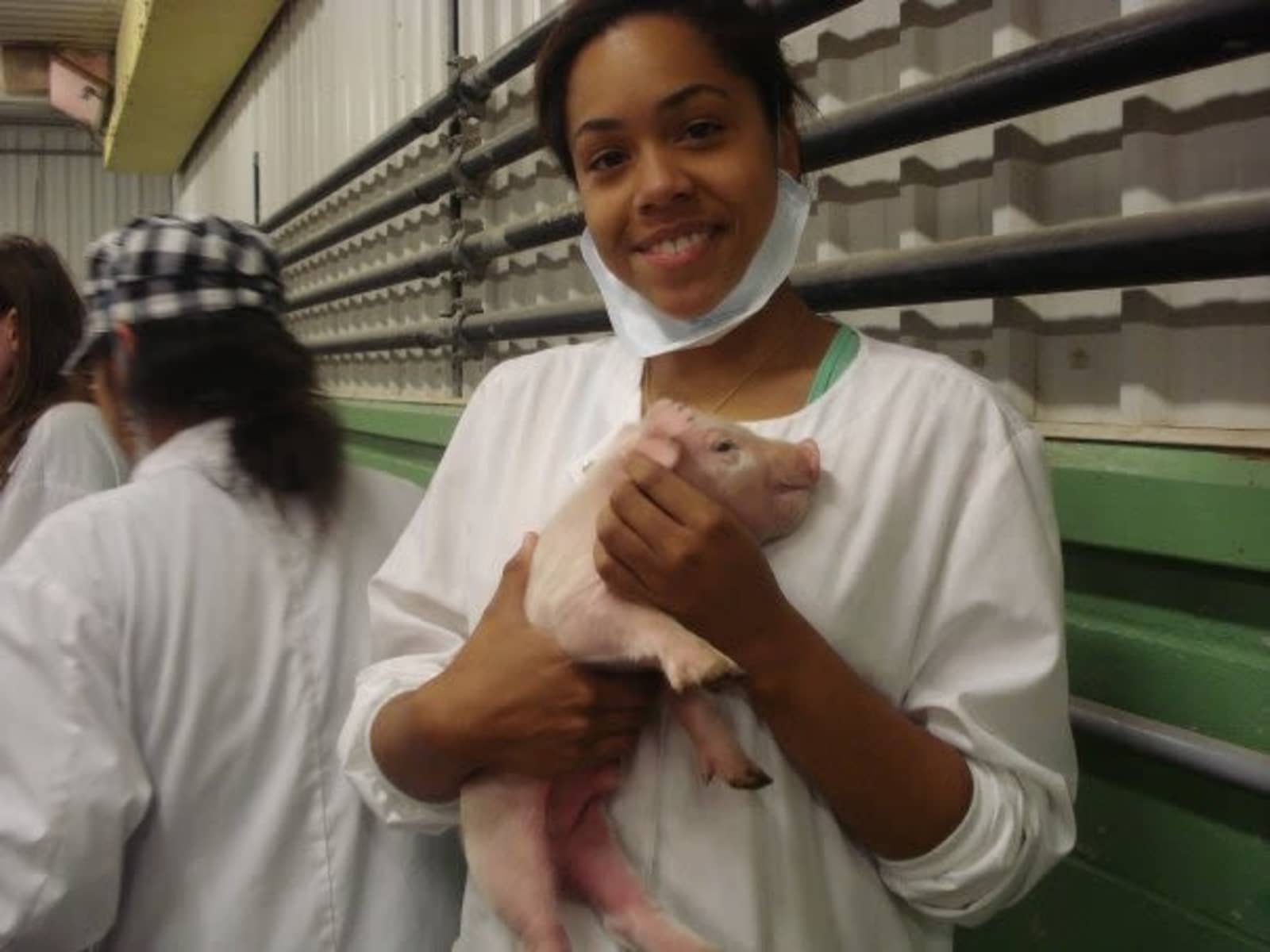 Geneviève
Previous job : maid at Tom and Jerry's house.
Montréal, Quebec, Canada
About Geneviève
Hello , my name is Geneviève. I am Canadian from Montréal.
I am a veterinary nurse working in a zoological institution and in a exotic veterinary practice . I LOVE my job as a get to work with incredible species (such as penguins <3 or big cats) but I must say I miss dogs :) I'm also a professional globetrotter (which is why i'm on this website...
Hello , my name is Geneviève. I am Canadian from Montréal.
I am a veterinary nurse working in a zoological institution and in a exotic veterinary practice . I LOVE my job as a get to work with incredible species (such as penguins <3 or big cats) but I must say I miss dogs :) I'm also a professional globetrotter (which is why i'm on this website :) ) After my vet nursing program , I completed a BA in biology and took a break to work full time. I'm probably going back to school for a masters and/or DVM BUT not before I go travel. I have 3 rescue birds ( two male cockatiels and a female African Grey) at home that I love very much. I am waiting to be more stable to finally have dogS (yes with an "S" :P ) . I speak (more or less fluently depending ) 6 languages . I love learning about other cultures and experiencing new things. My dream is to see Orcas in the wild ! :)
Why I want to house sit
I love immersing myself in new cultures and what better way to do so than living in a local's home ? Also I would take care of your furry/feathery/scaly friend's for you and you wouldn't have to worry about a thing. If you are like me, they are more than just pets and it's sometimes difficult to trust someone to care for them. And I just realized I forgot plants! I don't discriminate. They're pretty cool too but the interaction is somehow limited :)
My experience
The only house sitting i've done for now is for family and friends. But there is a first time for everything :)
About Geneviève
Hello , my name is Geneviève. I am Canadian from Montréal.
I am a veterinary nurse working in a zoological institution and in a exotic veterinary practice . I LOVE my job as a get to work with incredible species (such as penguins <3 or big cats) but I must say I miss dogs :) I'm also a professional globetrotter (which is why i'm on this website :) ) After my vet nursing program , I completed a BA in biology and took a break to work full time. I'm probably going back to school for a masters and/or DVM BUT not before I go travel. I have 3 rescue birds ( two male cockatiels and a female African Grey) at home that I love very much. I am waiting to be more stable to finally have dogS (yes with an "S" :P ) . I speak (more or less fluently depending ) 6 languages . I love learning about other cultures and experiencing new things. My dream is to see Orcas in the wild ! :)
Hello , my name is Geneviève. I am Canadian from Montréal.
I am a veterinary nurse working in a zoological institution and in a exotic veterinary practice . I LOVE my job as a get to work with incredible species (such as penguins <3 or big cats) but I must say I miss dogs :) I'm also a professional globetrotter (which is why i'm on this website :) ) After my vet nursing program , I completed a BA in biology and took a break to work full time. I'm probably going back to school for a masters and/or DVM BUT not before I go travel. I have 3 rescue birds ( two male cockatiels and a female African Grey) at home that I love very much. I am waiting to be more stable to finally have dogS (yes with an "S" :P ) . I speak (more or less fluently depending ) 6 languages . I love learning about other cultures and experiencing new things. My dream is to see Orcas in the wild ! :)
Why I want to house sit
I love immersing myself in new cultures and what better way to do so than living in a local's home ? Also I would take care of your furry/feathery/scaly friend's for you and you wouldn't have to worry about a thing. If you are like me, they are more than just pets and it's sometimes difficult to trust someone to care for them. And I just realized I forgot plants! I don't discriminate. They're pretty cool too but the interaction is somehow limited :)
My experience
The only house sitting i've done for now is for family and friends. But there is a first time for everything :)
Animal Care Experience
Dogs

Cats

Reptiles

Fish

Poultry

Bird

Small pet
Availability
MON
TUE
WED
THU
FRI
SAT
SUN
Preferred Countries
Profile Details
Occupation
veterinary nurse
Travelling as a
Single Sitter
Previous house sitting experience
No