Louise & Benjamin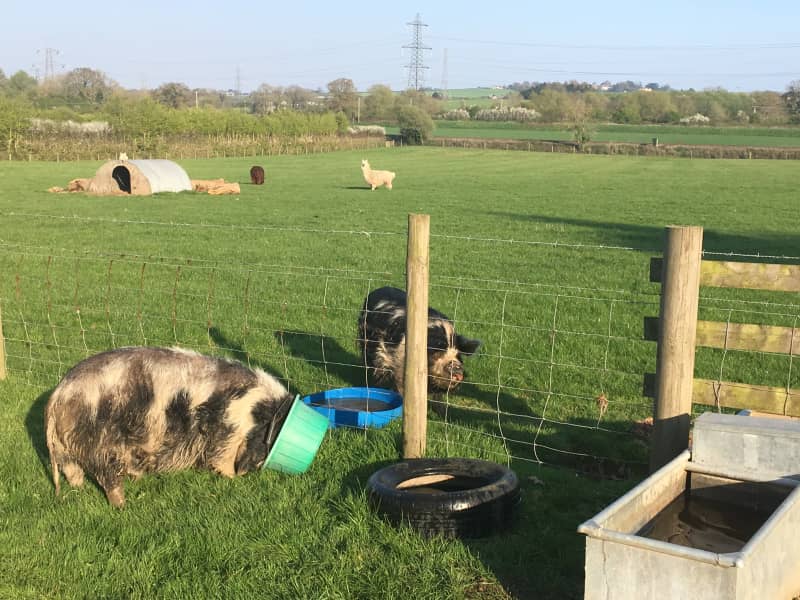 Louise & Benjamin
Mature Nature loving family.
Taunton, United Kingdom
About Louise & Benjamin
There are 2 couples on this profile,,,but only MIKE AND LOUISE is traveling at this moment 2018to 2019
1st Chelsea Ben
We are a young family that love nothing more than spending time together whilst exploring and planning our next adventures.
I am an Early Years teacher and husband , Benjamin is a historic building renovator. H is almost 4 ...
There are 2 couples on this profile,,,but only MIKE AND LOUISE is traveling at this moment 2018to 2019
1st Chelsea Ben
We are a young family that love nothing more than spending time together whilst exploring and planning our next adventures.
I am an Early Years teacher and husband , Benjamin is a historic building renovator. H is almost 4 years whilst R is 1 years (very well behaved! - mostly !)
We both hold animal qualifications and all love being outdoors

That's the youngsters sorted now for the mature couple

We are Mike and Louise we just love the whole houseshare concept and have had 3 house sitters and many other organisations like HELPX stay with us,
We have lots of animals and now hav3 time to travel and start our hosesitting travels
Why we want to house sit
The main reason is to travel, experience difference countries and also enjoy a more natural home from home holiday experience. We know how hard leaving animals can be so we want to be the reassurance you need - two way beneficial street! We are at the point in our lives where we want to get out and experience the world with our children before school and worklife take over.from Chelsea and Ben

From Mike and Louise
We just love traveling and would love to give back what we have received form trusted house sitters etc
Our experience
We have a wide range of knowledge of looking after animals as we have a family smallholding including pigs sheep horse 3 dogs and 2 cats. We both hold animal management diplomas. We understand good housekeeping and know home owners want and need to know their homes are being respected.
We are extremely flexible and trustworthy, as both our work lives means we are often in possession / charge of the most important things in someone's life - children and homes and of course animals!
From all of us Chelsea, Ben , Mike and Louise
About Louise & Benjamin
There are 2 couples on this profile,,,but only MIKE AND LOUISE is traveling at this moment 2018to 2019
1st Chelsea Ben
We are a young family that love nothing more than spending time together whilst exploring and planning our next adventures.
I am an Early Years teacher and husband , Benjamin is a historic building renovator. H is almost 4 years whilst R is 1 years (very well behaved! - mostly !)
We both hold animal qualifications and all love being outdoors

That's the youngsters sorted now for the mature couple

We are Mike and Louise we just love the whole houseshare concept and have had 3 house sitters and many other organisations like HELPX stay with us,
We have lots of animals and now hav3 time to travel and start our hosesitting travels
There are 2 couples on this profile,,,but only MIKE AND LOUISE is traveling at this moment 2018to 2019
1st Chelsea Ben
We are a young family that love nothing more than spending time together whilst exploring and planning our next adventures.
I am an Early Years teacher and husband , Benjamin is a historic building renovator. H is almost 4 years whilst R is 1 years (very well behaved! - mostly !)
We both hold animal qualifications and all love being outdoors

That's the youngsters sorted now for the mature couple

We are Mike and Louise we just love the whole houseshare concept and have had 3 house sitters and many other organisations like HELPX stay with us,
We have lots of animals and now hav3 time to travel and start our hosesitting travels
Why we want to house sit
The main reason is to travel, experience difference countries and also enjoy a more natural home from home holiday experience. We know how hard leaving animals can be so we want to be the reassurance you need - two way beneficial street! We are at the point in our lives where we want to get out and experience the world with our children before school and worklife take over.from Chelsea and Ben

From Mike and Louise
We just love traveling and would love to give back what we have received form trusted house sitters etc
Our experience
We have a wide range of knowledge of looking after animals as we have a family smallholding including pigs sheep horse 3 dogs and 2 cats. We both hold animal management diplomas. We understand good housekeeping and know home owners want and need to know their homes are being respected.
We are extremely flexible and trustworthy, as both our work lives means we are often in possession / charge of the most important things in someone's life - children and homes and of course animals!
From all of us Chelsea, Ben , Mike and Louise
Verifications
Email Address, Phone Number
Animal Care Experience
Dogs

Cats

Reptiles

Horses

Poultry

Farm animals
Availability
MON
TUE
WED
THU
FRI
SAT
SUN
Preferred Countries
Profile Details
Age
Louise 30, Benjamin 30
Occupation
Stay at home mother, Building restoration
Previous house sitting experience
No
Member benefits
Sitter is connected to
Vet Advice Line
Vet Advice Line