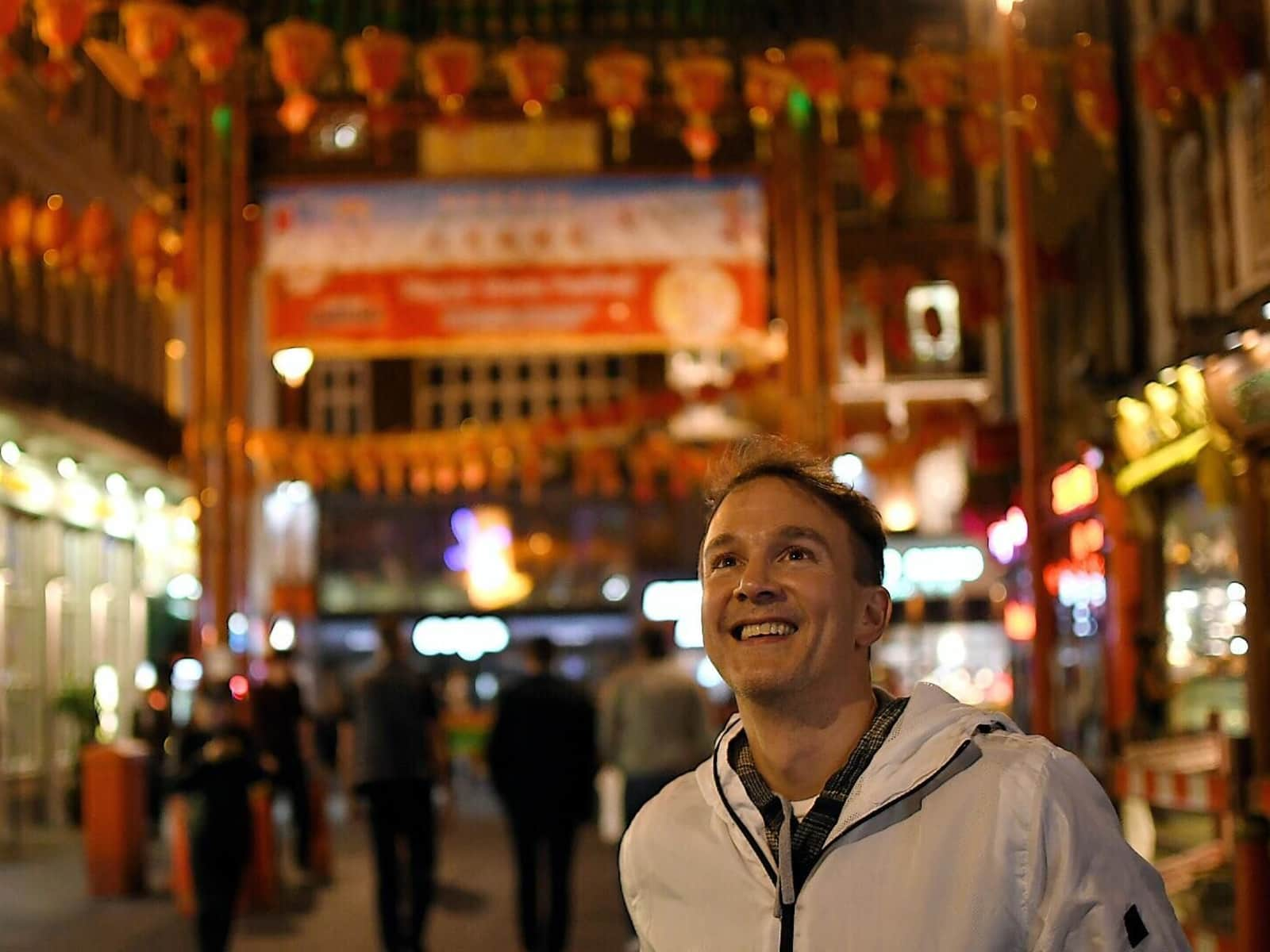 Joe
Serving your home and pets!
San Luis Obispo, California, United States
About Joe
Hi everyone! I'm Joe, a past computer guy, turned Licensed Clinical Social Worker and nonprofit Executive Director. I'm taking a sabbatical from the U.S. - using my dual-citizen EU/Italian passport - to write my next book about the challenges facing youth in our times. I will LOVE your home & pets like my own and treat them with the care and att...
Hi everyone! I'm Joe, a past computer guy, turned Licensed Clinical Social Worker and nonprofit Executive Director. I'm taking a sabbatical from the U.S. - using my dual-citizen EU/Italian passport - to write my next book about the challenges facing youth in our times. I will LOVE your home & pets like my own and treat them with the care and attention they deserve. :)
Why I want to house sit
My dad flew planes for Pan American and several other airlines before he passed, so I pretty much grew up in a plane and deeply appreciate far-away people and places. Now that I am on a sabbatical to write, I look forward to extended-stay, peaceful, clear-minded journeys, with the added bonus of having a friendly pet(s) to share with! :)
My experience
I have housesat several high-level individuals' homes throughout my nonprofit, Dream Camp Foundation - see www.dreamcamps.org - adventures - you can view videos and see some of the personalities at: https://www.youtube.com/user/computane

I also host and travel extensively using the CouchSurfing website. You can see many references for me there at: https://www.couchsurfing.com/people/snoopy-joe

my Airbnb profile is at: https://www.airbnb.com/users/show/102070
Reviews (2)
Adrienne - Coronado, California, United States

21 November - 25 November 2018

Joe took wonderful care of our home and Story! He was clean, prompt in his responses, and super pleasant to interact with. I would have zero problems with having him sit again - he's an awesome guy!

Joe took wonderful care of our home and Story! He was clean, prompt in his responses, and super pleasant to interact with. I would have zero problems with having him sit again - he's an awesome guy!

Organised

Reliable

Self-sufficient

Tidy

Pet care

Joanna - Beaconsfield, United Kingdom

21 October - 24 October 2018

Joe house and dog sat for us recently in his first UK Trusted Housesitters sit and it was very successful. Joe was attentive and spent lots of time with Winston who clearly had a great time. We got lots of photos and updates which we appreciated and the house was left clean and tidy with the bedd...

Joe house and dog sat for us recently in his first UK Trusted Housesitters sit and it was very successful. Joe was attentive and spent lots of time with Winston who clearly had a great time. We got lots of photos and updates which we appreciated and the house was left clean and tidy with the bedding in the wash. He was easy to communicate with and followed all our requests re keys etc very thoroughly so although I never actually met him, I had no concerns at all leaving him in charge at home and would happily recommend him or use him again.

Organised

Reliable

Self-sufficient

Tidy

Pet care
External references (2)
Tina - House / Pet sitting Reference

11 October 2018

Joe flew to Bali to look after our 6 month old puppy Houdini, and there are only a handful of people in the world who I would trusty as much as we trust Joe to mind our dog and our home.

Joe is the perfect house guest, amazing with animals and someone you can actually trust not just to keep you...

Joe flew to Bali to look after our 6 month old puppy Houdini, and there are only a handful of people in the world who I would trusty as much as we trust Joe to mind our dog and our home.

Joe is the perfect house guest, amazing with animals and someone you can actually trust not just to keep your pets fed or take them for a walk but actually give them the love and attention that you would.

Joe will take care of all the little details, and make sure that you can just relax and enjoy your holiday... and if you are anything like me and love receiving photos and videos of your pup while you are away, then you are in for a treat.

Organised

Reliable

Self-sufficient

Tidy

Pet care

Ieva - Character Reference

10 October 2018

Joe is very considerate and caring, he treats his friends with a lot of respect, pays attention to details and puts lots of love in everything he does. I met Joe during my holidays in California, where I had the opportunity to stay in his place for a couple of days - it was a treat! He was an exc...

Joe is very considerate and caring, he treats his friends with a lot of respect, pays attention to details and puts lots of love in everything he does. I met Joe during my holidays in California, where I had the opportunity to stay in his place for a couple of days - it was a treat! He was an exceptionally welcoming host. Therefore, I was delighted to host Joe during his travels in Europe. During the couple of weeks he stayed at my place, he kept everything tidy and clean, I didn't even notice that there was another person at my home! While I was at work, he used to take care of every housekeeping task I would ask him to do with a lot of attention. It's a shame he travels this much - I would like to have him as a guest more often.

Organised

Reliable

Self-sufficient

Tidy
About Joe
Hi everyone! I'm Joe, a past computer guy, turned Licensed Clinical Social Worker and nonprofit Executive Director. I'm taking a sabbatical from the U.S. - using my dual-citizen EU/Italian passport - to write my next book about the challenges facing youth in our times. I will LOVE your home & pets like my own and treat them with the care and attention they deserve. :)
Hi everyone! I'm Joe, a past computer guy, turned Licensed Clinical Social Worker and nonprofit Executive Director. I'm taking a sabbatical from the U.S. - using my dual-citizen EU/Italian passport - to write my next book about the challenges facing youth in our times. I will LOVE your home & pets like my own and treat them with the care and attention they deserve. :)
Why I want to house sit
My dad flew planes for Pan American and several other airlines before he passed, so I pretty much grew up in a plane and deeply appreciate far-away people and places. Now that I am on a sabbatical to write, I look forward to extended-stay, peaceful, clear-minded journeys, with the added bonus of having a friendly pet(s) to share with! :)
My experience
I have housesat several high-level individuals' homes throughout my nonprofit, Dream Camp Foundation - see www.dreamcamps.org - adventures - you can view videos and see some of the personalities at: https://www.youtube.com/user/computane

I also host and travel extensively using the CouchSurfing website. You can see many references for me there at: https://www.couchsurfing.com/people/snoopy-joe

my Airbnb profile is at: https://www.airbnb.com/users/show/102070
Verifications
Standard level
Email Address, Phone Number, External references (2), Identity & Document Check
All Standard Verification checks are carried out by a specialist 3rd Party
Animal Care Experience
Dogs

Cats

Horses

Fish

Farm animals

Bird

Small pet
Availability
MON
TUE
WED
THU
FRI
SAT
SUN
Preferred Countries
Profile Details
Occupation
Mental Health Clinician
Travelling as a
Single Sitter
Previous house sitting experience
Yes
Member benefits
Sitter is connected to
Vet Advice Line
Vet Advice Line
Member since
October 2018
House & pet sitting timeline
Joe has done 2 house sits since 2018
Coronado

United States

Nov 2018

Beaconsfield

United Kingdom

Oct 2018