Cat Sitting Opportunities
- Sydney, Australia
2 house sits - Sydney, Australia
>
>
>
Don't miss out!

Get new sits you want delivered to your inbox in:

As a member you'll be FIRST to hear about new house sits 24 hours before they appear on the website.

Join Now!

Completed House Sits

My partner and I have two adorable cats who are brother and sister. We are traveling to ...

I am a mature gentleman in great physical fitness living on my own in a standalone house. ...

Older style place above a cafe in the inner city, taking good care of a beautiful, but ...

I am 3yrs and I love attention and am abit of a chatterbox. I am a ragdoll ...

Retired woman located in Central Coast NSW retirement village, volunteer worker, quilter, reader, balcony gardener, movie goer. ...

Fido is a gorgeous, if odd, little fella who chases you, chats to you and always sleeps ...

Hi, I'm Lester. I am about 4 and have lived with my mum for a year and ...

My partner, Jamie, and I are looking for an experienced cat-sitter for our wee fur-baby, Devine, while ...
Cat sitting
In exchange for a free retreat
If you love cats, then cat sitting through TrustedHousesitters is a great way to enjoy the company of these feline creatures. Imagine being away in a home from home with the cat curled up on your lap in front of the fire - cat sitting provides you with some wonderful company during a house sit and is one of the most popular pets to care for while house sitting.
More on Sydney, Australia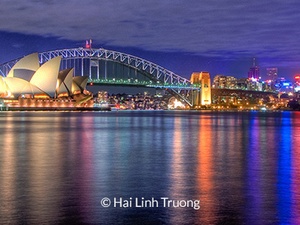 Want to stay in a city with some of the world's most famous surf spots, coolest sights, and cuddly pets? It sounds like house and pet sitting in Sydney is for you!
From the beach to the bush, cute pets are looking for caring sitters to keep them company while their owners are away. It's the perfect way for pet lovers to avoid hostels and hotels, and find free accommodation in Sydney homes instead. So, where will house sitting in Sydney take you? Walking a four-pawed tour guide around the Opera House and the Harbour Bridge, or chilling with kitties while you fire up a barbie your own Bondi backyard?
Discover the world of TrustedHousesitters
Explore top sits and read tips from the experts