Dog Sitting Opportunities
- Sydney, Australia
3 house sits - Sydney, Australia
>
>
>
Don't miss out!

Get new sits you want delivered to your inbox in:

As a member you'll be FIRST to hear about new house sits 24 hours before they appear on the website.

Join Now!

Don't miss out!

Get new sits you want delivered to your inbox in:

As a member you'll be FIRST to hear about new house sits 24 hours before they appear on the website.

Join Now!

Completed House Sits

I live in an airy & light-filled one bedroom unit in a convenient Sydney location (6km from ...

Looking for someone to look after our 2 groodles (big dogs) and house for 4 weeks (Monday ...

we are a couple who are going away for a couple of days 13 till 16 July, ...

We have two gorgeous Schnausers who need caring when we are away. Love their walks. And they ...

Biily is a happy bouncing confident Maltese cross who loves all people and all dogs and really ...

Hi, we are a family of 4 humans (2 adults and 2 teenagers), and 4 dogs. We ...

Looking for a friendly couple to housesit and look after our cute puggle Fudge. Ground floor garden ...
Dog sitting
In exchange for a free retreat
If you love the company of dogs, then dog siting through TrustedHousesitters is a wonderful way to enjoy hanging out with a four legged friend while house sitting. Imagine long walks on the beach or park - dog sitting is also great as way to meet and make friends in a different location and as the mantra goes; life's always better with a dog by your side!
More on Sydney, Australia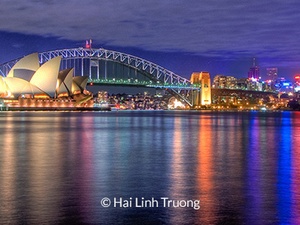 Searching for free accommodation in Sydney, NSW, Australia? Perhaps you're considering an alternative destination because you just can't find any budget accommodation in Sydney that inspires your desire to visit. Did you know that securing a house sitting assignment in Sydney could provide you with free accommodation for the duration of your visit?
Secure rent free accommodation in Sydney through TrustedHousesitters.com, and live for less in one of the world's most iconic cities. Instead of paying for high priced hotel rooms, spend your travel fund on tickets to a performance at the Sydney Opera House, invest in a once in a lifetime activity such as climbing Sydney Harbour Bridge, or buy an Aboriginal dot painting to remind of your visit Down Under.
By registering with TrustedHousesitters.com you can search through the wide variety of house and pet sitting assignments in Sydney, and then apply for those you think best suit your travel plans. By minding a house in Sydney you can live rent free and explore the city on a greatly reduced daily budget.
Take a look at the Sydney house sitting assignments in the list below. If you spot an opportunity that fits with your travel plans, sign-up to TrustedHousesitters.com today for the chance to connect with the home owner offering rent free accommodation in Sydney.
Whether you're looking for an apartment close to the markets of bohemian Balmain, or you're keen to soak in the artistic elegance of cosmopolitan suburb Paddington, TrustedHousesitters.com can help you live like a local in Sydney.
House sitting allows you to tap into local knowledge and can provide you with an experience far removed from that of a tourist. Chat to your new neighbours and ask them to show you their favourite places in Sydney.
Your new found local knowledge could provide memorable experiences such as watching the latest blockbuster under the stars at the Moonlight Cinema in Centennial Park, skydiving over Wollongong, or exploring the abandoned railway tunnels of Old Helensburgh.
Need more inspiration? Scroll through our interactive map to find a house sitting assignment in Sydney, and secure free accommodation with the help of TrustedHousesitters.com.
DISCOVER THE WORLD
Near or far with TrustedHousesitters