Great Dane House in the country
Gatton, QLD, Australia
Dates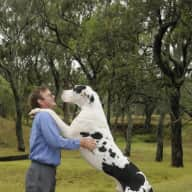 Currently no sitter needed
Currently no sitter needed
Introduction
I breed and raise great danes. They are house dogs. The house is a queenslander with plenty of room for the dog but danes like to be with you. If a sitter would like to stay awhile either side of dates to fit in with their plans you are…
Home & location
The house is a Queenslander on 40 acres in a quiet farming area 10 minutes drive from both Gatton and Laidley. It has 3 bedrooms and a big house yard for the dogs.
House
Basic WiFi
Family friendly
Countryside
Use of car included
Suitable for solo sitters
Responsibilities
The main job is to feed twice daily and give the dogs company. If needed rotate dogs and bitches in season in kennels to give freedom and exercise. A bit of house keeping would be nice , with this many dogs there is a bit of dog hair.
Meet the pets
Rhea

Great Dane

1 year

Impus

Great Dane

7 years

Zippy

Great Dane

Nemesis

Great Dane

4 years

Ice

Great Dane

4 years

Boo

Great Dane

4 years

Ocean

Great Dane

4 years

Pheonix

Great Dane

3 years

Pax

Great Dane

3 years

Fearless

Mix-Breed

7 years

poultry

farm animal