We have 6 friendly chickens who like to have a wander around the garden but will come to see if you have any treats if they see you around the back. I have a fish pond which houses about 50 large shubunkin, 4 original parents and their offspring. We also have a dog but she is coning on holiday with us.
Samford, Queensland, Australia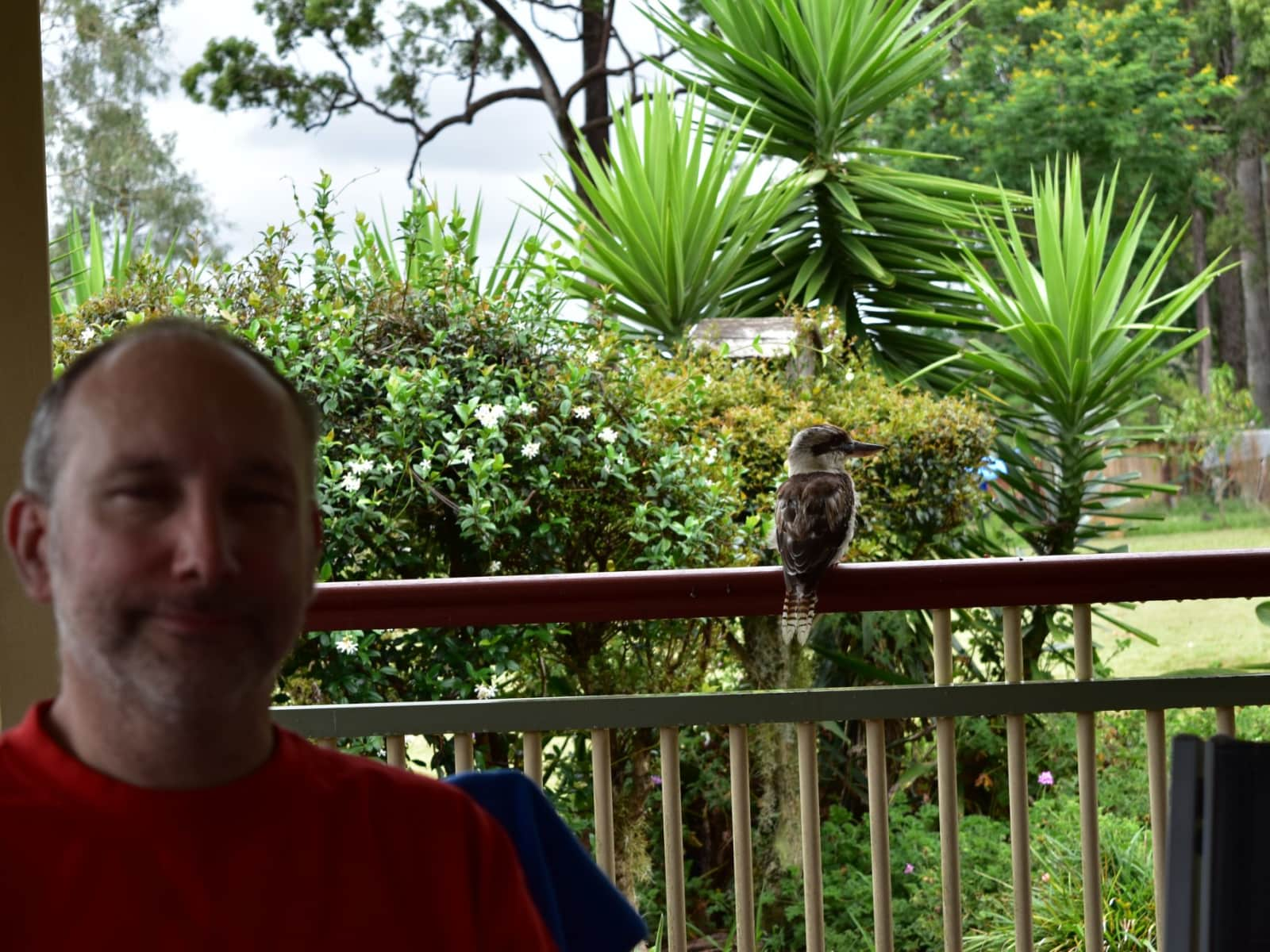 Pets
Fish
Poultry
Introduction
My partner, Platon, and I have lived in Australia for 11 years (I'm from the UK & Platon is from South Africa). We moved to Samford about 6 years ago and we absolutely love our home and the peacefulness of living in the countryside. We are close enough to walk to our lovely, popular village for a beer, coffee or a meal at one of the cafe's, restaurants or the pub and I often get the feeling that we are on holiday when we have a few days at home.
We love living here so much that we are even getting married at our home on 20th December 2018, which is why we're taking a few days away from 28th December to 1st January. We're going to take our lovely Rhodesian Ridgeback, Matilda, with us so it would just be the chickens and the fish to look after freeing you up to enjoy your days in Samford and surrounds.
Our Home & Location
We live in a modern, low maintenance, brick veneer heritage style home, which is situated in the middle of our 2.5 acres of lawn and native trees, giving a nice feeling of privacy from the neighbouring properties. Samford Valley is beautiful countryside popular with cyclists, motorcyclists and anyone who loves 'greenery'! There are quite a few sightseeing routes around the area, including a route through the Glasshouse Mountains towards the Sunshine Coast and Australia Zoo. Nearer to home though there is a superb swimming and kayaking spot just 15 minutes away (check out 'Bunya Crossing Reserve') and best of all is Samford Village and all it's cafe's & little boutique shops & restaurants as well as takeaways, supermarket & newsagent within walking distance. We are 10 minutes drive from Ferny Grove train station if you want to take a train to Brisbane but there is no realistic way of getting to & from there except by car so you will need transport.
House
Sitters need a car
Basic Wifi
Countryside
Responsibilities & Pets
Chickens to be let out of coop and fed and watered daily, I have water stations around the garden so I do check them daily and go around with the watering can. Chicken feed is given in morning and again in the early evening as they are heading back to the coop. The girls like to free range in the garden but it is critical that the girls are locked in their coop every evening (they will take themselves in but the door needs to be shut as we do have visiting foxes. The pond fish just need to be fed and the pond checked over to see that the filter and aerator is working fine. I have quite a few fish from this year's breeding so they need daily feeding. The house is low maintenance and just needs keeping clean & tidy & the mail collecting from the letter box at the gate. The lawn will have been mowed before we go so the only requirement for the garden will be watering the pots and tubs.
Poultry: Chickens, 6 girls who like a free range around the garden. My 3 younger girls are Meryl, a white Sussex and Siri, a platinum Sussex who are both quite friendly and will follow you if you have food, Then there is Louise, who is a buff Sussx and the same age as Meryl & Siri but quite timid. Jean, a Plymouth Rock (speckled dark grey)and Linda, a Barnevelder (brown laced) are the two older girls and don't do much laying now. Vivian, is a typical flighty Leghorn, she's a lovely grey colour and quite highly strung. When the girls are let out into the garden they are happy to head back to the coop for the evening but MUST have their door shut in case the fox comes visiting.
Fish: Outdoors, I have a 4 x 2 metre pond with waterfall and approximately 50 long tailed shubunkin. I usually feed them twice a day in summer and keep an eye out for the heron. The pond is netted but it doesn't stop the heron from trying.