HAVEN IN ADELAIDE HILLS
Strathalbyn, South Australia, Australia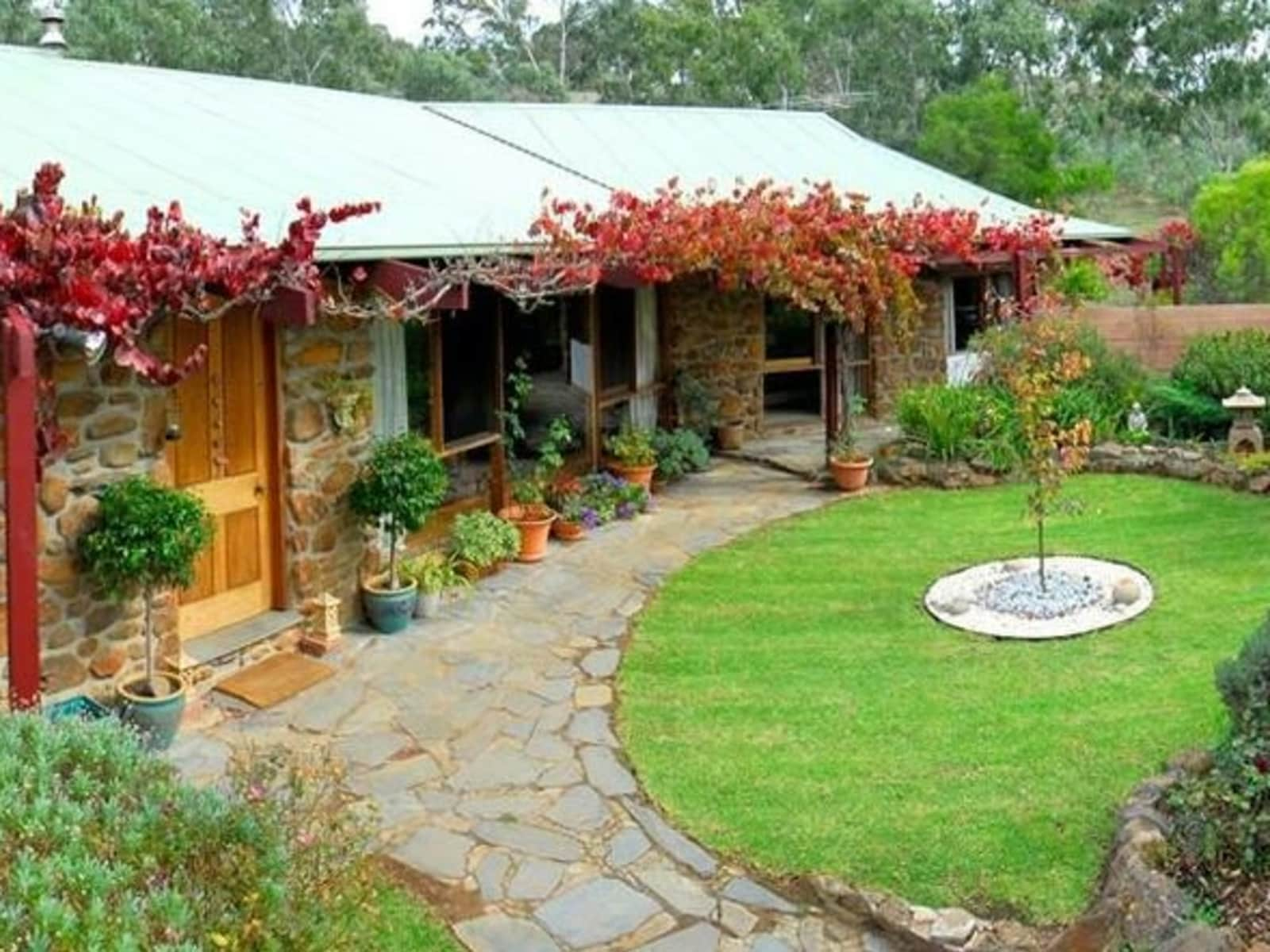 Pets
Dog
Cats
Horse
Fish
Poultry
Farm animal
Bird
Introduction
My husband and I are recently retired. Pete was a Clearance Diver and Submarine Rescue Training instructor with the Navy for nearly 40 years and I was a Teacher. We moved from Western Australia 18 months ago and would like to to start exploring South Australia for short trips using a friends camper trailer before investing perhaps in one of our own. We're new to Trusted Housesitters but we've used sitters very successfully in Western Australia from another housesitting website. I've also recently signed on as a Housesitter myself to get the opportuinity to exlore a little more of Australia close to home.
Our Home & Location
We live on a 75 acre strata property. There are three houses on the property and each house has four acres for personal use and the remaining 63 acres is common land. We've been turning our four acres into a gorgeous hobby farm. Our cottage is built from local stone and has high raked wooden ceilings and masses of windows to capture all the beautiful views. We are located in a valley in the Adelaide Hills between Mount Barker and Strathalbyn. Each town is approximately 20km either way from us. Adelaide City is a 40 minute drive. We are very close to all the major wine regions including Langhorne Creek and McClaren Vale. This is also a mecca for wonderful produce and artisan markets on the weekends. Just outside Mount Barker is historic Hahndorf and there are also a number of fabulous historical pubs - one of the the oldest pub in South Australia, The Three Brothers Arms, which does excellent food and great music on a Friday night, is 9 kms away.
House
Sitters need a car
Basic Wifi
Beach
City
Countryside
Responsibilities & Pets
Bella the Boxer is walked once or twice a day and fed twice a day. She is very loving and playful. We have two cats, Mika is a proud but very affectionate Russian Blue and Poppy is her own special breed. :) She can be quite haughty but one scratch of her snowy white tummy and she'll be anybodys! Both cats are outdoors during the day and at night the cat flap is locked and they remain inside until morning. No litter tray is necessary as they are very clean. They are both self sufficient but love any kind of attention particularly in the evening. They tend to pick and choose when they want to sleep on the bed. We also have two alpacas, six chickens, two geese, one horse and several comet fish in a pond outside. This housesit will require sitters who are prepared to return home every day, if going on excursions, as the responsibility to let the geese and chickens free range and lock them in their coups in the evening is paramount. Mim, the horse and alpacas also require feeding every day. We also "have" a magpie, Pew, who comes to sing for us every morning and evening and she's fed mince by hand after each operatic performance. That said, the chores take up very little time and the breathtaking beauty of our valley is worth every moment.
Horse: Mimpi (Mim) is 13 years old
Poultry: 6 Chickens and 2 geese
Fish: Outdoors, Two comet goldfish in outside pond - Moby and Dick
Bird: Pew is 1 year old
Farm animal: Alpacas, Ben and Jerry
Cat(s): Mika is 3 years old (Russian Blue), Poppy is 4 years old
Dog: Bella is 3 years old
Upcoming sitters
February 2019 | Georgina