Gregarious Budgie in Beautiful Bush Setting!
Warrandyte, Victoria, Australia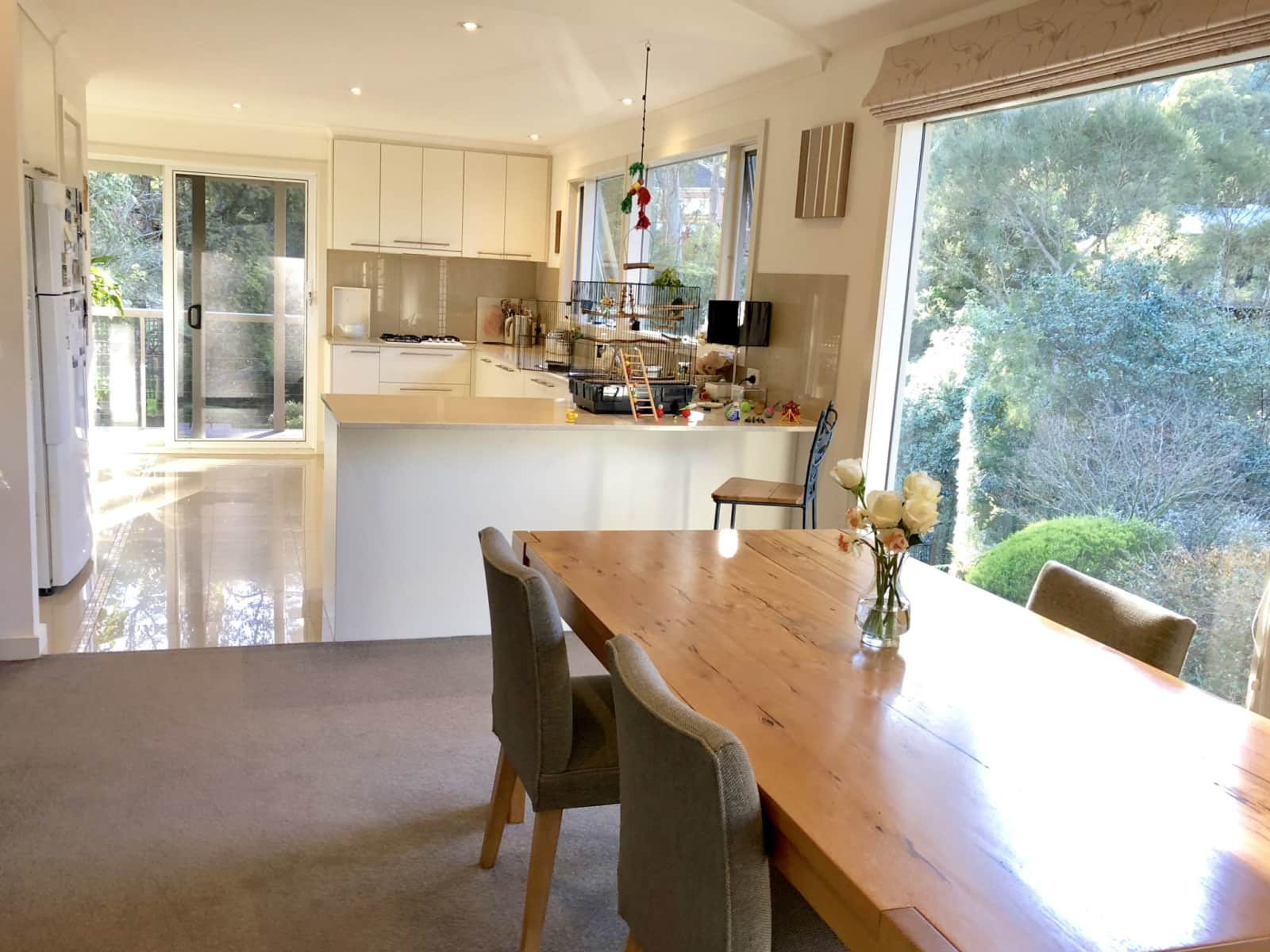 Pets
Bird
Introduction
My husband works in the business world and I am a retired teacher. We are looking for a house sitter to mind our gorgeous, free flying budgie while we take a trip to New Zealand with our son. Our budgie Charlie spends most of the day out of the cage which is why we're looking for someone to house sit. This is so that Charlie can stay home, fly about and continue to be the boss of the house! We are looking for a clean living, non-smoking, bird loving, patient and gentle person who would care for our beautiful home and friendly budgie. We would like someone who would be willing to spend a reasonable amount of time at home so that Charlie has company. Ideally someone who works from home. The house and surrounds are incredibly beautiful and soul restoring.
Our Home & Location
Our house is two story, open living with large rooms and lots of light. We are on a half acre, bushy block of land and also have a swimming pool. The sitter will have access to a spacious spare bedroom, large bathroom, large open plan living area comprising of kitchen, dining area and lounge. There is a large garden to sit in and walk in. The house and garden are well maintained and easy to look after. We are clean and tidy people and would like a sitter who shares these values. Warrandyte is in the urban fringe of Melbourne and 30 kms from the city and one hour from the airport. You will need a car. The Yarra River is near our home with wonderful walks along the river with cafe's, art galleries and gift shops. A well stocked IGA is in Warrandyte and a 5 minute drive away. There is also a chemist, local pub, more cafe's, medical centre and so on in town. There are numerous bush walks all around our area. The Yarra Valley with beautiful wineries is only 20 minutes away and one of our favourite area of interest.
House
Sitters need a car
Basic Wifi
Countryside
Responsibilities & Pets
We have one budgie who is out of his cage most of the time and loves to free fly in the kitchen/dining/lounge area. Charlie needs to be fed and watered morning (around 7.30 - 8.30 am) and in the evening (around 5.30 - 6 pm) and locked in for bed time around 7 pm. Charlie loves company and stimulus so when no one is home his toys need to be set up to entertain him. The house needs to be made safe by no open water left in the sink and the doors kept shut to other areas of the house. Charlie loves people so we would like someone who isn't away for longer than 6 hours at a time. Preferably someone who comes and goes with shorter time gaps in between and may also be happy to spend the bulk of some days at home. Sometimes Charlie will fly on the floor to visit the parrots outside who get fed on our balcony, and the sitter MUST be sensitive and aware of this bad habit so they don't step on him. Charlie loves music with the radio left on during the day. He will want to fly to you, sit on your hand or head and loves someone to play with him and his toys. He will want to go through is repertoire of words and whistles with you and the more you engage with him, the more entertaining he will become. At all times the doors to the outside must be kept shut when he is out of his cage so that he doesn't fly away. Other day-to-day responsibilities would be collecting the mail, watering a few pot plants, taking the bin out (if full), feeding some local parrots outside and an occasional watering of the garden (if there is no rain).
Bird: Charlie is 4 years old