For the love of Animals
Boneo, Victoria, Australia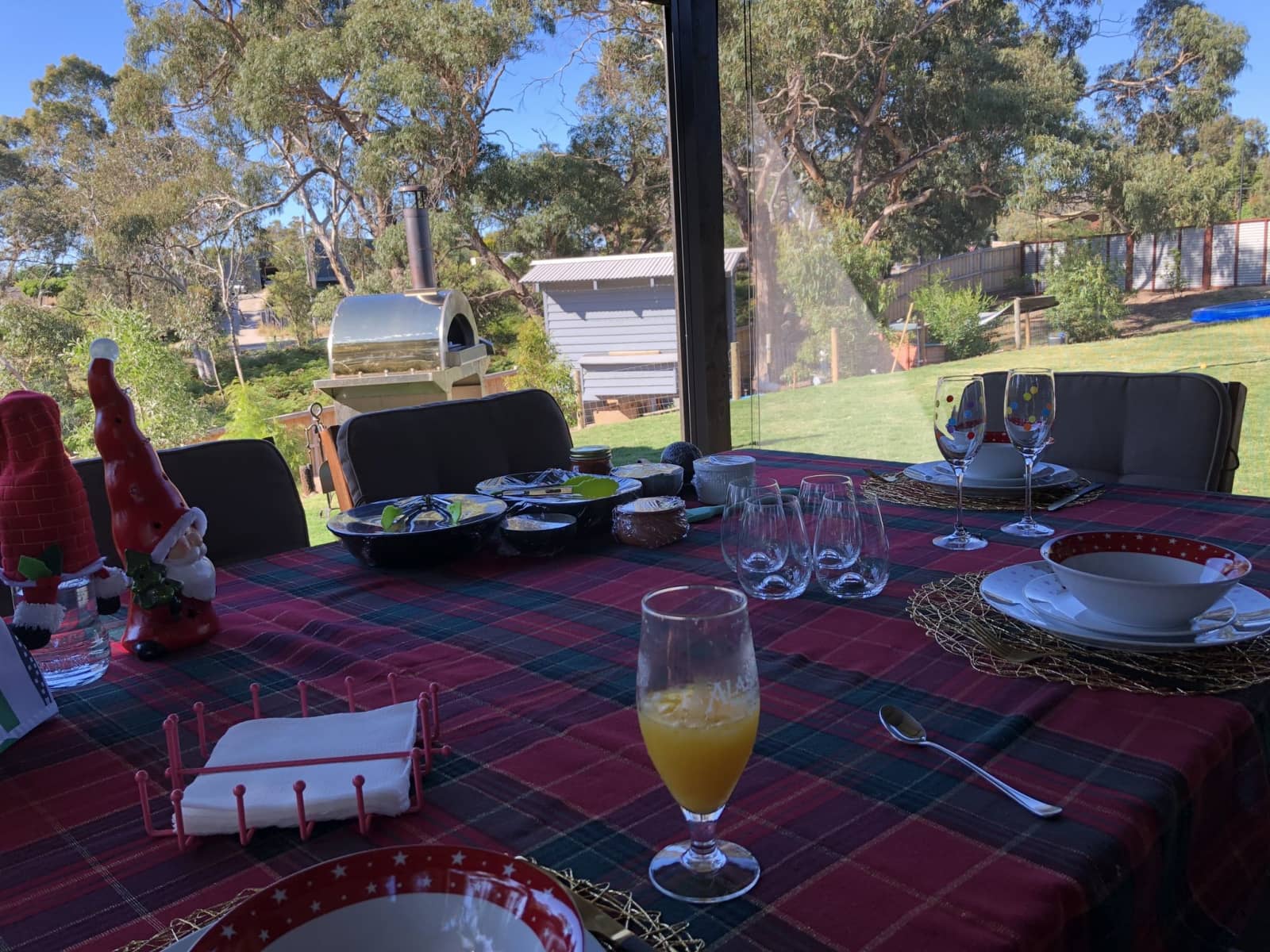 Pets
Dogs
Cats
Poultry
Introduction
My husband will retire in a year, and l retired a year ago. We are a couple in our mid 50's who have been married for 37 years. We love animals and l love to cook and once both retired we will find a common interest. We love to travel and have always had family to house sit. Now they have families and animals of their own we need to look at alternatives.
We have used this site once before a couple of years ago. The couple we chose unfortunately had another couple join them in our home for the duration of their stay. Although our animals were well taken care of, the fact that they did not ask caused us much distress. Trust in each other is imperative to us, so if there is anything you need to ask or tell, please do it at the very beginning. We live in a beautiful part of the world with not only beaches or hills, shops and restaurant's, but a good bit of privacy and a house that has everything in it.
Our Home & Location
We built this house in 2017, it is 33 squares in size and sits on just under half an acre. Although our address is Rosebud, we are right on the border of Boneo which is 5 minutes from Main Ridge and Redhill which is hilly and covered in wineries. If you turn right, you go further into Rosebud and within 5 minutes you are at the beach. We believe the best of both worlds.
We have reverse cycle refidgerated cooling/ heating ducted through the whole house. Twin ovens, one being a combi steam. Three large smart T.V's, multiple living areas and other than watering, a low maintenance yard.
House
Car included
High Speed Wifi
Beach
City
Countryside
Responsibilities & Pets
The chickens and ducks will put themselves to bed but the door of the coop will need to be latched. In the morning they will need to be let out as the sun is coming up, generally between 5.30 and 6am in the summer months. They have some snacks when they get up and chickens do like scraps or treats like watermelon, tomatoes and so on. They only can't have things like avocado, citrus or onions. They have food in feeders that just need topping up. They must have fresh water a couple of times a day and the ducks need their wading pool emptied and refilled once each day. Ducks cannot eat without water, so it is crucial to have fresh water around them. There is plenty of water containers, so just refreshing morning and night is required.
The cats just need to be fed in the morning and their litter changed over. They also have some dinner. The dogs need breakfast and dinner around 5 in the afternoon. All food will be packaged, labeled and ready just to be served. Once l have let the chickens out and fed the cats, l go back to bed. It only takes about 20 minutes to do both, so another couple of hours sleep is easy enough to get. The dogs won't get up until you do, that's when they get their breakfast. If going out, just clean out the chicken coop and add some fresh straw and freshen water. Then the day is yours until around 5pm when it is dinner and fresh water time again. If you are going out for dinner after that, they will be fine until you get home. The dogs have outside beds and will keep foxes away until you return to latch the coop. The dogs sleep inside in their own beds and the cats are inside cats and sleep wherever they want to. None of our pets like to be cuddled, much to our disappointment, however do love a pat....
Because the dogs are big, we don't expect them to be walked. The property is big enough excercise just while we are away. Watering by moving the sprinkler around in the cool of the evening will keep the grass alive. + More info
Poultry: Chickens, Ducks, I have a mixed flock consisting of one hen silky, three australorp hens, one ex battery hen and two female Peking ducks
Cat(s): Harry is 10 years old (British Shorthair), Max is 9 years old (British Shorthair)
Dog(s): Simba is 5 years old (Rhodesian Ridgeback), Leo is 5 years old (Rhodesian Ridgeback)