Looking after 2 beautiful Boston terriers.
Bayswater, Western Australia, Australia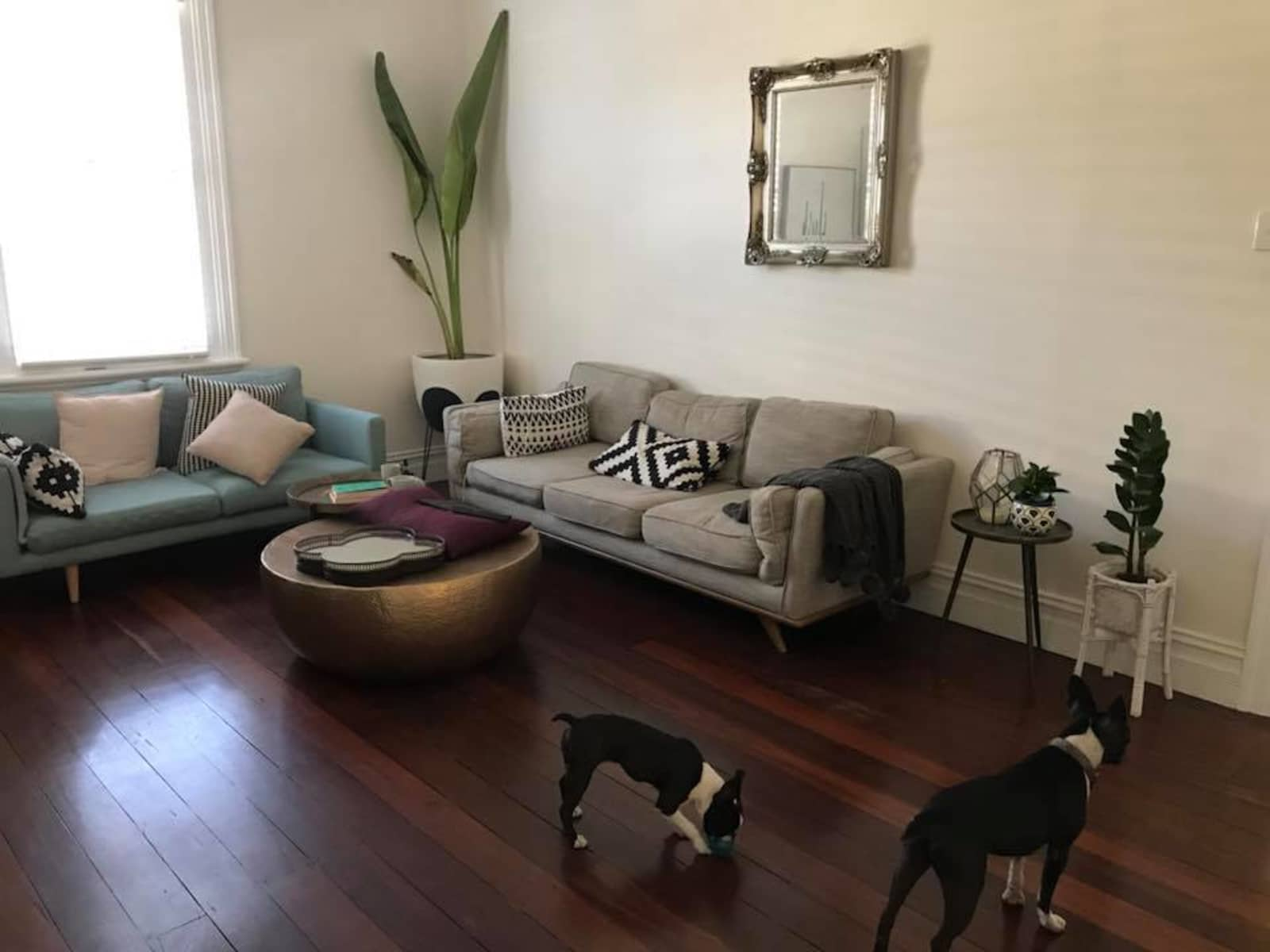 Pets
Dogs
Introduction
I'm Marianne,

I live in a beautiful 102 year old character home in Bayswater, Perth with my partner Paul and our two incredible dogs, Salvador and Dolly. We bought our house last year and have enjoyed spending time on making it really comfortable and beautiful. I love spending time with my two little dogs, they are a huge part of my life and keep me entertained daily.
Our Home & Location
Bayswater is a suburb about 10-15 minutes drive from the CBD. Our house is only a 500 meter walk from the Bayswater train station which takes you into the city, so handy.
The nearest shopping centre, Galleria is a 5 minute drive where you can find Coles, Woolworths and Aldi amongst other stores.
Bayswater has a couple of cute cafes, a couple of liquor stores, a pub and plenty of parks which i have taken the dogs to.

We live in a beautiful 102 year old 3x2 character home. The house has wooden floors, tall ceilings, a fireplace, a claw foot bath and a little garden complete with a spa. You are welcome to use everything, the TV, Netflix, internet, anything you find in the kitchen etc. Our home is your home too.
House
Basic Wifi
Family-friendly
City
Responsibilities & Pets
Responsibilities include..

The beasts. Salvador and Dolly require much love and affection. They love at least 1 walk/ball throwing session at the park each day....

Salvador is independent, he is very happy sitting next to you on the sofa but isn't snuggly. He loves anthing that can be thrown and will often drop a ball by you. He is a fast runner and gets a huge amount out of his daily park trip. He is dog-social and human social, I have never seen him hurt a fly. A very sweet boy. Sal is allergic to a cocktail of weeds, dust mites etc so he takes 1 prednisalone tablet with breakfast and dinner to prevent him scratching.

Dolores (Dolly) is the cutest little shadow, by shadow i mean it. She loves following you around the house and wants to be with you wherever you are, she will happily be picked up and cuddled. She is almost 6 months old but still has a bit of trouble remembering where to go to the toilet. She loves Salvador and will pester him all day every day if allowed. She is a beautiful natured girl but can be quite anxious/grumpy around new dogs and people. She is so much fun, i haven't met anyone that hasn't fallen in love with her.

Plants - occasional water, not much maintenance required during winter.

Bins, once a week.

General house responsibilities, keeping it secure and clean :) + More info
Dog(s): Salvador is 3 years old (Boston Terrier), Dolly (Boston Terrier)
Previous sitters
April 2018 | Jamie