Enjoy our modern home as if it was your own
Calgary, Alberta, Canada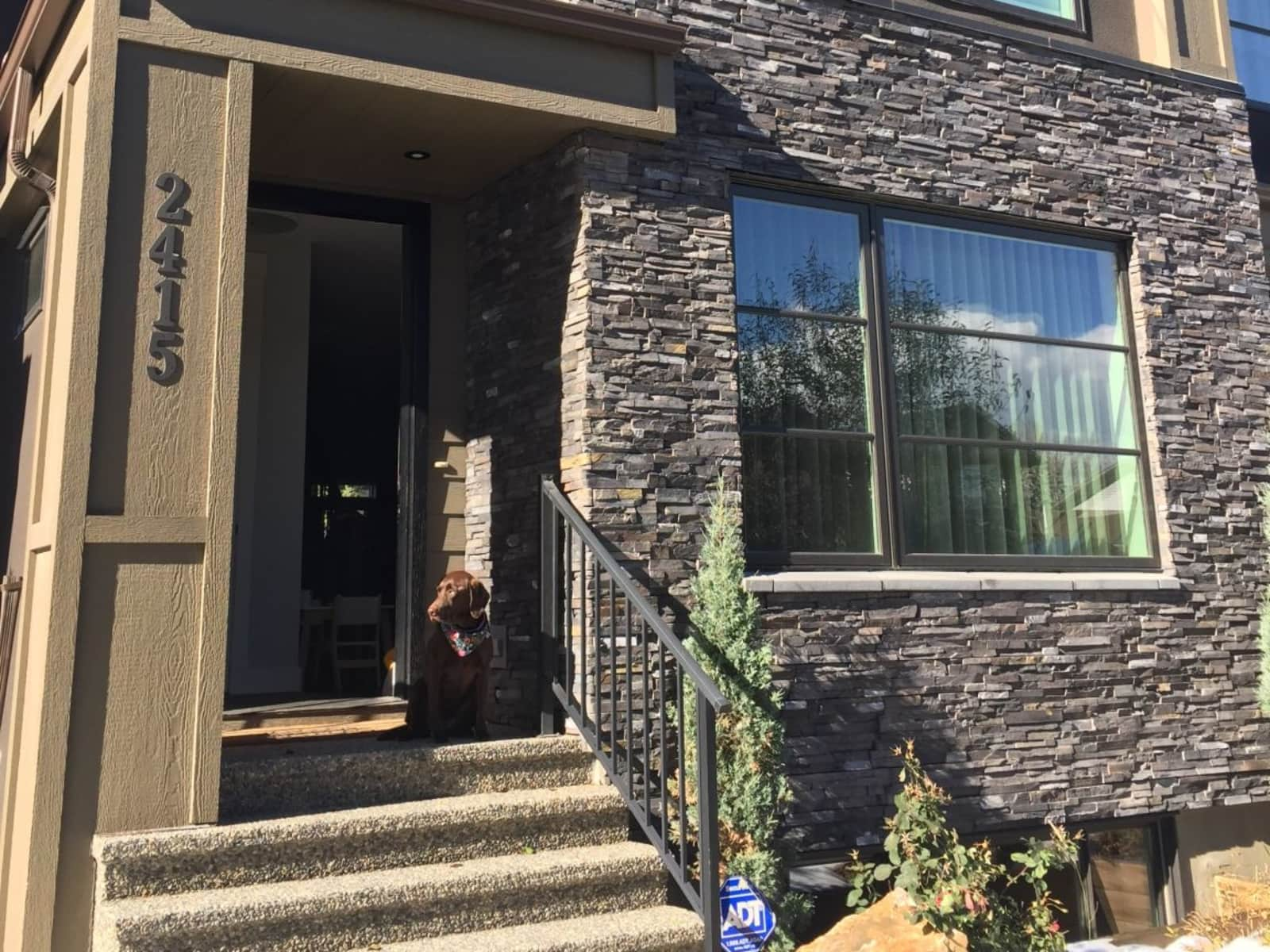 Pets
Dog
Introduction
As of recently, my husband and myself were in the real estate industry for over 12 years. Two years ago, our beautiful daughter Sasha came into our lives and everything has changed. I have decided to stay home with her and Ryan became self-employed in order to have more time and flexibility with us. We have always travelled lots, in addition to visiting our families who live far away, but now it has turned into a true passion. When we are home, we like to cook, read and spend time exploring all our wonderful city and the mountains have to offer.
In the past, we have had friends stay at our house to care for our dog and our home. It's been wonderful for them and a huge piece of mind for us. Now that we travel more often, we can't always rely on friends and are not comfortable with Myka staying in a kennel, so we want to consider alternative options, even if it means trusting someone we've never met with our "first born" and our home.
Our Home & Location
We have a modern but warm and comfortable 3 bedroom (+basement) house in Calgary's inner city. We have put great care into furnishing and designing the home so we hope that you would take care of it as if it was your own. We are located less than 10 minutes from downtown, yet in a family friendly and very quiet neighbourhood. Mountains of Canmore, Banff as well as skiing is 60-90 minutes away which is one of the best things about Calgary, in our opinion. All amenities you might need will be within a 5-15 minute drive, as well as coffee shops, shopping and grocery within walkable distance in Marda Loop. The house would have everything you need and nothing special would need to be done, though in the summer we do have a medium size yard with lots of shrubs and trees that may need to be watered if your stay is long enough, and a small area of grass in the front that should be mowed.
House
Sitters need a car
High Speed Wifi
Family-friendly
Mountain
City
Responsibilities & Pets
Other than some minor yard work in the summer, the home is yours to enjoy!
Our main reason for having a house sitter though is our dog Myka. She's an 8 year old chocolate lab who might be the sweetest dog ever (not biased! haha). She's getting older and has finally lost some of her energy so one walk a day is plenty for her - whether on leash or off (we have some great off leash parks in Calgary!) She has great recall and very obedient even with new people. If you happen to be active, she will come with you on runs or hikes, if you'd like. But she's just as good if you want to take her with you into the city or to a summer festival. The biggest issue our friends have had while pet-sitting for Myka is wanting to take her home with them after...
Dog: Myka is 9 years old (Labrador Retriever)
Previous sitters