Seeking loving sitter for 2 Havanese dogs
Edmonton, Alberta, Canada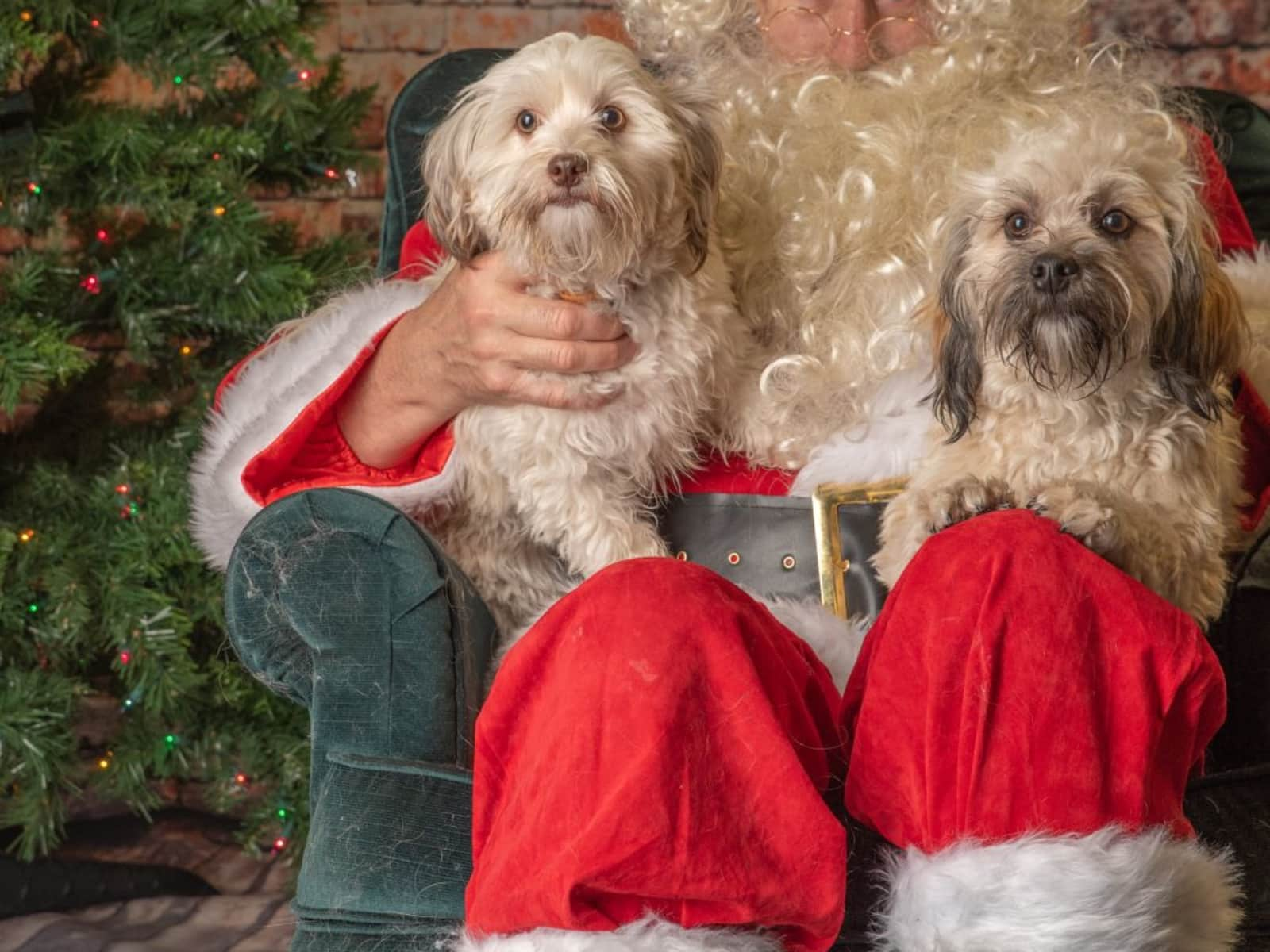 Pets
Dogs
Introduction
Hello, we are Geralyn and Sidney, just married a year and a half ago and promptly added to our family by adopting two loving Havanese male puppies, litter mates, who love to play outside, go for a good walk once a day, spend time with their humans, and then enjoy their down time napping. They just turned one year old on Dec. 2nd and celebrated with a visit to see Santa.
Our Home & Location
We live in a lovely home, one level with a finished basement where dogs have an extra space to run and play or where we can leave them in a safe area when we are not home. Mostly, we all enjoy hanging out in our family room on the main floor, with the sofa and big recliner being favourite spots. They have toys to keep them occupied and a nice window bench for morning sun and bird/cat watching to keep them entertained. We live in a very lovely treed area in the NE area of Edmonton, which is very walkable with a playground up the block and larger school playground a few blocks away. We have fairly close access to Commonwealth Rec Centre where we enjoy working out and swimming, and are easily located between major routes 82 Street and 97 Street, as well as close to the Yellowhead. There are bus routes close by as well as grocery stores and other amenities. Our neighbours along our cul-de-sac street, which is very quiet, are very friendly.We have a big fenced backyard where dogs can run and do their business, and the front is also fenced, so they can run back and forth without worry of them getting out. Anytime we go beyond our fenced yard, they are on leashes. They are still getting used to other people and animals, and sometimes get scared and bark so if we meet others along the way, that's fine, but we don't go out of our way to make them interact. They have completed a level one puppy training course so do listen quite well.
House
High Speed Wifi
City
Responsibilities & Pets
Coco and Mocha sleep well and tend to sleep in as their parents are not morning people. They usually need to go outside in the morning maybe around 8 a.m. and then either stay up, or can easily go back to sleep if we are. They eat breakfast around 9 or 10 a.m., have a snack after their morning walk, and then eat again anytime between 4 and 7 p.m. We are flexible on the schedule, but they don't eat more than 2 good meals a day. One dog is 13 lbs and the other is 20 lbs. We feed them their dog food with a bit of whatever we might be having. They always have water available. Mocha tends to need to go outside a lot more than Coco. They will both go to the door when they want out, but Mocha is quiet about it, he will just sit there, while Coco will bark to go in and out.At night, they have been sleeping in their kennels until recently. We are just transitioning them to sleeping in an open bench/kennel that my husband made for them. They seem to like it and don't wander around in the night. We do not have them sleep in our bed or bedroom at all. We sometimes nap with them on the couch in the morning.We typically leave them alone for 2 - 3 hours without any problem, so you can go out and do your things without any worry.
Dog(s): Coco is 1 year old (Havanese), Mocha is 1 year old (Havanese)