Abbotsford, BC, Springer Spaniel
Abbotsford, British Columbia, Canada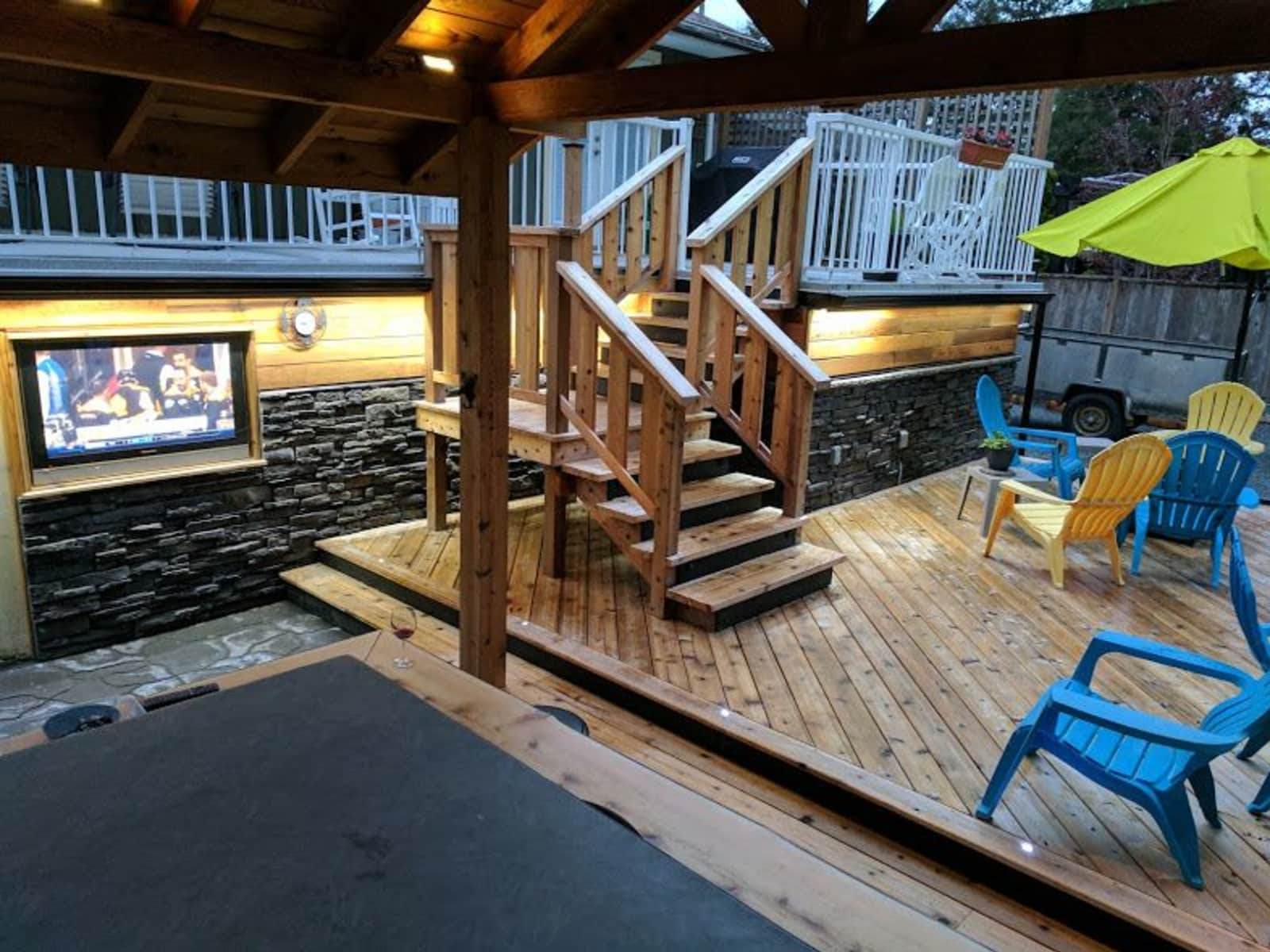 Pets
Dog
Introduction
We require a sitter for our 9 year old Springer when we can't take him with us on pleasure trips. Super friendly and easy dog. We travel 2-3 times a year where we can't take him along. I am a Regional Manager for CustomAir Conditioning in Port Coquitlam, My wife is a dental Assistant working in Mission, BC.
Our Home & Location
We have lived in our home for just about three years. It's a 2000sq ft two level house on a nice large lot. We have been renovating the outside and inside since we purchased it. The backyard is very nice for lounging, with a raised cedar deck patio with natural gas firepit, hot tub under a post and beam gazebo, nice lawn, and a big cedar tree for shade. The entire back yard is fenced with 6' cedar fencing, and a 15' high laurel hedge down the one side, which makes it very private. The natural gas BBQ is under a covered gazebo on the upper deck just outside of the kitchen. The living room has just been renovated to include a floor to ceiling natural gas fireplace, wall mounted TV, 8' window bench for relaxing. New flooring will be installed this month on the whole top floor. There are three bedrooms, and an office, two full washrooms. Lots of parking in front of, or behind the lockable 6' high fence.
Neighborhood is a quiet older area of Abbotsford on larger level lots. Lots of ammenities within 5 minute drive, or 15 min walk. Our house is located 10 minutes from Highway #1 for easy access into the lower mainland/Vancouver (1 Hr drive).
Responsibilities & Pets
Finnegan is a very easy dog to look after. He likes a walk in the morning around the block, and another one after dinner. Since the backyard is fenced, he can go out back on his own if he needs to. He is good unattended for about 8 hours. He is fed one raw meat patty in the morning, and one at dinner time. He is in great health and will walk for 5-6 km if you so wish. We take him to the dyke along the Fraser river several times a week, as it is a very pet friend walk, which is about 15 min drive from the house. He loves to be off leash, and interacts with other dogs very well.
Dog: Finnigan is 9 years old (English Springer Spaniel)
Upcoming sitters
August 2019 | Joanna
---
Previous sitters