Wee Farm By The Sea
Courtenay, British Columbia, Canada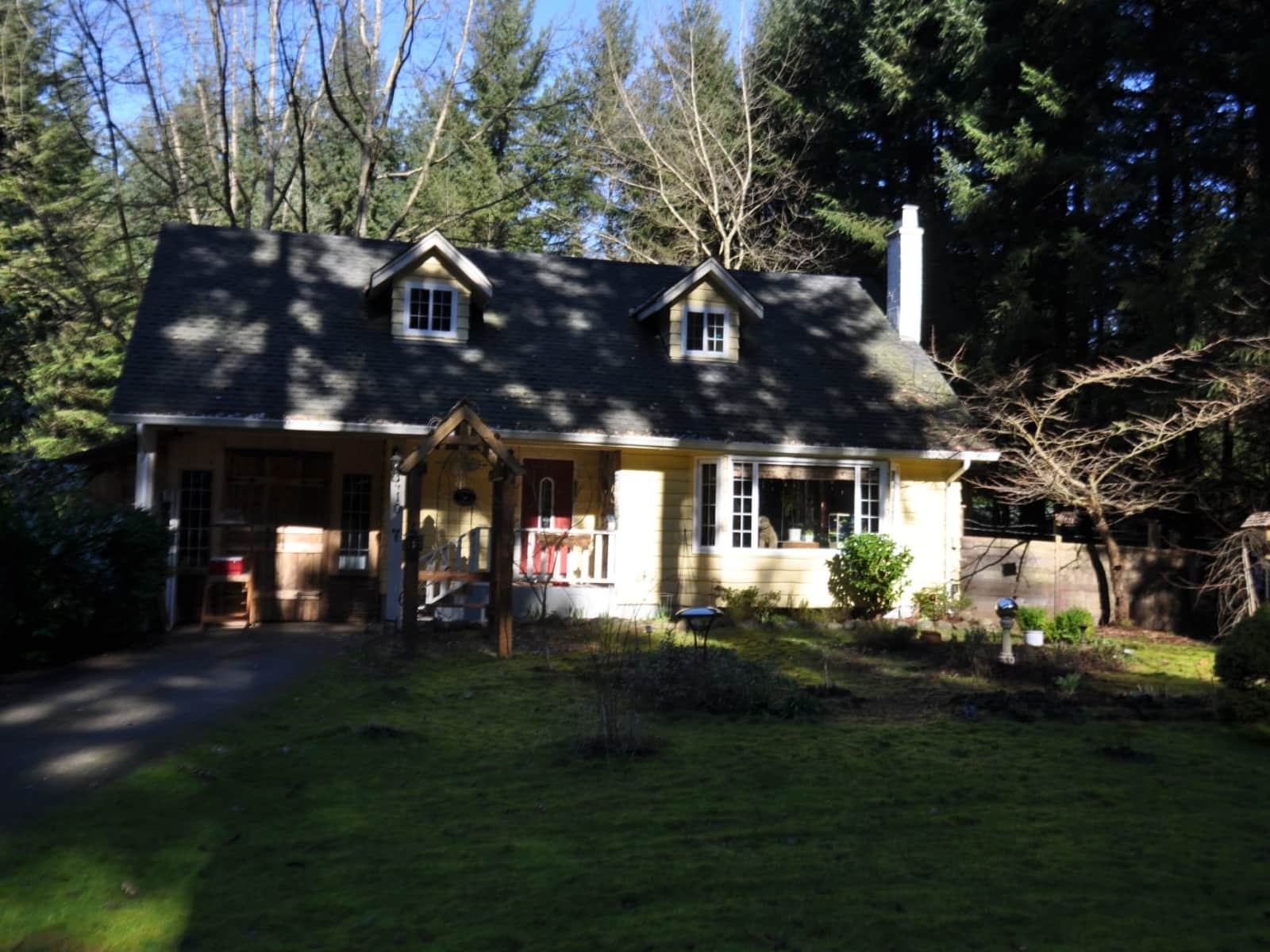 Pets
Dogs
Cat
Poultry
Farm animal
Introduction
Our home is a one-acre farm in the Comox Valley, in lovely view of the mountains and a short walk to the ocean. A rural residential area, there are several pleasant walks in the neighbourhood and forest. Whilst there is a pub and ice cream within walking distance, other services are a short seaside drive away.
As a farm, there are livestock and gardens, benefitting from your farm experience. And, whilst best enjoyed by a two-person team, an individual could do it. However, our dogs do not do well with children or other people's pets...sorry. As a very small farm, your farm chores are spaced out through the day, and take appreciably little time, allowing you to enjoy outings around central Vancouver Island (sometimes with the dogs, they ask?).
Our Home & Location
The main house is a two-storey, three-bedroom, one-and-a-half bath Cape Cod. This is where you will stay with our pets. If you happen to be homebodies, our home provides all the comforts, and then some - a country kitchen, a bountiful library, and perfect places to just sit. There is also a new, unoccupied timber frame cottage (not for rent) on the property to enjoy. We are within thirty minutes, to the north or south, of all the city services you would need.
The Comox Valley offers plenty to do and see from mountains to sea, and has been called the "New Provence" combining a wide variety of locally-grown food with exceptional dining in a sumptuous setting. If you need a city fix, Nanaimo is within an hour's drive. In the same time you could be in pristine wilderness.
House
Sitters need a car
Car included
High Speed Wifi
Beach
Mountain
Countryside
Responsibilities & Pets
Though only one acre, there is plenty of farming going on. During your stay, there will be our five sheep and their lambs. We currently have three goats, as well. In addition there are five coops: three for chickens, one for turkeys, and one for ducks. There is a large kitchen garden, orchard and berries, and multiple cottage gardens. Our farming and gardening ways need very little care, but may need watering while we're away.
Most all farm chores can be completed in 30 minutes, or less, three times a day. Mornings to late afternoons are free, as are evenings. This allows good amounts of time to explore and enjoy the area.
Poultry: Chickens, Ducks, Turkeys, 8 ducks, 5 turkeys, approx. 50 chickens
Farm animal: Goats, Sheep, Ram and four ewes, plus lambs; one goat buck and two does at this time.
Cat: Dooley is 8 years old
Dog(s): Pooka is 6 years old, Caleigh is 5 years old (Soft Coated Wheaten Terrier)