Petsitter needed for my small dog, cat and 9 chickens.
Nanaimo, British Columbia, Canada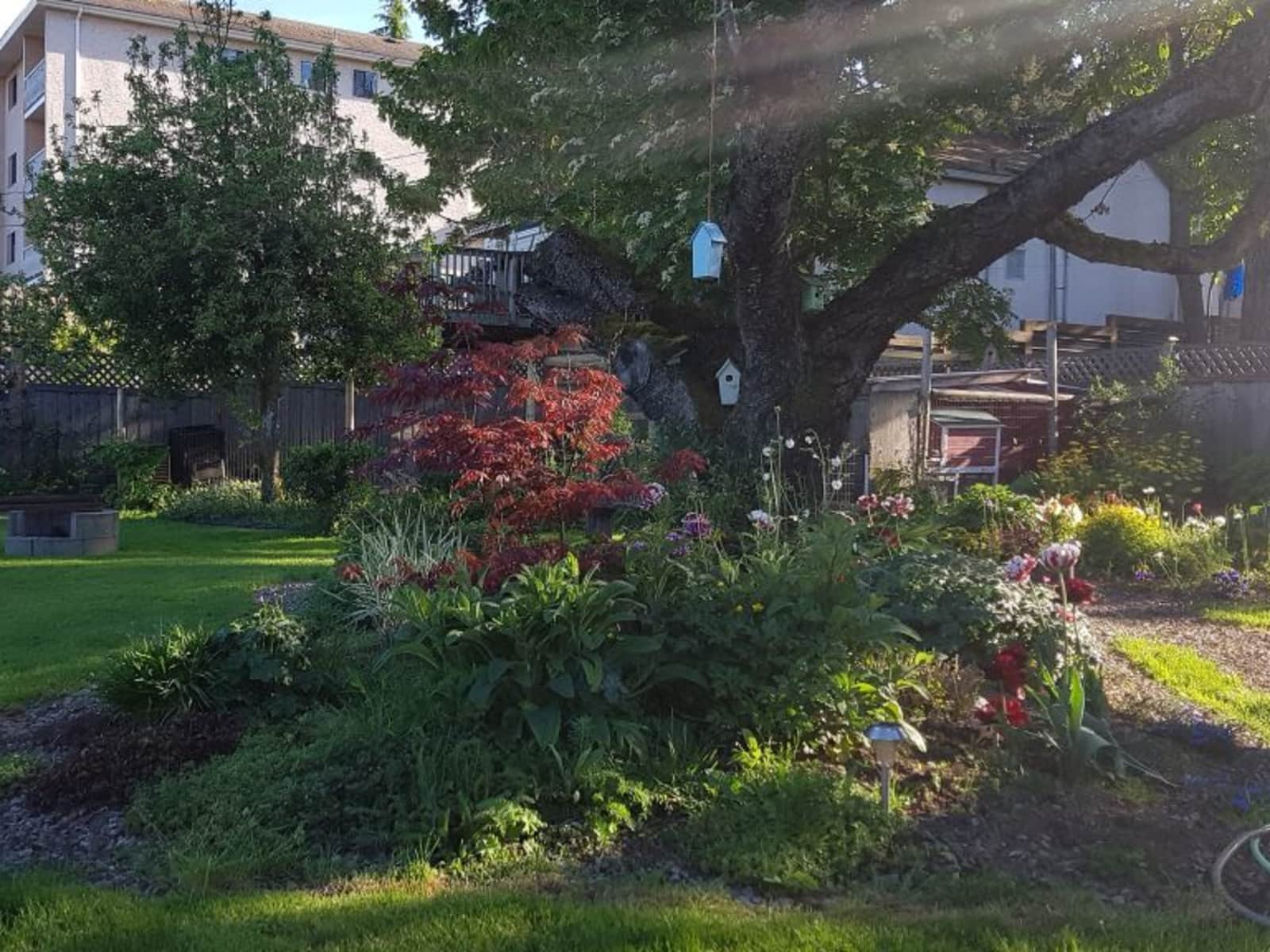 Pets
Dog
Cat
Poultry
Introduction
I'm a retired widow with a lovely, calm and friendly Dachshund/Boston Terrier cross, an aristocratic cat and 9 chickens. I run a B&B from my 4 bedroom, two bathroom character home, in the Old City Quarter of Nanaimo, BC. I've had housesitters from this site many, many times over the past few years and have made some good (though often distant!) friends as a result. I have housesitters booked for Christmas 2018 and for January/February 2019 when I'm away in Australia. In May/June I'm off to Scotland for a few weeks and need housesitters again. Of course, there will be no B&B guests while you're here, but I do have a very quiet tenant in a basement suite. He has a medium size, very gentle dog. They're both very quiet so apart from seeing them come and go through the garden gate, you will barely know either of them are here!
Our Home & Location
I have three double bedrooms and one "office" with a single bed in it, so can easily accommodate a family with children. There's a full bathroom on the main floor and a second brand new cute little bathroom upstairs with sink, toilet, bathtub and hand-held shower, which works perfectly unless you're very tall.
Nanaimo is a lovely coastal town on the Salish Sea (the east coast of Vancouver Island) approximately 2 hours from Vancouver by ferry. My house is walking distance to the stores in downtown Nanaimo and to the harbour waterfront and is a 5 minute walk from the city bus terminal. Several lovely parks within walking distance. Lots to do here all year round - loads of great hiking and walking trails, mountain biking, kayaking. I run a B&B from my home and I just love hosting guests from all over the world....
Summer daytime temperatures are usually in the mid-20's and rarely get above 30 degrees (86 F). Vancouver Island enjoys the most temperate winter climate in Canada, which allows for outdoor pursuits such as fishing, hiking and golfing in the south/central coastal areas even in January. Nanaimo is about a 2 hour drive from Victoria, the Province's capital city. + More info
House
High Speed Wifi
Family-friendly
Beach
Mountain
City
Countryside
Responsibilities & Pets
I've used TrustedHousesitters many times over the past three years, both for long vacations (2 months) and for shorter trips, sometimes just for two or three days - and always with great success. If I'm going to Vancouver for a few days I sometimes take the car, but otherwise it's available for housesitters to use, although you really don't need a car as I'm so close to everything. Loving and caring for my little dog, Daisy, is the highest priority, but the job also involves taking care of Stella, my cat and my 7 chickens. Daisy loves people and goes everywhere with me, so although I realise no-one can stay home all the time, I do want to find someone who's home more than they're away (and preferably doesn't mind her sleeping on or in the bed with you). Stella has a cat door and comes and goes as she pleases and really just wants a servant to feed her when she demands it! The chickens need little care - just feed and water and cleaning out their nesting boxes, collecting the eggs. I have flower beds and raised beds for vegetables so watering and caring for the garden is another priority in the summer.
Poultry: Chickens, I have 5 adult chickens and 2 pullets who are 10 weeks old. They all free range in an enclosed area in my garden.
Cat: Stella is 9 years old
Dog: Daisy is 9 years old
Upcoming sitters
May 2019 | Martin
---
Previous sitters
December 2016 | ROBERT

October 2016 | Raquel

May 2016 | Sally

May 2016 | Edward

January 2016 | Linda

+ Show all previous sitters - Hide extra