A PUG, A POM AND A LITTLE COTTAGE FOR NEW YEARS ON THE SUNSHINE COAST
Gibsons, British Columbia, Canada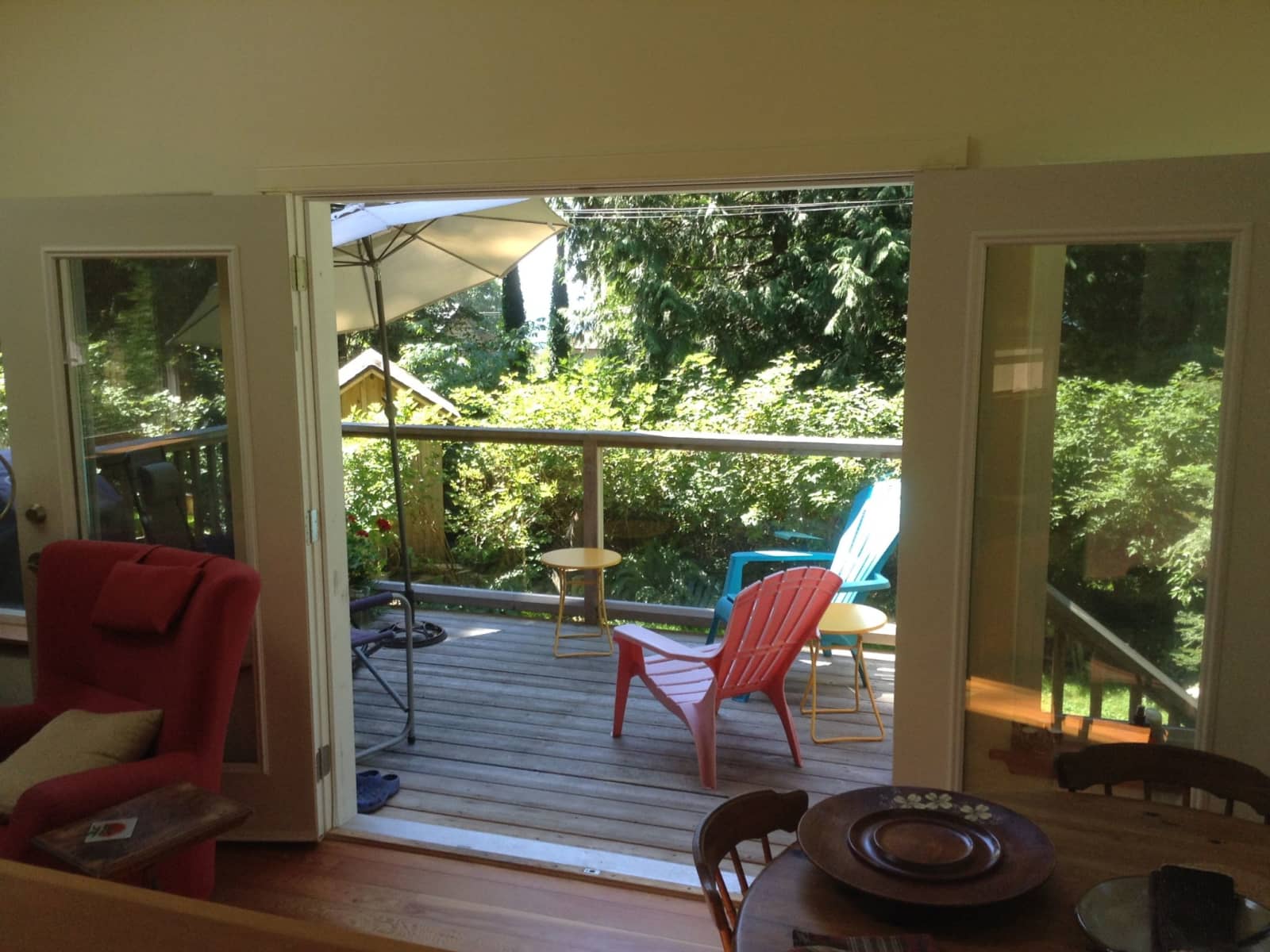 Pets
Dogs
Introduction
Welcome to the Sunshine Coast, British Columbia, Canada.
An older pug and a younger Pomeranian live with me in a comfortable , relatively new house a block from a lovely rocky beach just outside of Gibsons on the Sunshine Coast. The property and house are small, but have a sense of space created by windows, sunken living room and an outlook through the trees to the ocean. I live close by great neighbours and walk daily through the woods, down to the beach and back up the hill to home.
Nearby are a local heritage theatre, shopping mall, good restaurants, art galleries and places of interest up the coast.
I am a retired teacher, grew up with dogs, had them all my adult life, and my past three dogs have been adopted in their later years. I have had house/pet sitters many times, and it has worked well.

The dates for this latest housesit are negotiable.
Our Home & Location
The house is small, open and airy. It can sleep four people, two upstairs in a big, unfinished bedroom with bathroom, laundry, a choice of double or king sized bed, and downstairs on a queen sized murphy bed, also with a bathroom. It is bright, simply furnished, cozy and functional. The main source of heat is an appealing gas fireplace.
The yard is small, with a private lower deck and two person cedar hot tub....
The kitchen has granite counters and a bar for two with an outlook to the sunken living room, the upper deck through the trees to the Salish Sea and Vancouver Island. The house is equipped with the basics, including washer, dryer, CD player and wi-fi. There is a small television with an Apple TV hook-up, so Netflix's is available. There isn't a microwave, dishwasher, cable or a sound system.
The shopping area is ten minutes by car, 20 minutes by bike and hiking/ biking trails are between 10 to 30 minutes away. There is one bus, with a stop 10 minutes walk away. It runs to the ferry, stops in the shopping area and travels up the coast. Opportunities to kayak are nearby.
Access to Gibsons is a 40 minute ferry ride from Horseshoe Bay. Whistler, after the ferry , is an hour and half drive and the City of Vancouver is a 30 minute drive from the terminal.
It is semi-rural, lots of big cedars and fir, the sound of the surf from the deck, the best neighbours anyone could ask for and a great retreat for someone who works from home. In the summer the water is wonderful for swimming and in the winter it is every shade of grey, blustery and beautiful.
A car is necessary for stays longer than a few days. + More info
House
Sitters need a car
High Speed Wifi
Beach
Mountain
City
Countryside
Responsibilities & Pets
Honey-the-old-pug and Max-the-pomeranian are both lovely, idiosyncratic characters. They are usually easy to live with but because of Honey's age and Max's 'insecurities' they do require patience, a sense of humour and specialized attention. Sometimes.
Both dogs need to be taken out and picked-up after at least four times a day, first thing in the morning in the yard, a 30-45 minute, very slow walk, (it is easier to walk them separately between 10 and noon) and two more visits to the yard during the day/evening....
Honey sets a painfully, steady turtle-like pace, and enjoys puttering along the trail, down the road, along the beach, visiting with anyone who will pat her, and up the hill, home. Max was raised in an apartment and is cautious about his walks, although he loves to dip in the creek and is learning to walk with me as opposed to behind me. Honey's hearing is questionable, and her sight very poor. She is disappointed that she is only fed twice a day. Max was overfed and once in foster care, had to lose a great deal of weight, consequently he is obsessed with food. Otherwise, he is an affectionate, playful, smart dog. He makes me laugh everyday. Having been passed around to several owners the first six years of his life he is happy to have found his home.
Honey occasionally needs a bath for her skin (more so in the summer) or taken to have her nails clipped. Max is brushed daily. Pugs are bred as companion dogs, and being left on her own for more than four hours is hard on her. They both travel well in the car. Although neither of them are lap dogs, they love company close by, and Honey sleeps on the bed (negotiable)!
The tricky thing about the two of them are their differences. Max is constantly discovering new things that either delight him or sets him barking. He loves his toys, his yard and his new slim, agile self, running with great joy around his space. He is reluctant to go for walks, so they are short ambles. He is usually quiet in the house, but he gets anxious, barks and occasionally needs to be retired to his kennel to settle down. He is a long haired dog, sometimes requiring a good hosing off of his back end. Honey often needs medication, her faced washed and to be carried or helped downstairs to the backyard. Although they spend most of their days sleeping, they can require from little to a good deal of attention.
In anticipation of you coming I usually have the dogs groomed and vet checked, leave lots of dog food, condiments and extras on hand along with names and numbers if you need help. I always leave the house clean, tidy, with fresh sheets on the beds. The bathrooms, oven and BBQ are also clean with no dishes in the sink or on the drying rack.The fridge is clean and empty. I appreciate finding my home left the same way for me. In the summer, the planters need watering and the small lawn may need to be mowed. + More info
Dog(s): Honey is 13 years old (Pug), MAX is 7 years old (Pomeranian)
Upcoming sitters
December 2018 | Marcos
---
Previous sitters
March 2017 | Kathy