May 11-25, 2019 - Two Weeks - One Cat Sit - Toronto, Ontario, Canada
Toronto, Ontario, Canada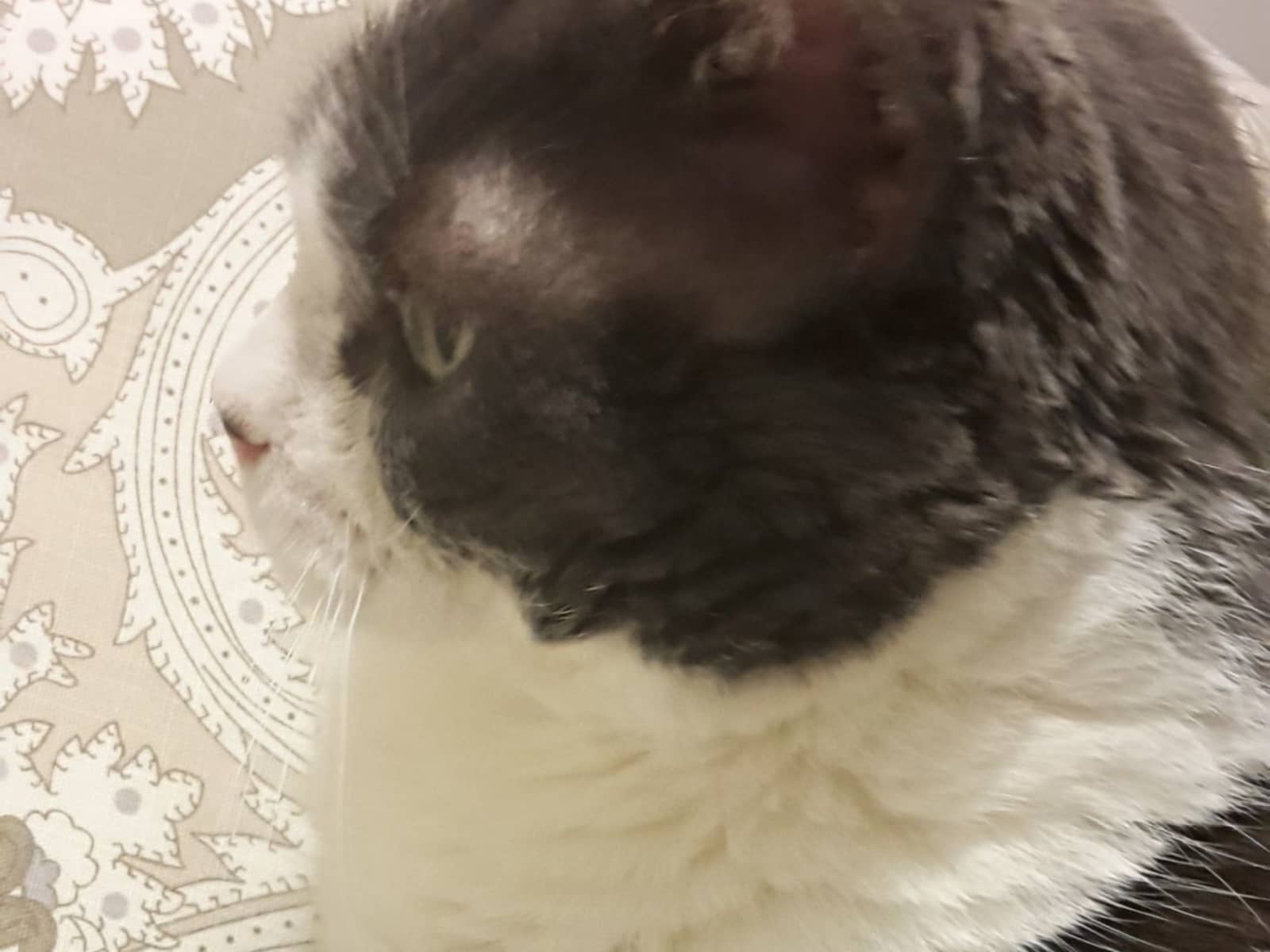 Pets
Cat
Introduction
My beloved Skittles is 14 year old retired kitty with heart murmur and failing kidneys would rejoice company, love and care while I am away. She is 100% indoor kitty who loves her litter box to be clean, wet food mixed with cold filtered and boiled water and water bowl to be fresh and cool. Sometimes she pees outside the box (there is not much room for her to turn around) but that's what the absorbing pads are around for. For her not to pee outside the box, the litter box has to free-stand rather than to be constricted. She is an absolute lovebug but can stay alone up to 5 hours, she sleeps in a bed with me (and without me) and hates when the bedroom door is closed. She loves back rubs and to play a bit with the measuring tape but her hips and kidneys are slowly failing her, so she doesn't have much energy for chasing it for long. That's why she has two sets of stairs to climb on the sofa and the bed. She will spend all the time on your lap that you allow her:). Brushing is welcomed too:) Unfortunately, she cannot stand any competition and would not tolerate another pet in our very close 500 sq feet quarters - I wish I could welcome your pets in my home too...I have completed my identity verification with the Trustedhousesitters and expect the same from the sitter. Thank you. Note: Prescription only diet (both dry and wet that needs to be prepared twice a day) has to be fed. Preparation of wet food would need to be infused with medication in the morning and evening.
Our Home & Location
======== THIS IS AN ARTIFICIAL FRAGRANCE / SCENT FREE HOME =========================My 500 sq.f. (46 m2) 3 year old one bedroom condo (air conditioner, humidifier, Queen bed, table, stove, fridge, microwave, blender, food processor, slow cooker, water filter, washer/dryer, sewing machine, balcony and rooftop patio, large library downstairs, Internet, Wi-Fi, TV with a bunch of DVDs and 6 channels TV programming; elliptical cross-trainer in the unit) is conveniently located in a quiet residential area 1.2km from a Lawrence West subway station (25min to the heart of downtown from there); several buses (52 A, B, C, D, F, G) come from the Lawrence West and Lawrence station and bus #7 from Bathurst subway station if you don't want to walk - bus #7 stops 150m from the building. I am not posting photos of the unit interior for security reasons but will be happy to provide the photos to the confirmed sitter. The sitters are welcome to help themselves to all food and beverages available at the time of their stay. The building is steps from a large Metro grocery store, Second Cup, Shoppers Drugmart, Winners and a bunch of other shoes and clothing stores if you are in a mood for shopping. A huge request to the sitters not to use any fragranced or scented products in the home - any products that have "perfume" listed an an ingredient - I provide all unscented products (dish washing liquid, detergent, laundry sheets, deodorant, soap, shampoo). I am allergic to fragrances and they are really hard to get rid off in the bedding, closets, bathroom, laundry, carpet, etc., so I will feel sick in my own home upon my return. If you are bringing your scented products, please keep them in a Ziploc bag till the end of you stay - both me and Skittles would highly appreciate that. Thank you for your understanding.
Apartment
High Speed Wifi
City
Responsibilities & Pets
Skittles is a special needs senior 14 y.o. kitty who requires strict diet (no treats or anything beyond her own food). She is a grazer who eats wet food and a bit of dry food (all her molars have been extracted due to the wear), so no hassle here, however, she needs her litter box to be cleaned twice a day because her kidneys are failing, so she drinks a lot of water and pees a lot too. She is hiding her pain well but don't let it fool you - she must use stairs to get on the bed or sofa. If she starts sneezing, you would need to give her medication - she is pretty good with taking it. She needs company and she needs to be pet - a lot:) If she wags her tail, it means she doesn't like what you are doing. If she licks you, she hates what you are doing. Stop right at the tail wagging and change it, or let her come back headbutting you. If you decide to stay in for the day, she would want you to pet her as long as you are ready to do it and will sit on your lap while you are watching movies or working on the computer. Besides the usual kitty affection, most of all she likes to be pet on her head and held like a baby on a shoulder. She likes to sleep in the bed with whoever is there, so you must be comfortable with it. Please brush her every day - she is a medium hair with a dense undercoat, so she needs it but she doesn't like brushing too much because of skin sensitivity, so a bit here and a bit there would work. She is such a sweetheart, so it is impossible not to love her or baby her.
Cat: Skittles is 15 years old