ECUADOR-- #1 Retirement and Travel Destination in the World! COME AND SEE FOR YOURSELF
Apuela, Ecuador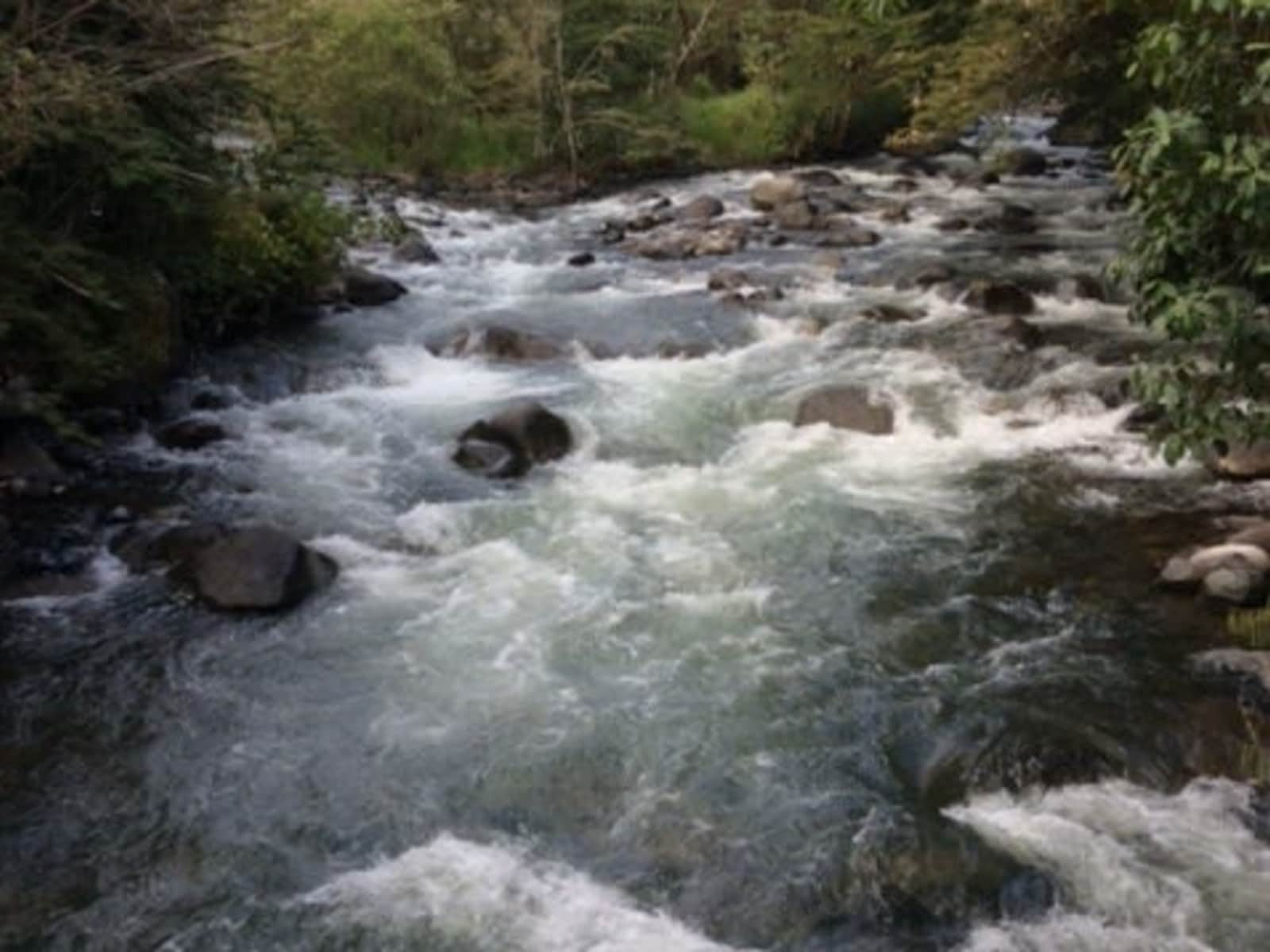 Pets
Dog
Introduction
We live in the beautiful Intag Valley in the Andes Mountains in Ecuador. Our land fronts a rushing river and rises from 5,200-6,300 feet at the mountain top. It has 2 creeks (1 with a covered bridge) and natural springs. We access it from the road by a hand pulled cable car. There's also a path to town on our side of the river if you prefer. Our home is a casita/cottage. Additionally, There's a charming cabaña/cabin on the river with hammock --a good place to relax. There is a fire pit under cover for evening enjoyment. It's beautiful, tranquil and a nature lovers paradise! It's a place ideal for relaxation, to read the books you've always intended to read, to paint, to photograph, write your novel or memoirs, we've even had a sitter who wrote a TV pilot while staying and another wrote a book.... We have a friendly, large (120 lb.) Rottweiler, Bukya. You will enjoy her company! Everyone who has stayed here says she is their favorite dog ever! We seek a healthy (no back or knee problems), fit, mature COUPLE, 35 plus is preferable. This is a physically demanding sit. NO children. We request a TOP SECURITY CLEARANCE with trusted house sitters.
Our Home & Location
You will be staying in a casita/cottage. It has its own small garden and newly covered patio. There is an outdoor Ecuadorian laundry as well as a washing machine inside and an outdoor clothes line for drying. It has hot and cold spring fed water with a whole house water filter plus an indoor filter as well. A shower, compost toilet, stove with an oven, and double size mattress bunk bed, and plenty of storage. There are several outdoor spaces to enjoy. We live on 10 hectares/25 acres from a rushing river to the top of the mountain and have cut several mountain hiking trails.

You are welcome to use seasonal produce from the gardens (keep in mind not everything is growing at once and the produce varies a great deal during the year) and there's a typical market in Apuela Sunday mornings. APUELA is a small town, yet has several stores to supply your wants and needs including a few Internet locations and free access on the town square. We do have internet on our property. The restaurants charge $2.50 for almuerzo--a full fixed price lunch, including soup and juice. People are friendly, but speak almost no English, German, or French. Speaking Spanish is necessary, at least at a basic-intermediate level. Apuela is about a 40 minute walk and you can hitch a ride anywhere (even in trucks) for a usual contribution of 25 cents. Taxis to town are $4 each way....

About a half hour drive away there's a wonderful hot springs, Nangulvi. Bird watching is excellent here. A cloud forest is a short bus ride.
This area is a wonderful place for hiking and photography.
it is just right for those seeking a tranquil, peaceful, and private atmosphere in beautiful natural surroundings. + More info
House
Mountain
Countryside
Responsibilities & Pets
Caring for our dog, looking after our gardens, maintenance of the Water reservoir/system, and General security of land and property. YOU MUST STAY ON THE PROPERTY EVERY NIGHT. Bukya can only be left alone for 3-4 hours in her outside pen—as she will not toilet in her pen.
Bukya is a gentle, calm people lover. Former house sitters have fallen in love with her. You become her people and she prefers to be with you. She sleeps in her bed inside. Though she is very gentle, if she senses you are threatened she WILL defend you making her a good guard dog.
Dog: Bukya is 7 years old