Pet sitter needed for two cats in Frankfurt am Main
Frankfurt am Main, Germany
Dates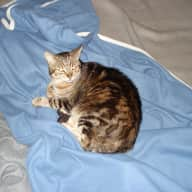 Currently no sitter needed
Currently no sitter needed
Introduction
We are a friendly couple from Germany living in Frankfurt now with our two cats.We are living in a flat with one bedroom, a kitchen, a living room and a small terrace.(The flat is approximately 80sqm)
Home & location
The flat is in the West part of Frankfurt and has good links to public transportation (it doesn`t take long to get into the city centre). There are a lot conveniance shops and restaurants nearby.
Apartment
Disabled access
High-speed WiFi
Family friendly
City
Suitable for couples
Responsibilities
Taking good care of our two beloved cats.Watering some flowers.
Meet the pets
cat