Beautiful Home in the Hills with three Happy Hounds and a gorgeous cat.
Glenflesk, Ireland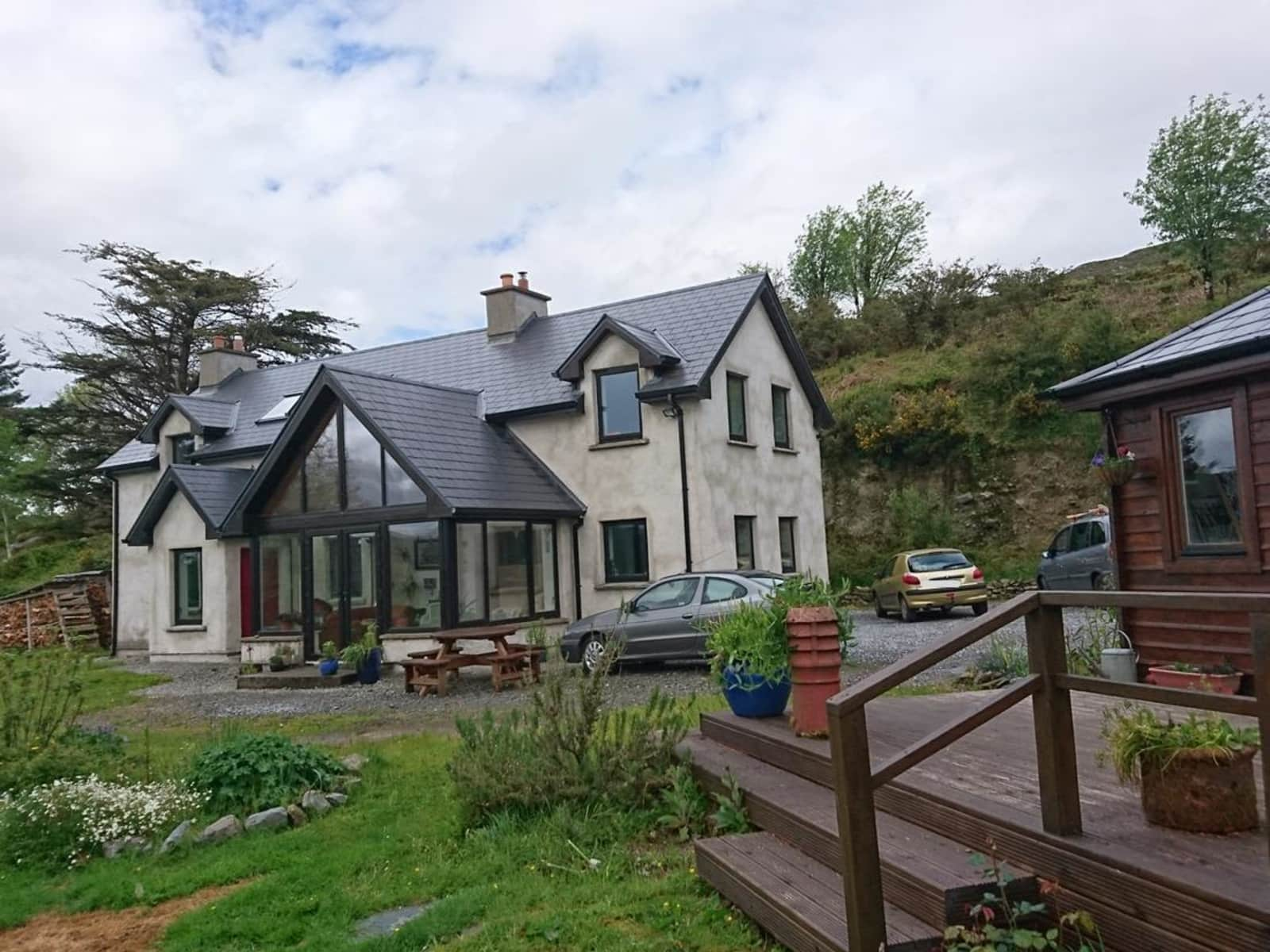 Pets
Dogs
Cat
Introduction
Pat is an Engineer and Tina is an artist who both work from home. We love the Great Outdoors and need to get away to go on adventures from time to time. Molly is the chilled out dog who just wants to sleep all day. Eddie likes nothing better than "herding" Max the white cat (he thinks she's a sheep!) They both enjoy going for walks and love socialising with visitors. Vino is our latest addition, another border collie who is 11, and has been with us for a year. She would happily spend all day chasing sticks.
Our Home & Location
Our local town is Killarney, one of the most beautiful towns in Kerry which is THE most beautiful county in Ireland! Killarney is known for it's large National Park and the MacGillicuddy Reeks, the highest mountains in Ireland. Our home sits at the base of the Paps Mountains in the Clydagh Valley, hillwalkers often pass by the back door on the way to the top. One of the best whitewater kayaking rivers is in the valley below us. There are views across and up the valley. Our closest shop is 5 miles away in Glenflesk, (call in to Dennis to say Hi!). Killarney has all the shops, pubs and amenities you could need. Housesitters will need a car.
House
Sitters need a car
Disabled access
Basic Wifi
Beach
Mountain
Countryside
Responsibilities & Pets
The dogs need to be taken for a walk each day after breakfast for at least 30 minutes. Unfortunately they can't be let off the lead, because they would chase sheep.

Having 3 big dogs means picking up a lot of poop, and this needs to be done everyday from the garden area and drive outside the house. If this isn't done, the dogs walk in it and bring it back into the house. We've had problems in the past with people not picking it up, and its horrendous to come home to after a long period away. We also had a problem with Vino getting a foot infection from it....

The dogs live outside as much as possible, and they have radio collars to stop them straying. When it's raining, if you are in the house, they are allowed in the kitchen only, but must be let out for toileting every 4 hours. They all shed hair quite a lot, so the kitchen needs to be vacuumed every second day, in order to stop the dog hair spreading through the house. Brushing the dogs outside also helps keep the dog hair down, and they love being brushed.
The dogs are not allowed to sit on the chairs, and have beds they can sleep in when in the kitchen.

Max the cat is also allowed in the kitchen only, and put out every 4 hours.

The dogs can't be left for longer than 5 hours on their own. If it's raining when you go out, they need to be shut in the shed (or brought with you!). Eddie is very hardy and can stay outside if he likes. If it's not raining when you go out, you need to chain up either Eddie or Molly so they don't run off. We live in the middle of a sheep farm.

Eddie is a fussy eater so they need to be fed separately. They sleep in their shed at night, as does Max the cat. + More info
Cat: Max is 11 years old
Dog(s): Molly is 10 years old, Eddie is 7 years old (Border Collie), Vino rosso de la casa...but Vino for short! is 12 years old (Border Collie)
Upcoming sitters
August 2019 | Lindsay

July 2019 | Paul

May 2019 | Melissa
---
Previous sitters