We would like to thank everyone who has shown interest in sitting for us in July we have now confirmed our sitter. But there will other opportunities coming up for someone to sit our beautiful boys.
Inagh, Ireland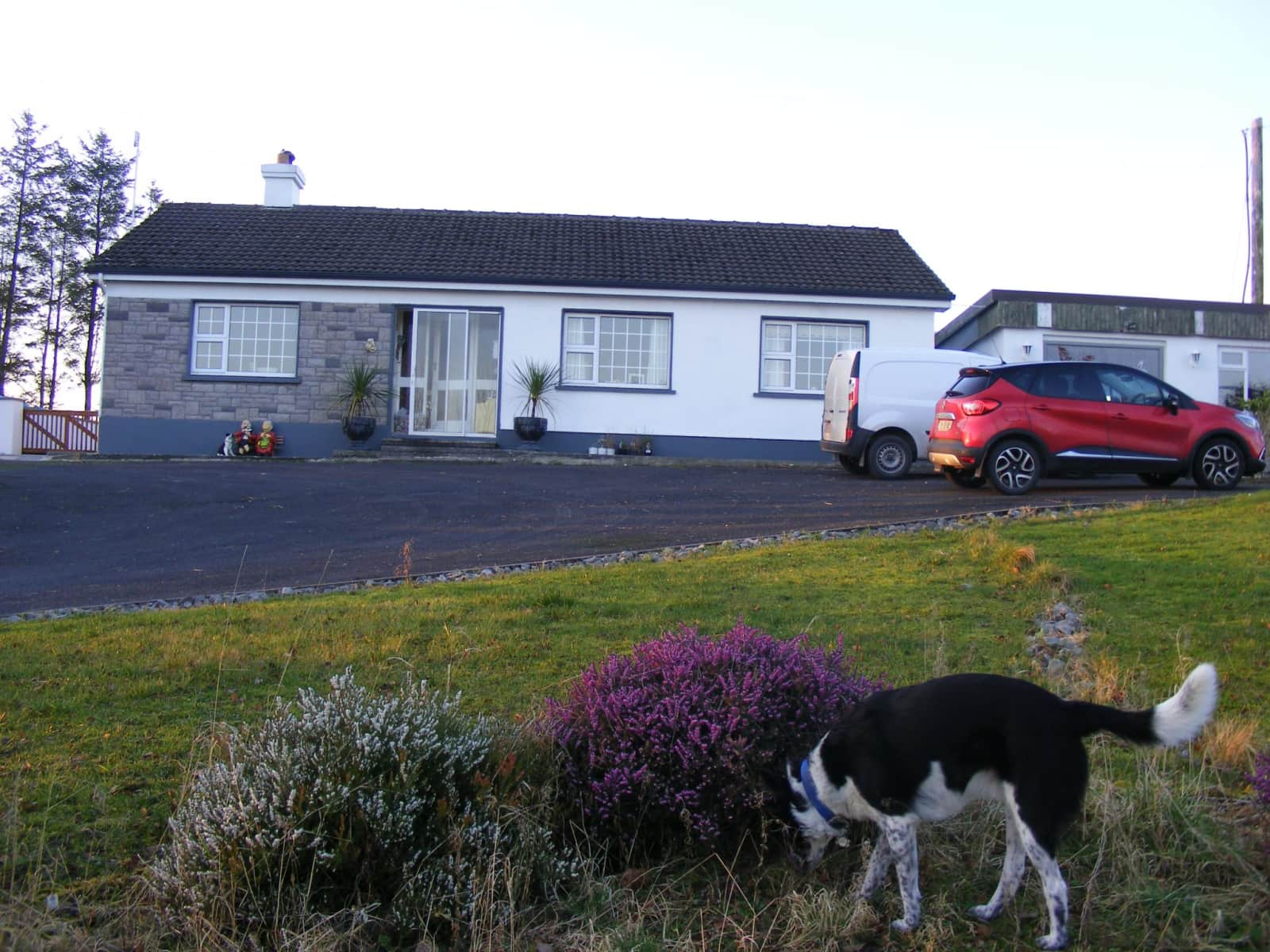 Pets
2 Dogs
Introduction
Wendy and Dave moved to Ireland at the end of 2014 as a continuation of their retirement. We wished to opt out of the hectic life in the UK and gain a little slower pace of life with plenty of peace and quiet.

We bought a bungalow in the countryside and have already completed a large number of major renovations. We still have some other minor work to do, but the house is tidy and clean. We also plan to start on setting the garden out properly....

We have 2 dogs that we require to be cared for and exercised. We provide a van for the use of the sitter.

All we ask is that the house is kept tidy and clean and our dogs are loved whilst we are away.

Thanks for reading

Wendy and Dave + More info
Our Home & Location
LOCATION
Our home is located in the mid-West of county Clare in the Republic of Ireland.

We are ideally situated for access to most of the main attractions of the area, being located:-...

• 19 Km North of Ennis, the County Town. (21 minutes)
• 17 Km South of the seaside resort at LaHinch. (18 minutes)
• 22 Km East of Spanish Point on the Wild Atlantic Way (20 minutes)
• 25 KM South West of the Burren Geo Park. (30 minutes)

We are well situated to explore the West, being about 20 to 30 minutes from most attractions. LaHinch and it's beautiful beach, Ennis (the County town), the Burren (A large and wild National Park) and the Wild Atlantic Way at Spanish Point: all are therefore virtually on our doorstep. Ideal for exploring our Wild Atlantic coast: Even in winter it can be great and breath-taking.

There are many pubs and great eating places that cater for all food types.

Because of our location it is important that any sitter has access to a vehicle.


HOUSE AND HOME
Our home is a 4 bedroomed bungalow situated in an elevated position on the side of a small hill overlooking the road and river with views over to the hills across our little valley.
We are on the outskirts of Inagh village, about 2 Km along the R460 towards Corofin. The bungalow is set in approximately 1 acre and our few neighbours are some distance away, the nearest being approximately 150 metres away. It is very quiet and peaceful.
Our bungalow has 4 bedrooms, 2 doubles and 2 singles (one of which is being used as an office), along with 2 bathrooms, both of which are wet rooms, 2 lounge/reception rooms, kitchen and a utility room. We also have a 7 seat hot-tub that sitter may avail themselves of.
We have been carrying out major renovations over the last 2 years and still have some more redecoration activities planned, but the house is tidy and clean.
The house is generally disabled friendly as Wendy is registered disabled.
Internet and WiFi are freely available.


TRANSPORT
As indicated earlier, a vehicle is essential for this region of the country. We therefore provide a Dacia Duster for the use of the sitter which we will insure you for the duration of your stay, to enable the dogs to be taken on their exercise excursions. The car is a manual shift and will be left in a fully serviced and roadworthy condition with all of the appropriate legal documents in place. It will have a full tank of diesel and monies may be additionally left by us to cover all transport costs to take the dogs for exercise over the assignment period.
The sitter must therefore have a full driving license that is clear of any penalties. (We require proof of driving license)
As well as taking the dogs out for exercise the sitter may use the van to explore the locality on their own. We ask that the dogs are not left any longer than 5 hours on their own. Additionally, if additional diesel is required during the assignment due to personal exploration excursion, then that cost is the responsibility of the sitter. + More info
House
Sitters need a car
Car included
Disabled access
High Speed Wifi
Beach
Mountain
City
Countryside
Responsibilities & Pets
PETS
We have 2 dogs: a Jack Russell (Jake), who is 13 years old, and a Border Collie cross Dalmatian (Umbro), who is 3 years old. A full profile is available for both pets.
Jake, the Jack Russell, has a fantastic placid nature, but he is now blind in his right eye, due to a skirmish he had with a rose bush at Bunratty Castle.
Umbro, our Border Collie cross, is full of life and wants to run and play all of the time. He is a very loving dog and loves to be tickled and stroked.


RESPONSIBILITIES OF SITTERS
Our requirements of any house sitter are two fold:-
• Firstly to occupy our house in a trustworthy, respectful and responsible manner, hence ensuring security and safety in our absence. All we ask is that the house is kept tidy and clean to return to our care at the end of the assignment.
• Secondly to take care of and exercise our 2 dogs during our absence, ensuring that they are both loved and cared for.
Dog(s): Umbro is 4 years old (Border Collie), Jake is 14 years old (Jack Russell Terrier)