Enjoy the Irish experience on the Wild Atlantic Way in the company of two border collies
Brinlack, Ireland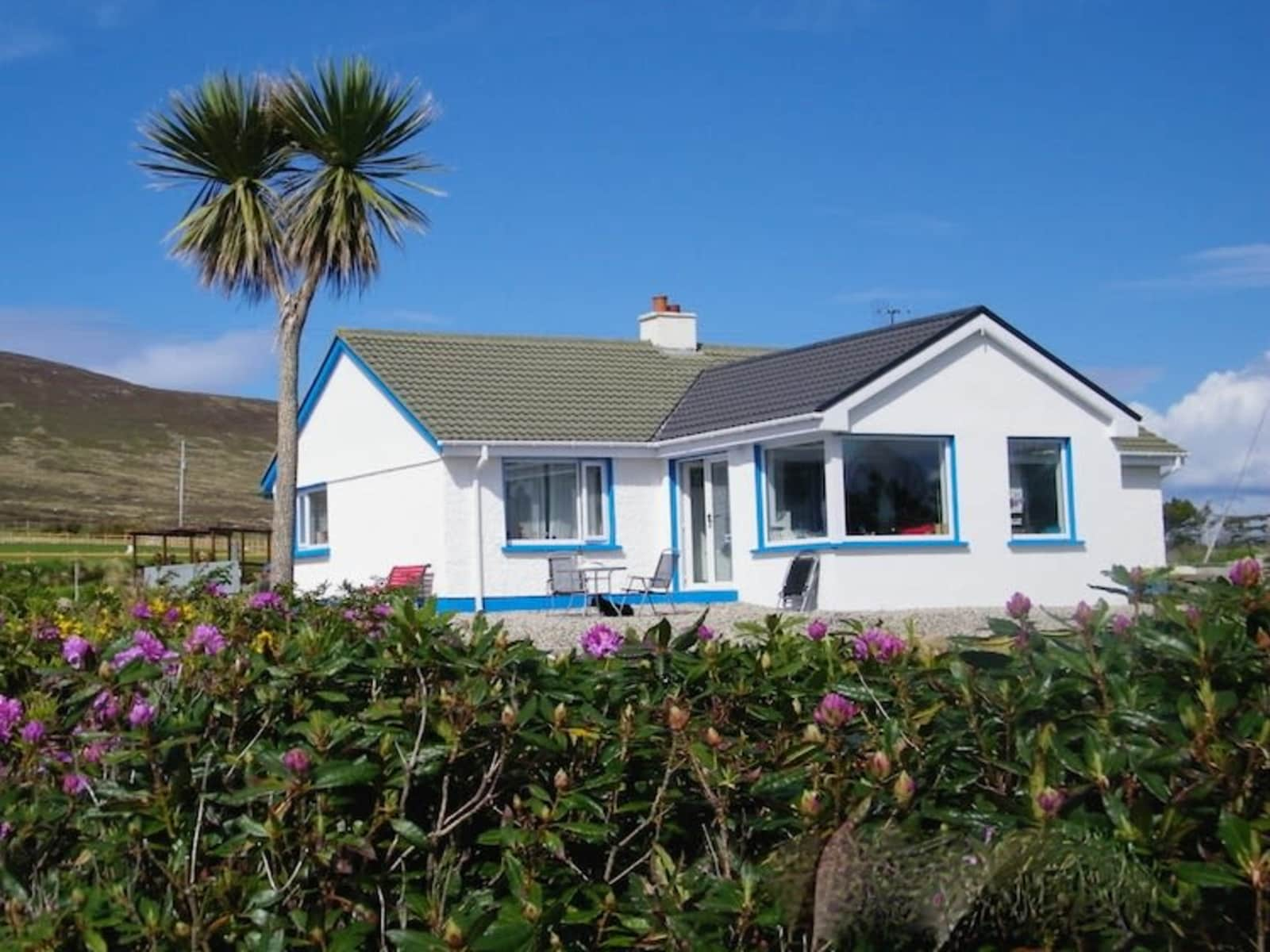 Pets
Dogs
Introduction
We think the Gaeilge phrase "Anam Cara" ('soul friend' in English) is an apt name for our home, due to its relaxing location amid the soothing beauty of the surrounding Donegal landscape, along the Wild Atlantic Way. National Geographic Traveller nominated Donegal as no 1on The Cool List 2017. We are looking for reliable, honest and nature loving persons or person who also love dogs. We have an 8-year old border collie, Siog (Irish for fairy) and a three-year old one, Lugh. They both love walks and company and as journalist and photographer, we have to travel on assignments.
Our Home & Location
Our home is nestled at the side of a mountain overlooking the sea in a coastal area known as Gaoth Dobhair in northwest Ireland, on the Wild Atlantic Way. It lies on a winding countryside road midway between the towns of Bunbeg and Gortahork, both 15 minutes drive away.
The house has two bedrooms available to the sitters (with comfortable double beds in each) - one sea-view and one mountain-view. It also has a large, modern, fully-equipped kitchen, a sitting room and a newly extended living room and dining area with large bay-windows granting excellent views over the Atlantic Ocean and the islands below.

HISTORY – So often has this unique part of Ireland been featured in travel programmes, movies, television series and novels that one would need a book to describe it fully. In short, Donegal is one of the most ancient parts of Ireland with a colourful history that dates back to earliest Man and encapsulates some of the most important events in Irish history, including the last of the Gaeilge Chieftains leaving its shores for the European continent.
Archaelogy – Some of the most intriguing ancient archaeological sites, both of the Celtic Pagan and Christian eras, lie within Donegal's borders, within easy reach of our home.
Landscape – Due to its sheer diversity, Donegal is nirvana for hikers, cyclists or simply lovers of Nature.
- Bloody Foreland, a grassy, smooth-sided, rocky-topped hill right beside our home (almost in our backyard), is easily walked in an hour with breath-taking views over the coastal islands and surrounding mountains from the top.
- Muckish Mountain – its unique contours gives this landmark a 'loaf of bread' topography. There are many marked paths to its summit, with spectacular views over the surrounding countryside as reward.
- Errigal – a majestic cone-shaped hill of pure gray-white shale that provides direct views down into the mystically-named Poisoned Glen, an adjoining lake and the ruins of a church below....

SEASCAPE – One of the many characteristics Donegal is blessed with, and particularly its north-western part where Anam Cara is situated, is the poetry of the ocean. It seems every turn in the road grants a new and picturesque perspective on the mighty Atlantic. 'Anam Cara' provides an all-encompassing sight right from outside its own front door, with clear views down on a nest of islands, including Gola, just offshore (a ten-minute car journey brings you to the harbour from which the ferry leaves for the 20-minute journey over where deer linger and hiking paths make walking easy).

RESTAURANTS – To name but three to reflect the variety available: Teach Jack, a niche hotel with a varied menu including succulent steaks and a mouth-watering fresh 'seafood symphony' dish, is a mere five-minutes drive away, with the added pleasure of live music in the bar area across the lobby; Dinny Minny's, a fine-dining restaurant that regularly wins national awards for the quality of its food, its presentation and its overall ambience, is a 'must' for any visitor to this magical area of Ireland; and Maggie Dan's, which offers a range of pizzas and drinks in the cosy warmth of a century-old classic Irish cottage setting.

MUSIC – Donegal's middle name is 'music.' As one visitor remarked, "You can't toss a stone without hitting a musician on the head." And it certainly lives up to its reputation, with an array of venues where one can hear live singers and groups. While the emphasis is on Donegal's unique Irish traditional style, country and western, pop and rock music are also on offer in many places, especially at weekends.

THEATER – Aside from active local amateur theater groups, an all-year schedule of live performances is provided by An Grianan Theatre in Letterkenny, the largest town in Donegal, a leisurely one-hour drive through the mountains, past the beautiful National Park of Glenveagh. Varied theater options are also available in Derry, just across the border in northern Ireland (90 minutes drive away) and Strabane (about the same distance). A Wi-Fi connection is available in the house. + More info
House
Sitters need a car
Disabled access
Basic Wifi
Beach
Mountain
Countryside
Responsibilities & Pets
Our house sitter(s) will have to enjoy living in the countryside, surrounded by hills, islands and sea, be prepared to go for daily walks with Siog and Lugh and water the house plants.
A deposit an payments towards utilities are required.
Dog(s): Siog is 10 years old, Lugh is 4 years old
Upcoming sitters
June 2019 | Leith

May 2019 | Margie
---
Previous sitters