Companionship for our gang of rescues and the opportunity to explore the wonderful area around Varese, North of Milan
Varese, Italy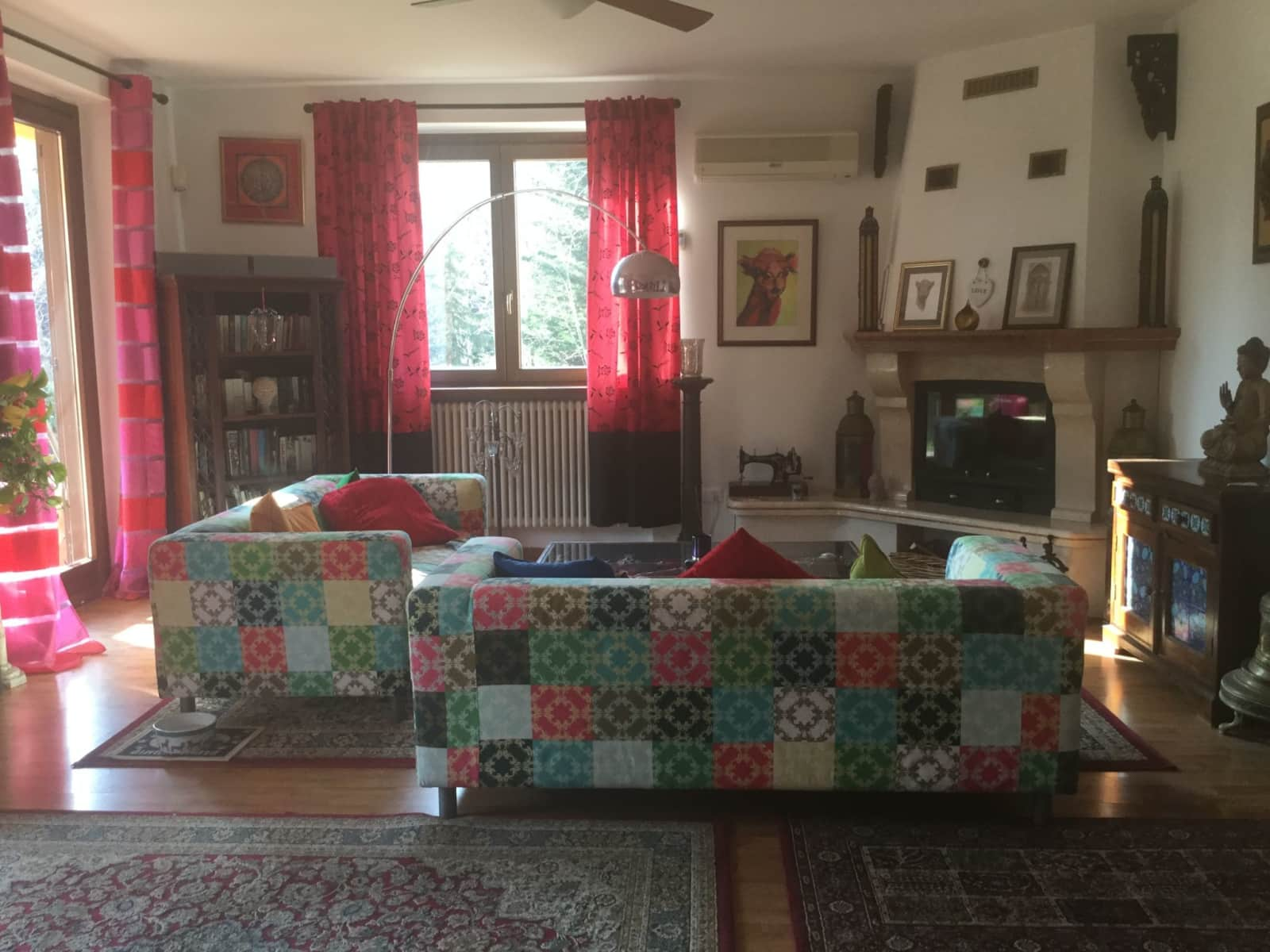 Pets
Dogs
Cats
Introduction
We live in a spacious house in a quiet hamlet, with woodland walks nearby, just a 10 minute drive from the provincial town of Varese with our gorgeous gang of rescues, 2 dogs and 4 cats. My husband Craig is in the RAF and I am an ex primary school teacher. We have a daughter Daisy who is at Music College in the U.K. Our dogs and cats are all rescues from Oman where we lived until 3 years ago before moving to Italy. We would love for our four legged family to have human companionship while we're away.
Our Home & Location
Our house is in a quiet cul-de-sac in a village called Castronno which is a 10 minute drive from Varese. Varese is a wonderful city known for its art-nouveau villas, nice range of shops and plenty of bars and restaurants. Overlooking Varese is Campo dei Fiori Regional Park, which has lovely woodland walks. It also includes the Via Sacra which is an uphill pedestrian path that passes 14 frescoed chapels. West of Varese is Lake Varese with a cycle/footpath around it. In Castronno there are a couple of supermarkets nearby (5 min drive) and there are a few little bars, a cake shop, an ice-cream parlour, a pizzeria and a couple of restaurants all within a 15 - 25 min walk. Within 40 minutes drive you can be by Lake Como and we are a 50 minute drive from Lake Maggiore. We have a car at your disposal. As it's Northern Italy driving is not a drama and we all adjusted easily. Castronno has a train station which is 5 minutes drive or a 15 minute cycle ride (bikes provided). Varese is 10 minutes on the train and Milan is 1 hour. In our house we have access to British TV ( BBC1, BBC2, and ITV1) and a variety of DVDS.
House
Sitters need a car
Car included
High Speed Wifi
City
Countryside
Responsibilities & Pets
As our pets are from Oman they spend the majority of their time sleeping. Peggy and Hattie enjoy a 40 minute stroll each morning around the woods and countryside which is just behind our house. Hattie has 3 legs and 1 working eye but really enjoys her daily walk whilst Peggy would quite happily not go for a walk and spend all day at home. What they both love more than anything is company and cuddles. They're fed twice a day and enjoy the odd treat. We have 3 girl cats, Florence, Molly and Gladys who love being in the house or garden. Only Molly actually ventures out of the garden but doesn't go far. They have litter trays which need cleaning daily. We have a boy cat called Bertie. He is "Bertie the Bedroom Cat" because he is very aggressive towards the girls and so needs to be contained. He lives in our bedroom and has access to the garden when the girl cats are safely inside the house. We try to give him a couple of hours a day outside. He has free access to food and a litter tray that needs changing daily. He also loves human companionship.
Cat(s): Florence is 12 years old (Rescue cat), Gladys is 12 years old (Rescue cat), Molly is 11 years old (Rescue cat), Bertie is 11 years old (Rescue cat)
Dog(s): Peggy is 5 years old (Rescue dog), Hattie is 8 years old (Rescue dog)