Baja surfers paradise casa. Complete with perro
Todos Santos, Mexico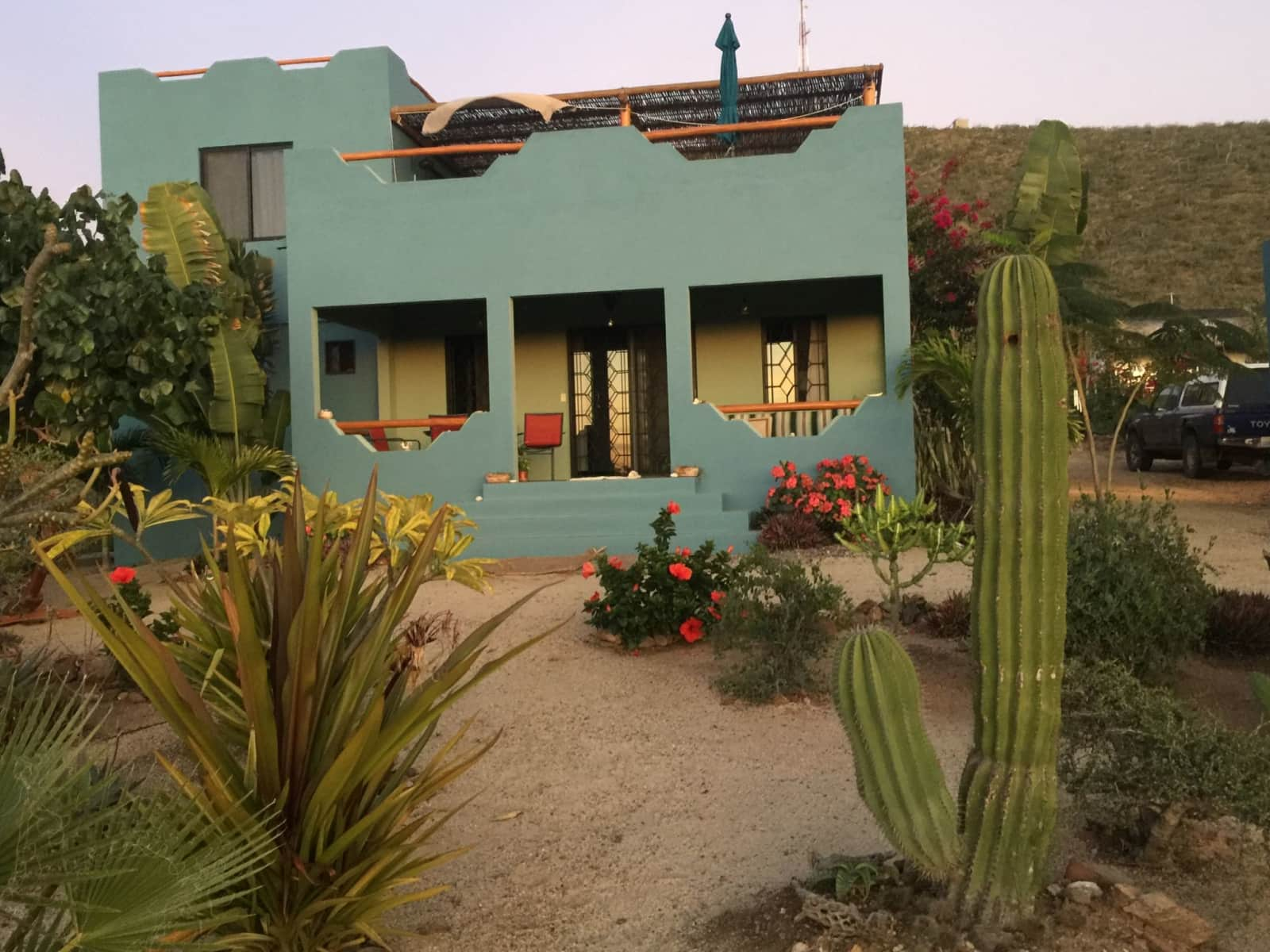 Pets
Dogs
Introduction
Hi,
I have been coming down to this area of the Baja since 2004. Raised my teenage daughter along with a "village" of friends. I travel back and forth to the Seattle area. I practiced medicine as an NP hospitalist and retired Feb 2017. My cairn terrier, Ziggy, has been with me since 2006 . Most recently, Gueraa baja mutt/aussie shepard , came into my life via Carlos, a surf instructor who lives down the road. He rescued her but could not care for her fully. So, I guess she picked me....
I do not surf but my daughter does. I love the lifestyle, warmth, friends. It is generally a peaceful area. The sound of waves in the background, with the stars up above, make for a restful sleep.
I travel a bit and will need my plants watered and pets loved, fed, walked and given TLC.
The down side: bumpy dirt roads, dust, insects: few scorpions and cockroaches. You must keep up your guard while lifting up stuff. Can't flush the toilet paper. Need to do the dishes after eating. Stuff like that, but you get used to it. You even grow to like the life.
I will most likely need someone or a couple Sept, Oct, Nov every yr. I will need someone in June and early July this year also.
My yard and house is not toddler safe. To many cactus and stairs etc.
WiFi is 800 pesos a month or about $40 US. AC is installed and a deposit, which is deducted and then refundable after electric bill arrives. It is usually not that much, depending on how hot it is and how cool you like it. Water is paid by me. Arrives weekly: 10 k liters. Still have to conserve H2O somewhat. I have a washer. TiTis laundry on the highway is cheap.
Enough of an intro. I think you get the idea. + More info
Our Home & Location
I live part time on the pacific coast of southern Baja. I have a Mexican style 2 story, 2 bed 2 bath, 2 kitchen casita in a safe location with full time neighbors. My home is on one acre north hill side property over looking the growing fields of El Pescadero ending with a beautiful ocean view. I am 2 miles from Cerritos surfing beach as well as San Pedrito surf beach. Four miles south of Todos Santos. Guera, a Mexican Aussie shepherd, adopted me last summer. She has multiple friends in the hood; with a special next door pup named Camoto. They love to play all day. I have my beloved 13 yr old cairn terrier, Ziggy, who has traveled back and forth from Seattle but is getting a tad tired of cargo holds. My home has AC, and Wi fi, TV. Windows do have bars as I was the first woman to build here. Now we have more surrounding homes. I have to admit I feel safer here than when in the US.
House
Sitters need a car
Disabled access
Basic Wifi
Beach
Mountain
City
Countryside
Responsibilities & Pets
MY DOG ZIIGGY IS SCHEDULED FOR SURGERY NEXT WEEK; FEB 2019, I WILL UPDATE THIS SITE IN APPROX. 2 WEEKS AND WILL SELECT A HOUSESITTER BASED ON UPDATED INFO.
THANKS FOR ALL THE APPLICATIONS.

Daily morning or evening walk is appreciated. Wonderful hill to get a birds eye view of both surf breaks or just up the back hill.
Feed twice a day with dry and small amount of wet food. Treat after meals. Also helps on walks to keep pets near.
Ziggy is old and slower, slightly deaf with one cataract. Guera is prob. about one. Is the wild child of the two. She had a difficult puppy life and showed up on my doorstep with wounds, mange, rail thin. She is doing well with training which I can review in depth. I do carry a leash with me. She loves the beach but can be nervous around big dogs. She is very loving, but does distrust Mexicans except the gardener. Ziggy loves a good belly scratch and TLC.
A basic vet, David is in Todos Santos, and a great emergency Vet in Cabo, About 45 minutes away.
Dog(s): Ziggy is 14 years old, Guera is 1 year old