2 super fluffy giant bunnies to take care off
Oosterhout, Netherlands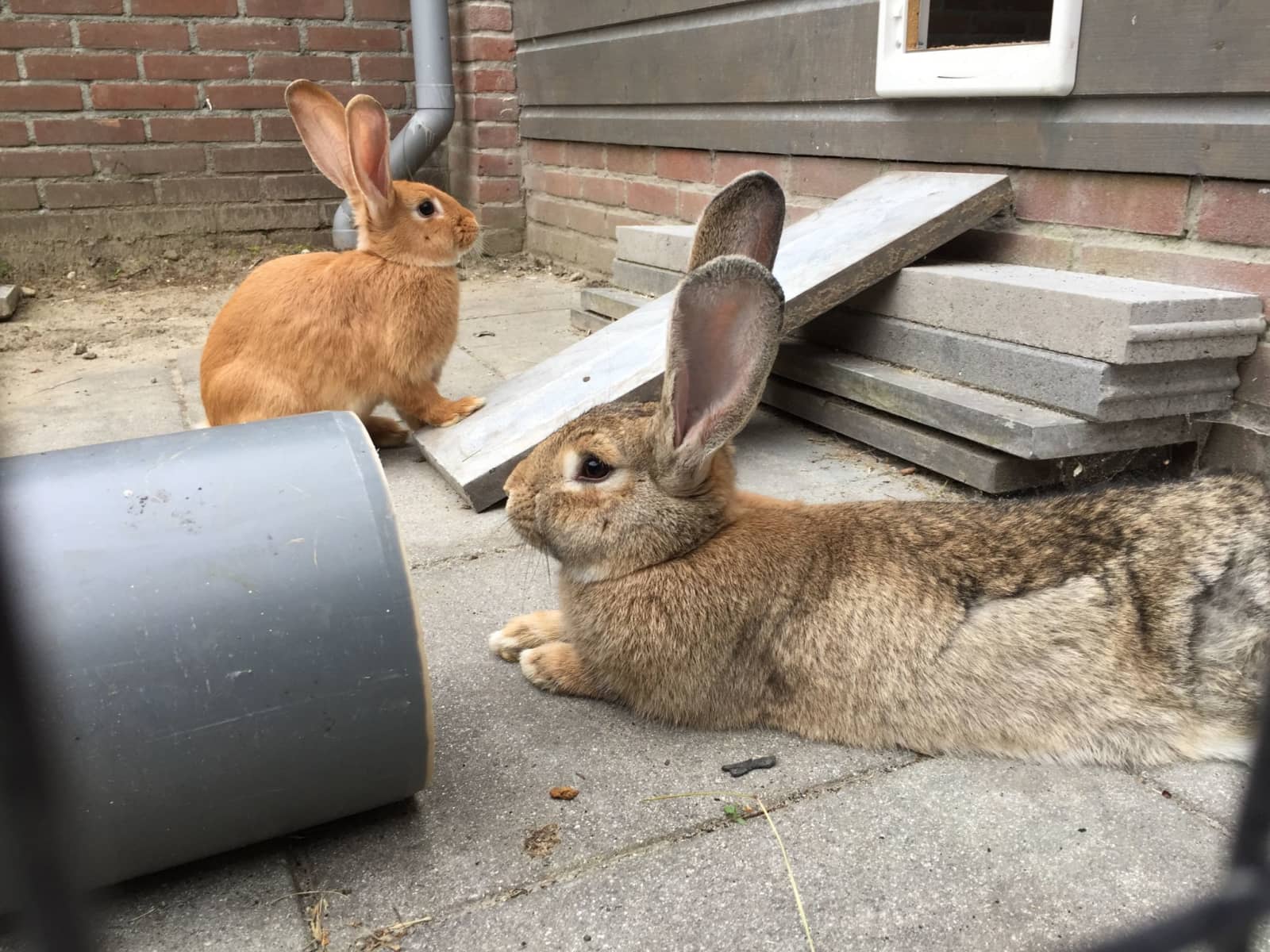 Pets
Small pets
Introduction
I live in a little house from 1929. It's right in the centre of my town. The house is very old but modernised with lovely shower, bath tub and fitted kitchen. I have 2 (HUGE!) Flamish Giants bunnies. The guy is wild coloured and is named Miami. The girl is yellow/orange and she doesn't listen to the name Arizona. They live together in the garage with a hatch to the enclosed garden. They need to be petted and fed. The bunnies like to be stroked, groomed and of course, fed! They cannot be picked up !! This is really important.

We need to discuss the dates of your arrival and departure as they need to fit my schedule.
Our Home & Location
Old house with modern features. I have 1 master bedroom but no spare bed, so it's not great for families with children. It's situated right in the centre of town with easy access to supermarkets, shops and busses. Bigger cities like Breda and Den Bosch are close enough. Nature park the Biesbosch is close as well as big attraction park the Efteling and safari park "Beekse Bergen". Antwerps isn't too far away either or you can go to the beach.
House
High Speed Wifi
Countryside
Responsibilities & Pets
Look after the house, pick up the mail etc. My 2 bunnies need to be fed twice a day. They need dry food and hay. Their litter box needs to be changed but that is a 10 minute chore and won't get you too dirty. They need fresh water and hay every day, which is provided. Bunnies are fragile animals. They have a tendency to get sick easily. Therefor, you need to follow all my instructions to a tee and not deviate from it at all. I'll give you a set of instructions. It is not hard but you need to follow all details
Small pet(s): Miami is 3 years old, Arizona is 3 years old
Previous sitters
April 2017 | Camille

April 2017 | Ronnie

February 2017 | Floor

November 2016 | Ellen

+ Show all previous sitters - Hide extra