Stanmore Bay house.
Stanmore Bay, New Zealand
Dates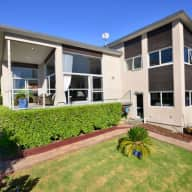 Murray and Julia
Home & pet owner
Currently no sitter needed
Currently no sitter needed
Introduction
** Meet with us on Wed 5th. Sitting starts anytime Thurs 6th. Leave anytime Tues 2nd July. Sitters must stay whole 26 nights, but can take occasional overnight times away if req'd. ** We are a mature couple from a professional…
Home & location
Our home is a 3 bedroom standalone house situated down a short right-of-way. It is in a quiet neighborhood, warm and sunny, with a great outlook to the north and over the Weiti River. Within a short walk to a regular bus service. A 5…
House
High-speed WiFi
Family friendly
Beach
City
Responsibilities
We do not have any pets - so you can relax and enjoy your stay and explore the area instead. Gardens are minimal and as stays are short you will not be expected to mow lawns, etc. unless otherwise advised.