Dog-Loving House-Sitter for Beautiful Farm Homestead.
Culverden, New Zealand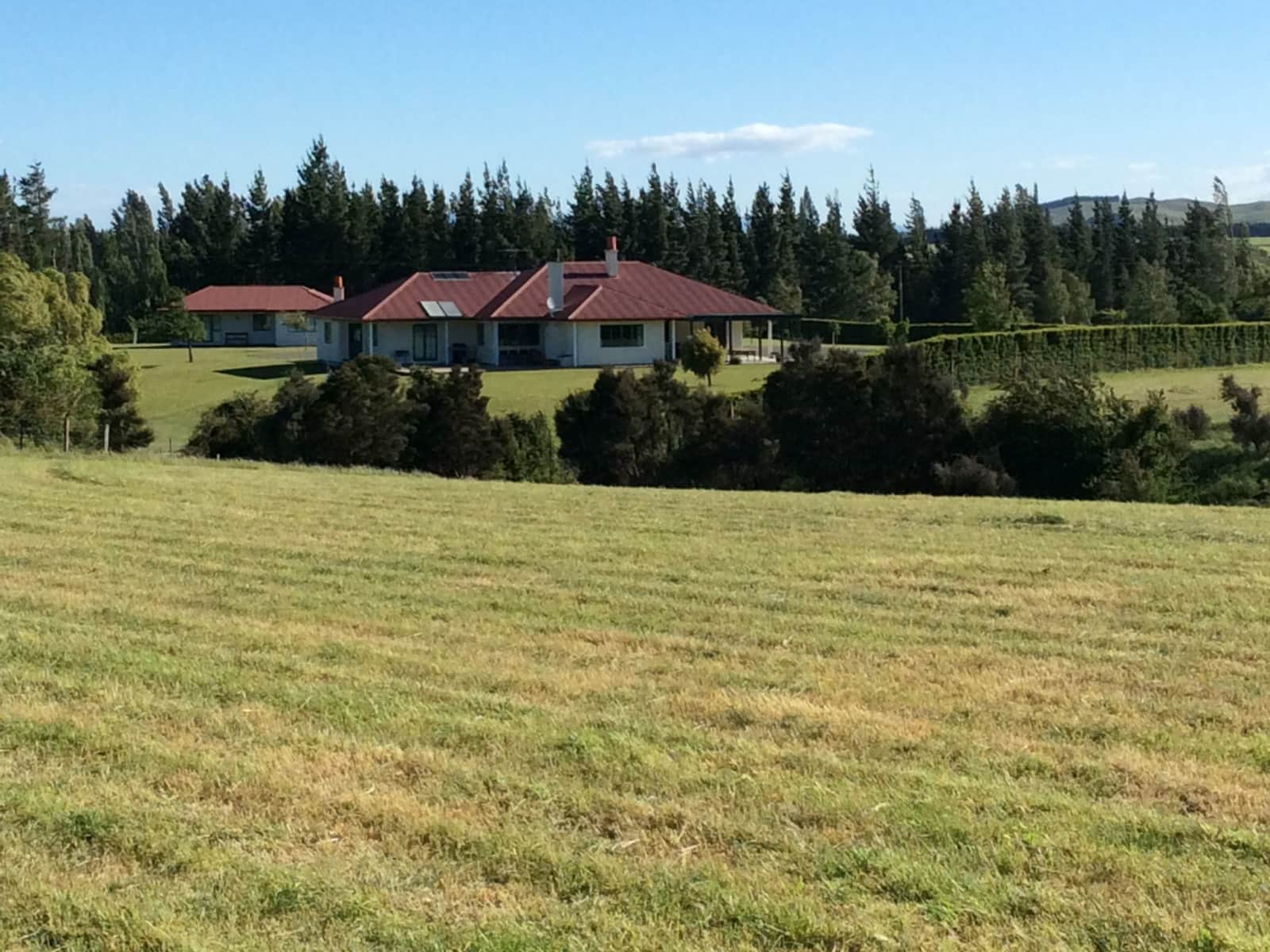 Pets
Dogs
Introduction
We have a beautiful farm with amazing views and walks, surrounded by hills, mountains and a river. We travel often and now we need to have our dogs cared for in our home. We have a lovely homestead which is spacious and light, the dogs certainly find the armchairs very comfortable! There is plenty to do in the surrounding area with Hanmer Springs and vineyards not far away but we need house-sitters who can be at home with the dogs so that they are not in a kennel all day which they really don't like. We will have a far better holiday if we know are dogs are being walked and playing in the garden or house for plenty of time each day and evening. Depending on the season there is a heated swimming pool but the hot tub is always on and star-gazing is incredible here. It is a working farm so there are other houses and people on the farm at all times. I am a cookbook author having written 15 books and my daughter is still at school in Christchurch. Richard has been involved with the wine trade and landscape gardening and has been farming here for nearly 20 years.
Our Home & Location
We have a beautiful farm with a very comfortable Homestead which was built about 20 years ago. It is surrounded by lawns and trees and has a heated swimming pool and hot tub spa. The stars are incredible and the walks around the 6000 acres are wonderful. It is a working farm so all walks are the responsibility of the house sitters and all gates need to be left how they are found. There are other farm houses with Farm staff so it is not isolated and we are only 12 minutes from Culverden in the Malvern Hills. Hanmer Springs is only 35 minutes away and a vineyard too. All the other vineyards are about 40 minutes away towards Christchurch. Christchurch is one and half hours away and Amberley where there is a big supermarket is 45 minutes away. There is a small but efficient supermarket in Culverden along with cafes and fish and chips, motel, hotel and all the usual village conveniences such as library, school, emergency services, vet and farm stores. Rotherham has a medical practice and a pub. The house is very quiet and peaceful and would suit someone who loves the countryside.
House
Sitters need a car
Basic Wifi
Mountain
Countryside
Responsibilities & Pets
The house-sitter responsibilities would be to ensure that the dogs do not run away either on their walks or from the garden. They have special collars which helps keep them in the garden. The dogs need to be fed, exercised and cared for and to be allowed to enjoy the log fire in winter or a bit of sunbathing in the sunshine! The house needs to be kept nicely and secure and the hot tub kept on but there is no gardening needed and the swimming pool looks after itself.
Dog(s): Shara is 5 years old (Border Terrier), Belle is 3 years old (Border Terrier), Sniffo is 9 years old (Border Terrier)
Upcoming sitters
July 2019 | Nikki

April 2019 | Gabriele
---
Previous sitters
October 2017 | Bevan

September 2017 | Bevan

September 2017 | Bevan

April 2017 | Donna

+ Show all previous sitters - Hide extra