Lovely lifestyle block getaway!
Hawera, New Zealand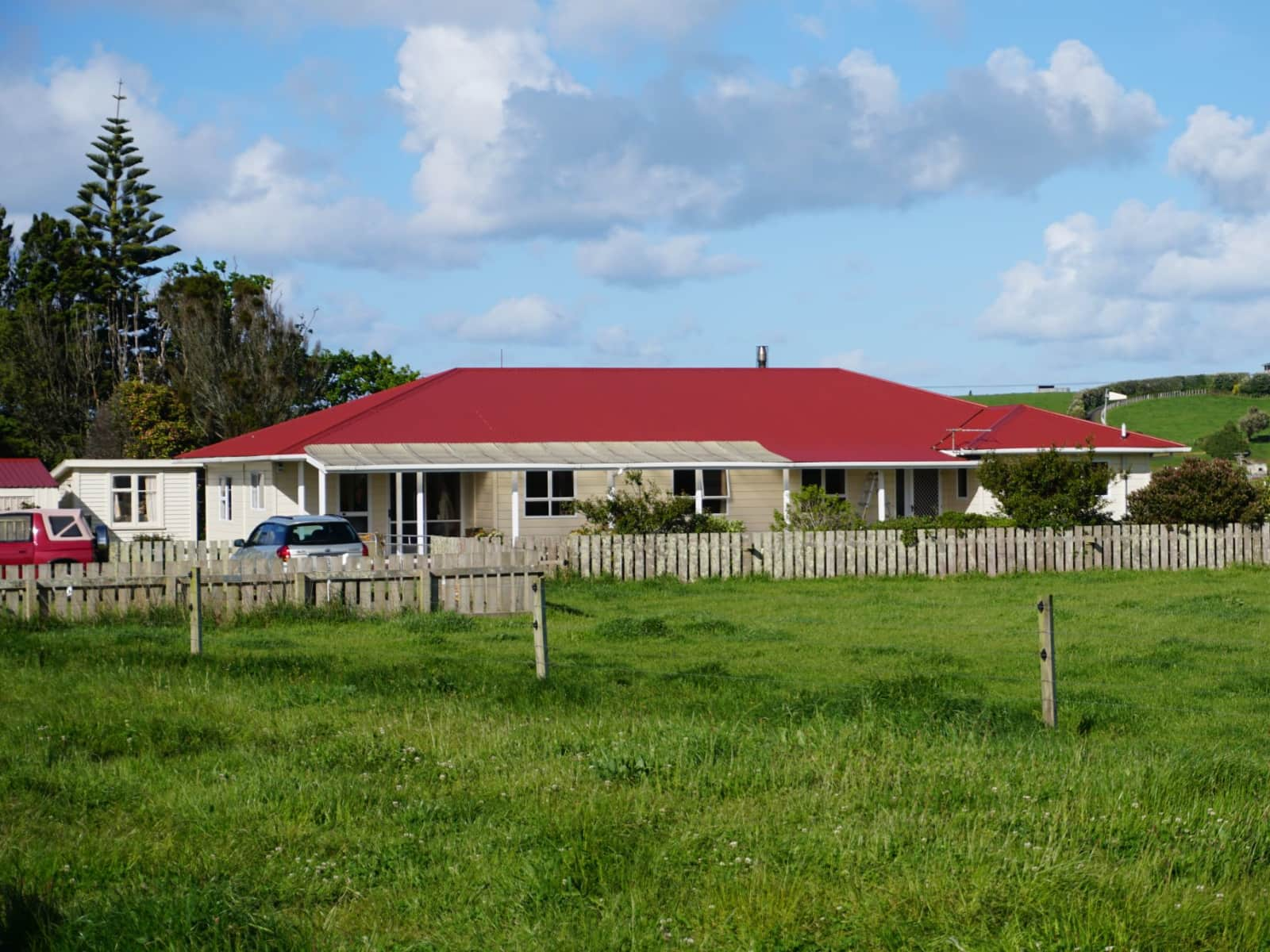 Pets
Dog
Poultry
Farm animal
Introduction
We are a young couple that own a lifestyle block in Hawera. My husband is the third generation to live on the farm. It is a lovely small section with beautiful gardens and cattle to spoil. We are an 8 minute drive from the centre of Hawera and a 5 minute drive to the local beach. There are lots of sites to explore in the surrounding area if you like tramping, mountain climbing, or just lazy strolls arounds lakes, trails or beaches!

We have great access to local sites and we are only a 45 minute drive to a fabulous airport in New Plymouth serviced by JetStar and Air NZ. Wellington is a 4-5 hour drive South along some of the most beautiful coastline you will ever experience. Like skiing, kayaking or hiking/tramping? In addition to Mt. Taranaki in our backyard, there is Taupo and Tongariro just waiting to be explored.
Our Home & Location
This is a great location for singles, couples, or families. We have two bedrooms for use and wifi for your devices. While we are located along a road, it is a peaceful place to live and work and you'll find it very private and inspirational. On clear days, we have our meals on the front porch enjoying the lovely views of the mountain.

Located nearby is the town of Hawera with a selection of great attractions including Tawhiti Museum (http://www.tawhitimuseum.co.nz), the water tower, Naumai Park, Patea Museum, beaches, and lots of "off the beaten path" tracks to explore. We are a 45 minute drive from New Plymouth through gorgeous countryside or you can cruise along the waterfront side of the mountain and enjoy the trendy cafes along the way. Lots of wonderful cultural experiences and events are in New Plymouth, as well as, boutique and big box store shopping....

All in all, you will find staying in our home to be a sanctuary where you can come to rest or retreat at the end of a day out and about!

We have:
*two bedrooms
*office space
*large bright kitchen (great if you love to cook) with an electric stove and electric oven, large fridge and seperate large freezer
*large living room
*wood fireplace (wood provided)
*large master bedroom with queen bed
*large guest bedroom with queen bed
*toilet
*shower, bathtub
*front load washing machine
*clothes dryer
*line drying rack and line on porch
*mudroom
*large fenced yard that is safe for kids and dogs
*beautiful gardens with a wandering path
*private entry and driveway alarm
*open porch area with seating
*fast wifi, AppleTV, Netflix (sorry no Sky tv, but we generally find everything we need on Netflix or Youtube or you can use Air Parrot)
*good cell reception

A house guide will be provided!

****Please note that we will not have a vehicle available for you to use during your stay. We are in a rural location without public transportation and are 10 km from Hawera. House sitters without a car would need to consider renting a vehicle or purchasing one. There are many rental options available, but they can be expensive. A great place to look for a used vehicle at an affordable price is trademe.co.nz. We will try to help as much as we can. We apologise for the inconvenience and can not provide you a vehicle!****

****This property is not disability accessible. There are stairs into the house with no wheel chair access in the house or bathroom. Those interested must be able to walk short distances around the property, be able to bend over and lift light items and use a wheelbarrow.****

****We often have applicants that 'work from home'. We understand your needs as we also work from home and need a good connection for video and internet. The internet and mobile reception is great, but please be aware that it can be spotty in storms. Additionally, the power frequently goes out in storms and while most of the time it is restored fairly fast, we are last on the priority list because we aren't a working farm and we are away from town. The housesitting guide will have all of the details and tools you need to live comfortably in the event of a power outage, but we want you to be aware that storms can affect the power and internet. Fear not, in worst case scenarios, free internet can be found in town during outages!**** + More info
House
Sitters need a car
High Speed Wifi
Family-friendly
Beach
Mountain
Countryside
Responsibilities & Pets
Responsibilities for potential house sitters would include making sure the dog has food and water and is lightly exercised. Our favourite is off-leash morning or evening walks out the back of the farm or down to the beaches. We have a super easy system for picking up and disposing of the dog waste which would need to be done once a day. We only have one retired dairy cow that is the family pet. Depending on the length of the stay, she may need to be shifted into another paddock or fed bales of hay. It would be great to have someone that is familiar with cattle, but not a must.

It would be great to water some of the plants if there is dry weather and some light gardening, but most of our plants are self caring! Also, the grass around the house area would need to be mowed on occasion. Sitters should be comfortable using a ride on lawnmower, but if you haven't used one before, a quick lesson will ease any worries....

We understand that it is hard to see the sights that may be more than a day trip. Tia travels well and camps well though you may find it challenging to find parks or accomodations that take dogs. For stays longer than 6 weeks, we are happy to pay for up to 3 nights in the local kennel so you can get away for a bit and enjoy everything that NZ has to offer. Because some of our time away from home is lengthy, we don't mind you kennelling her occasionally outside of that at your cost. Additionally, the cattle will need to be checked on weekly at a minimum and with the right preperation to make sure they are fed and watered.

In 2018, we added a few feathered friends to our life. Henrietta, Sarah, Shanny, the twins, Scraggles and Emily are fun Hyline bantam hens that would love to meet you, especially if you have treats. They don't require much care except making sure their food and water is topped up as they are free range and let themselves in and out. We try to collect the eggs everyday.

******House sitters must have:
-a vehicle (both to allow you to see the area and in case there is an animal emergency or human sickness)
-the ability to call NZ phone numbers either through their own mobile or over a wifi device + More info
Poultry: Chickens, We have three hyline bantam chickens, one Oripington hen and three Rhode Island Red hens that are free range during the day. They let themselves in and out each day.
Farm animal: Cows, We have one retired dairy cow that roams around the paddocks with some occasion break feeding needed in times of reduced grass.
Dog: Tia is 3 years old (Labrador Retriever)