Visit Oslo at a Beautiful Time of Year and Stay in a Conveniently Located Apartment (My 2 Senior Dogs Just Need Walking, Feeding, and a Little Loving)
Oslo, Norway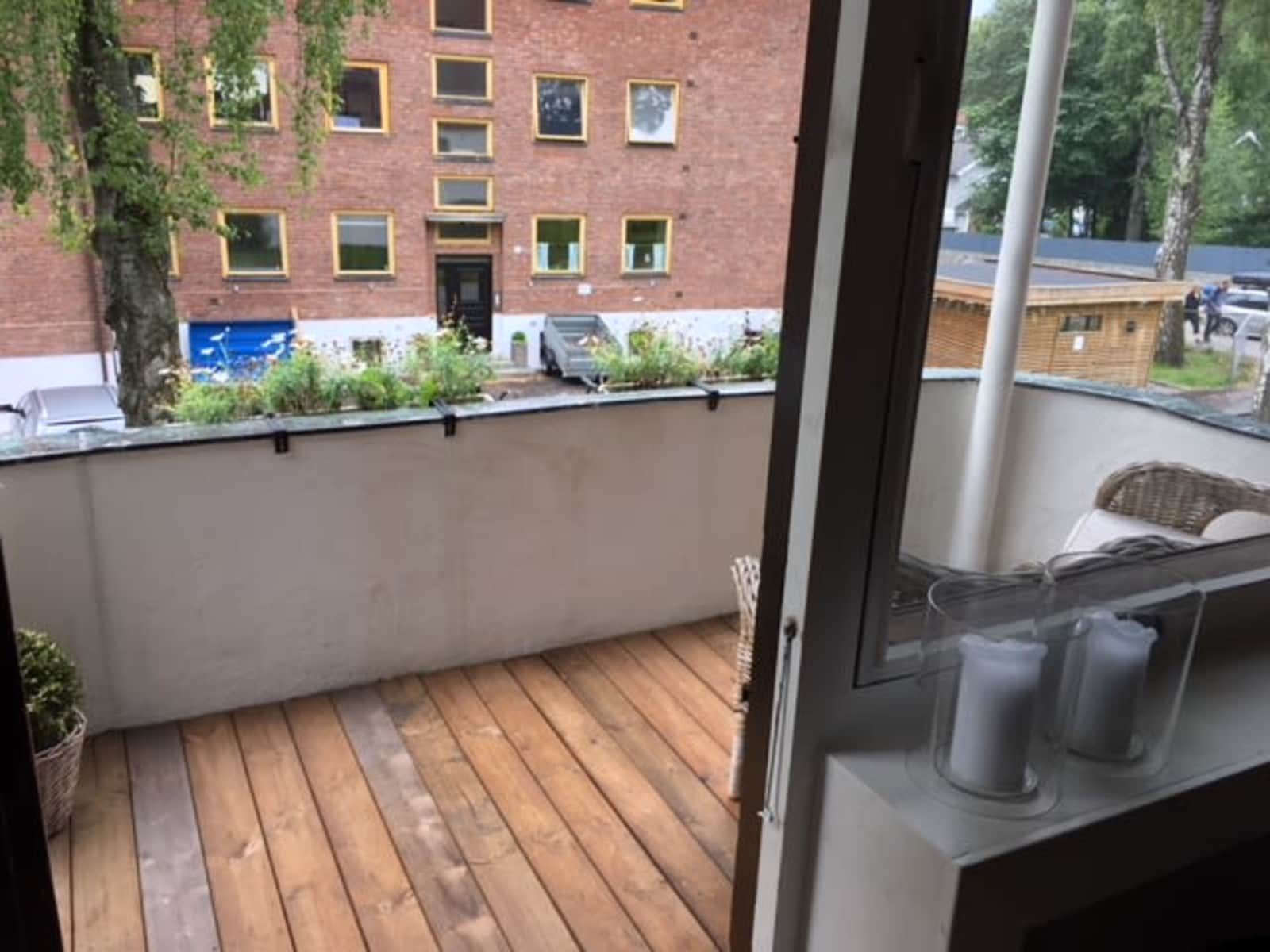 Pets
Dogs
Introduction
My husband and I are living in Oslo with our two loving, senior dogs. To travel, I want to be comfortable that our dogs will be taken care of. Luckily we need to travel at a time of year when Oslo is beautiful to visit, as the temperatures are warmer, the flowers should be in bloom, and number of tourist attractions are open that aren't otherwise (tours of the King's Palace, the Summer Castle, tours of the City Hall), and, of course, it's a beautiful time for fjord tours, trips to the beaches on Bygdøy, etc. All of these attractions are either walkable from our apartment (Bygdøy with the beaches, Viking Ship Museum, Summer Castle, Fram Museum, Contiki Museum), but may easily be reached in 15 minutes on the bus, and City Hall, Palace Park with the King's Palace, Parliament, Aker Brygge with ferries to the fjords and Bygdøy are just a 15-20 minute bus/street car away.

We live a few blocks from Vigelands Park and a 4 minute walk from the Thune bus station (31 bus and 13 street car) and 8 minute walk from Skøyen Station (train to Oslo's main airport, etc.)....

We got our dogs from a shelter 12 years, and they are best friends. They have excellent inside manners and are left loose in the apartment while I am not there.

I walk the dogs 3x/day, although they would be okay with 2x/day. They need to be fed 2x/day, and the female gets medicine with her food, that can be hidden in soft treats.

Inside the dogs just need some food, love, and rubbings. Outside, my female can be particular on where she walks, and my male will bark at other dogs, but other than that, they are good to go.

The dogs would need to meet the sitter the night before (or just beforehand, if local), etc., just to know that it is all okay. I have 2 bedrooms (1 king-sized and 2 bunk beds) in my apartment. + More info
Our Home & Location
Oslo has an excellent, easy to use public transport system. The apartment is a 4-6 minute walk away from the bus, street car, and/or train to get within town to see the Opera House, National Theater, King's Palace, etc. or out of town for hiking, skiing, etc.
Apartment
High Speed Wifi
Family-friendly
Beach
Mountain
City
Responsibilities & Pets
The dogs are fed 2x/day. The female needs medicine with the food, but I have soft treats for that. We normally walk them 3x/day, but they are fine with two walks (morning and evening). The walks are sometimes very short to just take care of potty and sometimes a bit long (30 minutes). They like a bit of attention, but settle down quickly.
Dog(s): Riddick is 13 years old, Sable is 14 years old