Vet's two dogs need to be loved and cuddled
Johannesburg, South Africa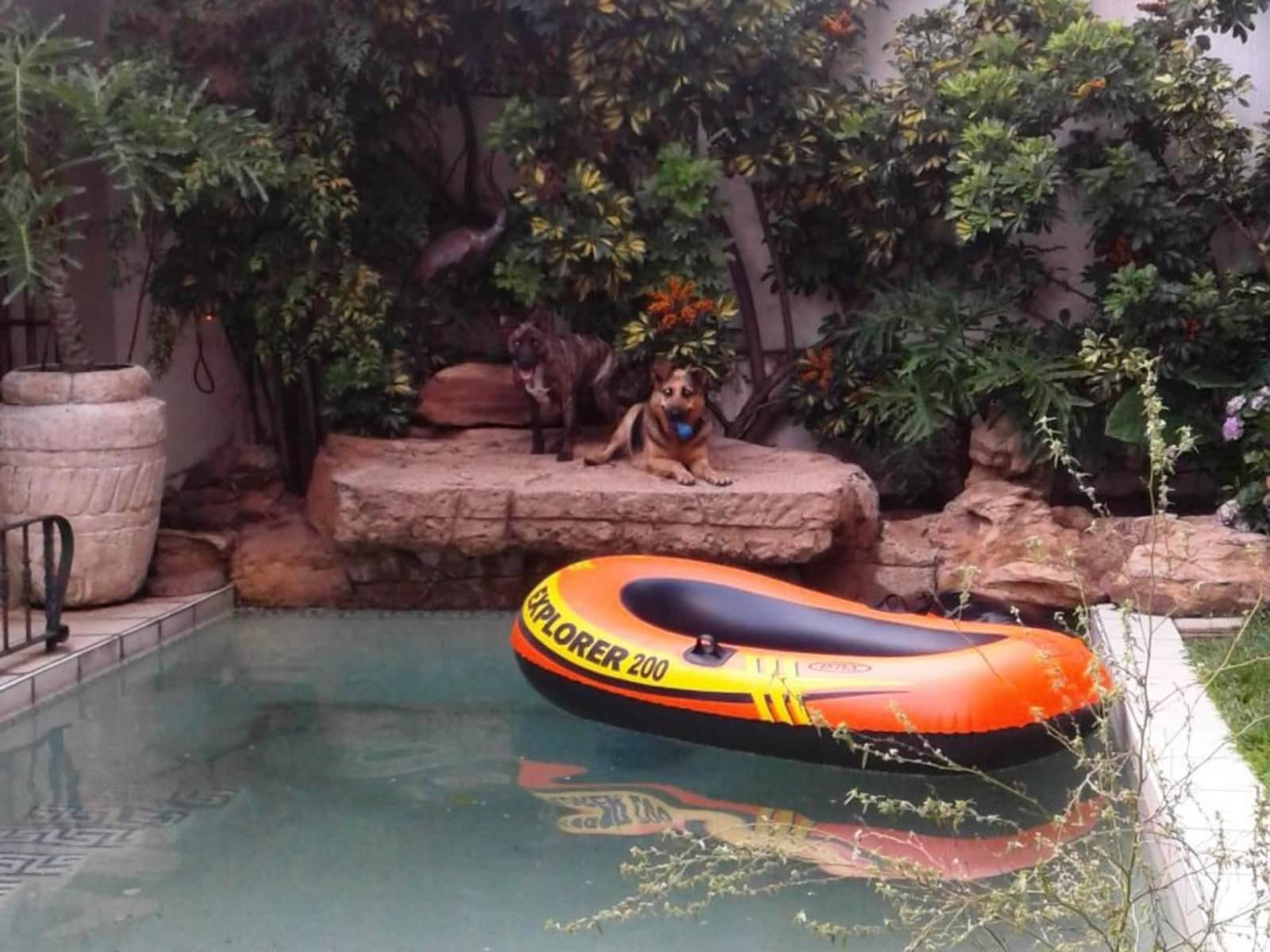 Pets
Dogs
Introduction
Desmond is a practising veterinarian and we run an animal welfare PBO Avatar Sterilisation and Protection
Our Home & Location
We live in a very secure, gated community with great neighbours, in a small 1 Bedroom, 2 bathroom house with our 2 dogs in the Northern suburbs of, Johannesburg, South Africa. We have a lovely pool and garden with a great ecosystem around us. It is very close to the Lonehill Shopping Mall and quite safe to walk to in our guarded area. We have a big dam next to lovely parks, a koppie and lots of walks, so it is easy to get around with everything very close to us. Our house cleaner comes in three days each week and the gardener comes once a week (he also cleans the pool as Suzie paddles in the pool occasionally, even in winter), but she is a really good girl and knows when to stay outside and drip dry her feet!! There are lots of shops, gyms, theatres and all sorts of restaurants within 10 minutes of us. Our home is very relaxed as we are used to having animals around us all the time, as Des is a Veterinarian by profession. Our office and consultancy room will be separately locked up.
House
Disabled access
Basic Wifi
Mountain
City
Countryside
Responsibilities & Pets
We need you to love, cuddle, walk and feed our 2 beloved and well-mannered dogs Dexter ( Staffie cross) and Suzie ( German Shepherd cross). They weigh 29 and 28 kilos and eat pellets and raw food in the morning, which you would be required to thaw every day and also give them their biscuits and treats in the late afternoon. Suzie also gets her Compass Green Lipped Mussel each day which she happily eats from your hand. They are both very clean and well-adjusted, happy dogs with so much love to give you. They love their walks around our gated secure community every day and are very social with other dogs. Dexter loves to sleep in bed with you under the duvet, if you will let him, but they will sleep in their own beds too, but Suzie quite fancies the couch at night!!!. They love company and loads of attention and Suzie and Dexter love to play ball. There is one bedroom with a king size bed in the Cape Dutch cottage style home we live in with a fabulous outside patio that is covered and a pool, a bathroom with a shower and another with a bath. The house is all tiled with a wood fireplace that heats is up wonderfully and lots of wood. There is a big garden and we would ask you to please poop scoop and keep lots of fresh water around in the bowls for them. Dexter loves his toys to play with briefly, them they must be removed as he is still learning how to not shred them to bits!!
Dog(s): Suzie is 8 years old (German Shepherd Dog), Dexter is 4 years old (Staffordshire Bull Terrier)