Beautiful House on a Beautiful Island
Seogwipo, South Korea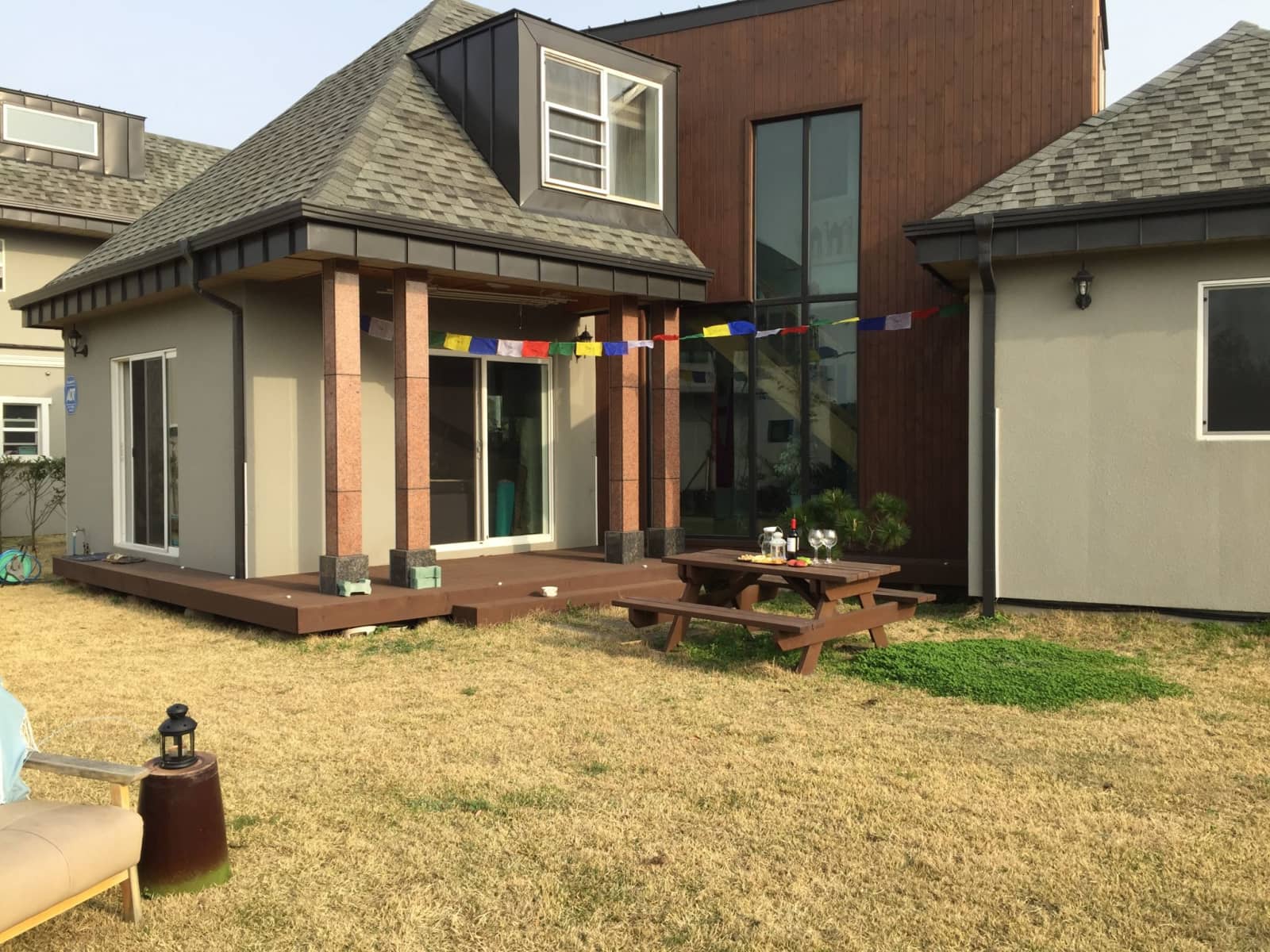 Pets
Dogs
Cat
Introduction
Dan and I are teachers at Korea International School Jeju. We have 2 dogs and a cat, all rescues. Sasha was rescued from Georgia, USA where she was abandoned as a puppy. MeeMee was rescued from Care for Dogs here in Chiang Mai. She is a small poodle-mix and is blind in one eye. Meena was supposed to be a spay and release in Yangon, Myanmar, where we lived before.... But we kept her.
Our Home & Location
We live at the end of a cul-de-sac in the Andeok area of Jeju-do. We are near the Global Education City and Molseupo. Our house is a quick drive to the beach and various restaurants and cafes. There is a convenience store right on the corner of our street. Our house is a two-story, three bedroom, two bathroom house with a yard. We have converted one of the bedrooms into an office so it really only has 2. We have wifi and cable t.v.

Jeju is a beautiful place with a lot to discover. We've been here a year and are still finding new trails to hike, beaches to explore, and museums to check out. Jeju is home to the famous Hanyeo (women divers) who you can see free-diving for shellfish and urchins at many of the beaches. While you're here check out Hallasan, some of the Olle trails, the great little cafes, and some really interesting museums. There are also large lava tubes, hedge mazes, and cultural villages around the island. A hike to Sunrise Peak would be great, but you would have to get up REALLY early to make it that far for an actual sunrise hike....

The drawback to Jeju is transportation. We can offer you my small car to use while you are here, which could save you a lot of money. You just need your international driver's permit. We also have a bus stop right next to our house, but I have not used the buses. Apparently you just swipe your credit card to pay so that is easy, but as far as routes go you would need to figure that out. + More info
House
Sitters need a car
Car included
High Speed Wifi
Beach
Mountain
Countryside
Responsibilities & Pets
As teachers, we are often gone for 9 hours a day - so the dogs are okay on their own while people explore the island during the day. The dogs need to be fed morning and evening, given fresh water daily, and a short walk (just down the block) is preferred morning and evening. Meena will come and go as she pleases, just make sure food is in her bowl. The most important thing is that there is loving companionship for our pups while we're away.
Cat: Meena is 5 years old
Dog(s): Sasha is 4 years old, Mee Mee is 11 years old