Tiny Home Hidden Garden in Chiang Mai with Kitten and Husky
Chiang Mai, Thailand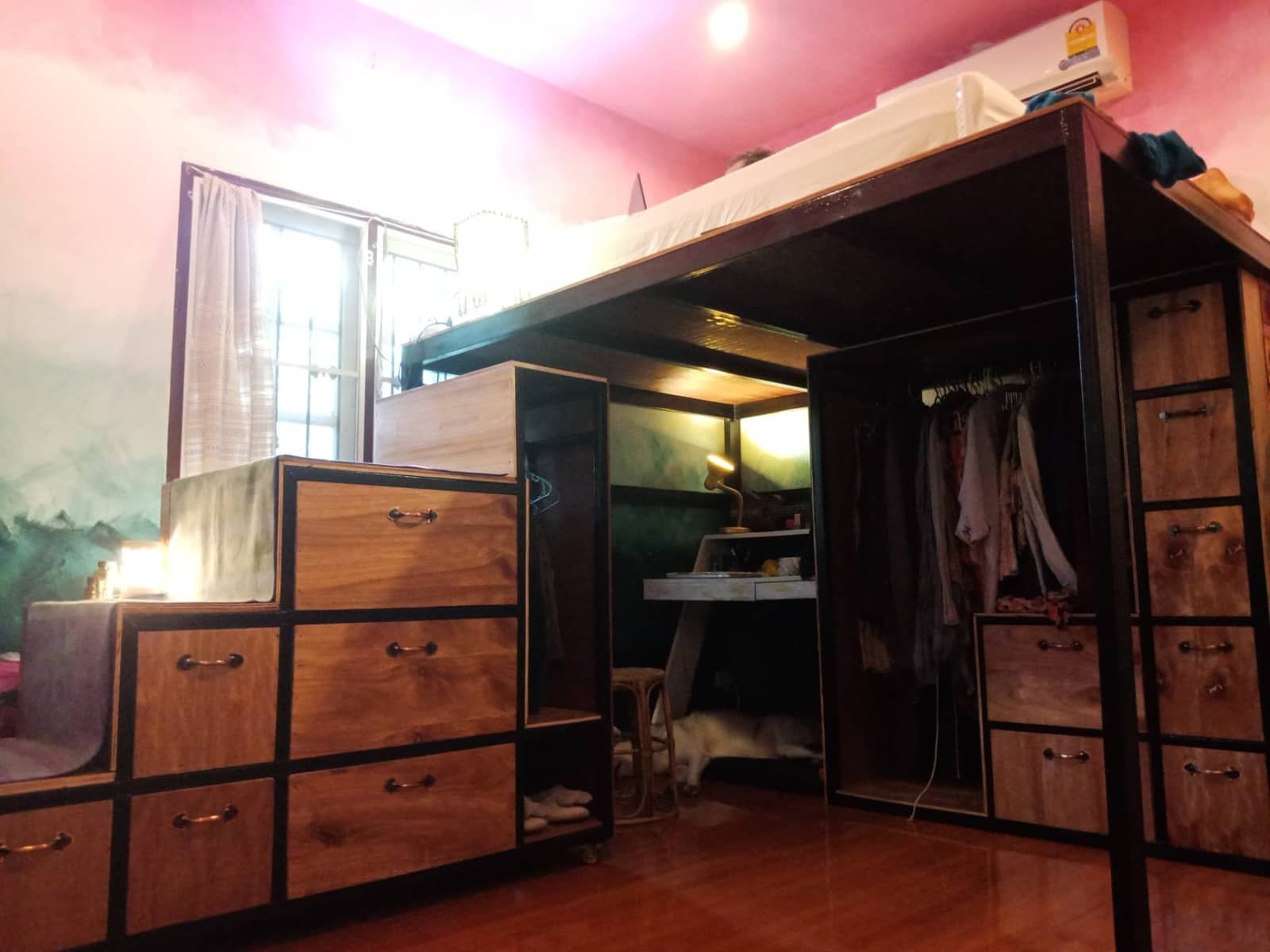 Pets
Dog
Cat
Introduction
Hey, awesome house sitter! We are a husband and wife from the States that moved to Thailand after building our own tiny home in California (a yurt). We are lifestyle learners, artists, into massage and healing arts, martial arts, and lots of the culture that is embraced here in Thailand. We take long trips as we believe in getting to know the community and giving back everywhere we go. We tend to leave on 1-2 month trips due to all the planning with the little furry loved ones. We cannot wait to share our cuddly creatures and the quaint but lovely tiny home here with you.
Our Home & Location
Lots of love was put into this little home on our garden land. We painted all the walls, did a giant mural in the kitchen, and designed and had all of our furniture made by a local artisan. All of our furniture is multifunctional and the kitchen furniture can be moved around easily. We also have collected a large number of spices and cooking tools if you are someone that loves to cook. Thailand is cheap and easy to eat out, but having a wholesome meal cooked at home is always comforting. The location itself is very quiet and tucked away but only a 15 minute walk into the heart of the Nimman District (the cool hip district with the good restaurants etc..). You get the best of both worlds. You can easily rent a local mobike and get around anywhere in the city for under 6usd for 90 days of rental. Crazy, right?! Oh, and of course, we are only a block or so away from a 7-11 and a massage studio ;)
House
High Speed Wifi
Family-friendly
Mountain
City
Countryside
Responsibilities & Pets
If Kiba (the husky) is shedding, she will need brushing to make less hair everywhere! Sweeping will also happen more often. The cat and dog both eat patties that we handmake and can make a month's supply before we leave. The food will just be taken out the night before they eat the following day. Kiba needs to go out 2-3x a day, a normal dog thing ;). They both are relatively easy, Kiba is very well trained. Mayagon is a kitten and does still act like one, playtime is loved, cuddles are loved, she falls asleep on you whenever you are around. She is a lap kitten and we love that she loves to cuddle. Kiba is a Husky, no barking, no ripping into anything, super relaxed. Kiba would love to play with others but not the street dogs here. The street dogs are generally not clean and can very often be aggressive. If Kiba were to play with other dogs it would be a playdate.
Cat: Mayagon *Magic is 1 year old
Dog: Kiba is 8 years old