In need of a sitter for my 3 cats and 2 chickens!
Kempston, United Kingdom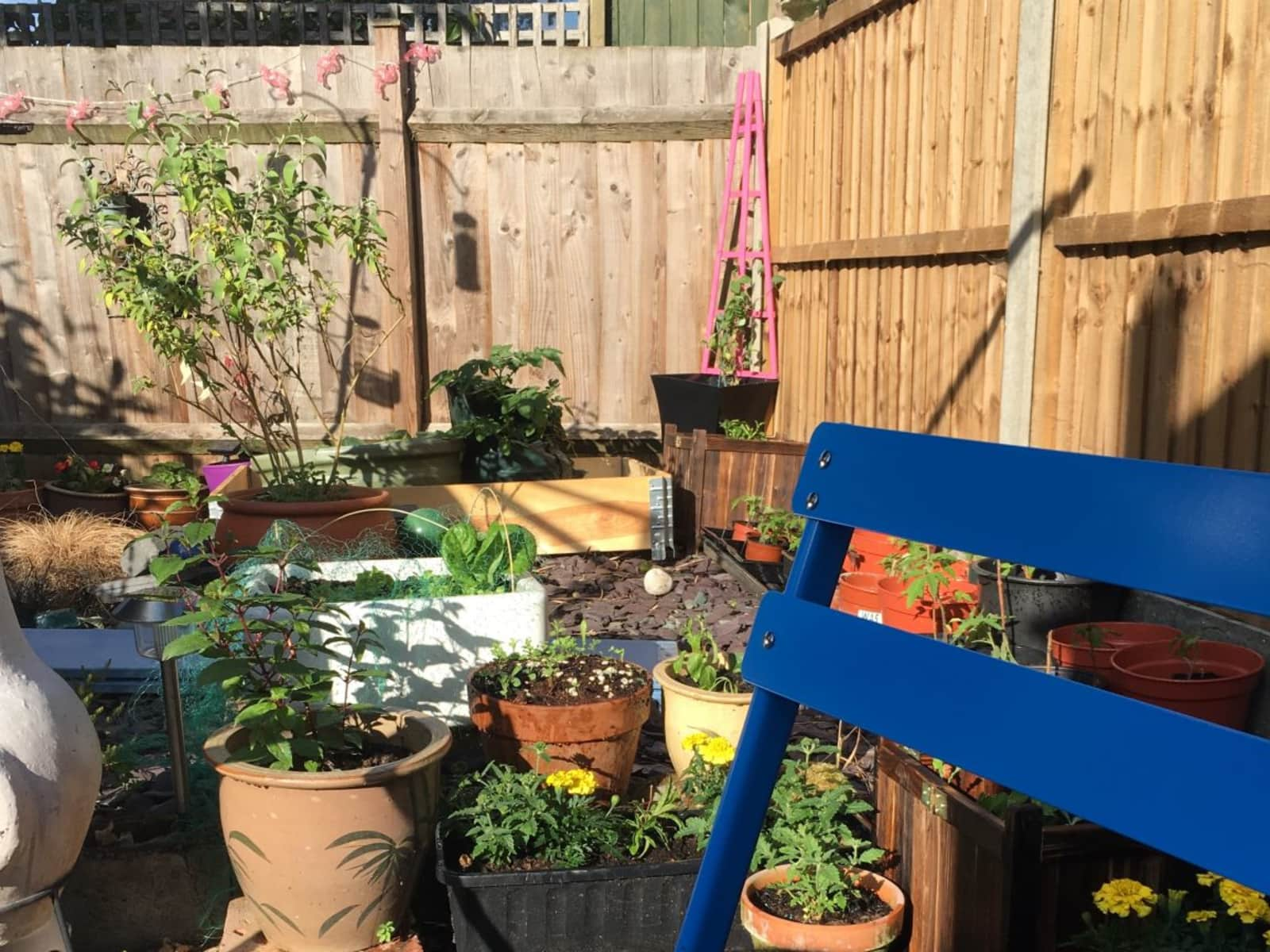 Pets
Cats
Poultry
Introduction
I am Kat by name and cat person by nature! I share my three bedroom house with my three cats, Odin, Loki and Coco and two hens, Winnie and Janet Beak-Porter. The hens DO live outside but will come in to the house any chance they get....

I work full time as a police officer and until recently had my own horses. I enjoy cooking, baking and tending my small courtyard garden although that is very much down to luck rather than any skill....

I go away twice a year, once to go to Burghley Horse Trials and spend some time with my "unofficial" family and the second time to fence judge at Blenheim Horse Trials. In years gone by the cats have come with me or I've had friends with grown up children who want to play house and they've housesat for me but I've found having someone independent coming in much less stressful. + More info
Our Home & Location
I have a three bedroom Victorian terrace house in Kempston which is just outside Bedford. I have a double room and a single room available for house sitters. There is a large lounge/diner, unlimited WiFi, NowTv entertainment package including movies, large kitchen and bathroom equipped with walk-in shower and freestanding bath. Only downside is the bathroom is downstairs. Kitchen is equipped with an electric cooker and fan oven, microwave, toaster, kettle, washing machine, dishwasher and fridge freezer. I have a small courtyard garden where I am currently growing tomato's, cucumbers, lettuce, potato's and strawberries - all of which you are welcome to help yourself to. There are also a couple of chairs and table and a rotary washing line which make the most of the sun trap my garden is and a chimnea with plenty of wood. Unfortunately there is only on street parking which can get a bit busy but I have never had any problems in the time I've lived here in finding a space. The house is ideally located for access to the A1 and M1, short distance from Cambridge, Milton Keynes and London is an hour by train. Either end of the road are bus stops with regular buses in to the town centre and if you fancy the walk it will only take half an hour tops to get to the town centre or the station. Bedford has a new Riverside complex with a number of bars and restaurants over looking the river which looks wonderful on a sunny day. I also highly recommend the Indian restaurant and the Thai/Chinese just at the end of my road!
House
Sitters need a car
High Speed Wifi
Family-friendly
City
Countryside
Responsibilities & Pets
Feed my cats morning and night. Let the chickens out, collect eggs and top up their food and water. Water the garden if required. Put the bins out if necessary.

I have three cats, Odin, Loki and Coco. Coco is very much in your face and a bit of a clown but is incredibly affectionate, talkative and friendly. He is a stunning looking tabby cat with a touch of something oriental about him which is obvious when he is waking round the house shouting to get your attention....

Odin is my precious boy. He was diagnosed with lymphoma last year and is currently having chemotherapy treatment which he is responding to well. He is a lot more stand offish and will take a little while to get used to strangers but he is a very gentle cat.

Odin has found his frequent visits to the vet very stressful which is why I don't want to put him in to a cattery or have a pet sitter popping in morning and night as I feel he needs some stability. I work four days on and four days off, between 10 and 12 hours a shift so they are used to being left long periods of time but it is nice for them to have someone to curl up with.

Loki is the baby of the family. He is a menace and will steal anything not bolted down!! He is very cute though and loves his brothers, especially Coco.

All three are very talkative and will remind you that they need regular feeding.

I tend to shut the cats in at night and lock them in the kitchen which they are quite happy and settled with - I have discovered there is a pigeon nesting in the tree next door and it prevents uninvited feathered friends if nothing else but I always leave this to the discretion of the house sitter.

The cats have run of the house other than at night (unless I'm working) apart from the room to be used by guests and this is only because I use it as my laundry room if no one is staying!

The hens are free range in the garden during the day. They are shut in the coop at night and aren't bothered by the cats. They are both friendly and well handled. Leave the back door open and they'll come in the house though and if they think you are ignoring them they will knock on the cat flap! Both lay an egg a day too. + More info
Poultry: Chickens, Two Lohman hens, Janet Beak-Porter and Winnie
Cat(s): Coco Bean is 4 years old, Odin is 6 years old, Loki is 1 year old (Norwegian Forest Cat)
Upcoming sitters
September 2019 | Aurore

August 2019 | Galina
---
Previous sitters