Fancy a G & T? ... Meet George & Toffee who need a loving house sitter.
Bushey Heath, United Kingdom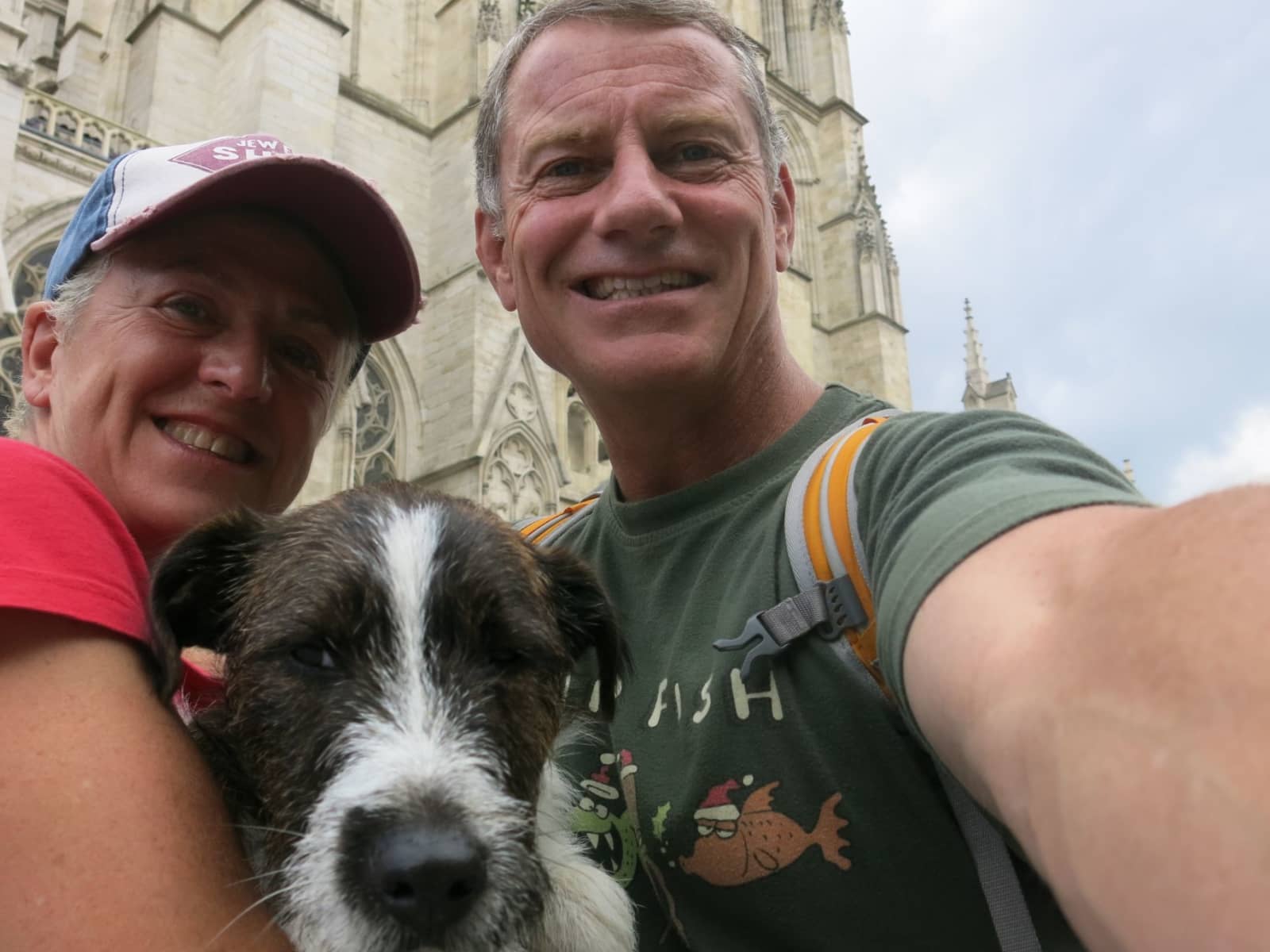 Pets
Dogs
Introduction
Hello there, we are John and Lucy Baxter and these are our two dogs, George & Toffee. I'm a teacher and expedition leader; John is a Naval Officer. We move around a lot but currently live in a leafy Hertfordshire suburb called Bushey Heath. Our house is a married quarter which means it is rented from the Government for as long as we need it near to John's posting. It is full of treasures from our many travels. We have got a couple of trips booked for February 2019 and would like our precious hounds to stay put in the house and be cared for by someone who likes terriers. Toffee is only 6 months old and George is a young and bouncy 2 year old. They both adore cuddles and are well trained and very easy to look after.
Our Home & Location
Our house is a semi detached brick built 4 bedroomed house amongst other military officers from different nations. It's a safe, quiet, woody area with friendly neighbours and a community feel. The shops are only a 5 minute walk away up a small hill - as are the transport links to London and the surrounds. There are two small, local supermarkets; a Chinese, Indian & Italian restaurant; a traditional pub (where dogs are welcome); chemist; bakery; ATM machine; coffee shops etc etc. You wouldn't have to drive to come and sit for us as the buses, tube and trains will take you into town. In just under an hour you can be in the centre of London for sightseeing, museums, shops, theatres etc. Wembley Arena is close by too and easily accessible by bus and tube. Watford is only 2.5 miles away down the hill with its brand new shopping mall including a lovely John Lewis department store. Harry Potter World at the Warner Brothers Studios, Leavesden is about a 20 minute drive away (NB: you need to book months in advance). Other attractions include the Jacobean Hatfield House where Queen Elizabeth 1 grew up; St Albans with its grand cathedral and Veralumium Park & Museum stuffed full of roman antiquities; RAF Battle of Britain Bunker in Uxbridge (the only surviving Fighter Command Ops Room); Windsor Castle. The list is endless.
More importantly for you and the dogs, there are plenty of lovely walks in the area which you can access without getting in the car. We have a huge area of woods and heathland called Merry Hill owned by the Woodland Trust. Beautiful views and a multitude of different paths to take: every day's walkies is different and G&T love it there. If you do have a car, there are loads of other areas including 190 acres of gorgeous Cassiobury Park; Stanmore Common; Bourne End woods and a little further afield, the Chilterns. We are very close to Bentley Priory which used to be a a strategic RAF base from where the Battle of Britain was coordinated. They have an interesting museum there which is just a walk away. Plus the walks in the woods and heathland at Bentley Priory are tremendous. The views down the hill towards London are terrific: you can see Harrow School and the Wembley Arena from there.
Sitters would have their own double bed guest room with family bathroom and separate toilet upstairs. George & Toffee sleep in the kitchen downstairs - but they do love to come up onto the bed in the morning for cuddles before you start your day! Downstairs we have a decent sized living room, kitchen, utility area & separate dining room and a downstairs toilet & cloakroom.

The living room is equipped with an unfeasibly large television with Sky coverage. (We're not TV addicts but the last house we lived in had such a large sitting room that couldn't see the screen from the sofa!) We have a big selection of movies and Danish crime dramas to while away the winter evenings with G&T on your lap. We've also got a decent hifi and a big collection of CDs to listen to. It's a warm house with reliable gas central heating and an electric fire in the sitting room. There is a landline phone and excellent fibre broadband coverage from Sky....

It is a stipulation from the MOD that there is no smoking in the house: we are a non-smoking couple so we'd prefer non-smoking sitters please.

We have a good sized garden with conifers lining one side and an apple tree in the middle. It's fenced in so totally secure for the dogs. They love to chase each other round and if you are up for a bit of football, George will adore a kick about with you. Toffee is quite happy to sit and chew sticks! In good weather, you can happily leave the back door open for them to run in and out and sunbathe.

Parking is on the road outside the house but it is an extremely quiet road in a safe area - you will be surrounded by military officers from NATO who are always ready to help each other out. Our neighbours are all families with children and are extremely friendly. + More info
House
High Speed Wifi
Family-friendly
City
Countryside
Responsibilities & Pets
Our dogs are young so they're energetic and in need of love and attention. We don't have children so you'd be right in thinking that they are our world, really. Daft but true. They are unbelievably friendly - so much so we have to stop them wanting to go up to walkers and say Hello! all the time. They are not happy and apart from when someone rings the doorbell they don't bark. And they certainly don't bite. Toffee is only 6 months so still needs to be reminded about behaviour. George has been 'done' and is very friendly towards the dogs so it's never a problem being out and about seeing others. Toffee is still intact as he's so young and he's just starting to become slightly more 'friendly' towards other dogs than other dogs generally like! But being 9" off the ground, he is not a threat and usually a casual growl is enough to put him off. He and George have both had puppy training classes so they do know what they should be doing but they're terriers so need reminding. Being young and used to someone around most of the time, we would like someone happy to do the same. That said, after a decent walk, they are happy to be left for 4/5 hours. In our experience that is sufficient time to get into London and see a museum, gallery, spend an hour or two in the shops or whatever and then get home again. We'd need you to walk them once or twice a day and be happy to play tug-o-war with them at home. They're playful, very loving and great fun. They like to be talked to (because I talk to them all the time) and be in your company. They will sit on, next to, or by your feet and like to be in the same room as you whatever you are doing.

Toffee is a terrier puppy. He chews. Anything left on the floor or coffee-table height risks being destroyed quietly and efficiently. You need to keep an eye on him because he will swallow small things - and he's not fussy.
Luckily, we are a 10 minute walk away from a very good vet up the hill but we would hope you wouldn't have to visit her.
Neither of them have any medical issues and are up to date with inoculations, flea and worm treatments.
Toffee is just getting used to travelling in the car. It wasn't his favourite experience at first but he is better at it. They both travel in crates which they are perfectly happy in.
Dog(s): GEORGE is 3 years old, TOFFEE is 1 year old
Upcoming sitters
February 2019 | Lauren

February 2019 | Emelia