Wedding
Chelmsford, United Kingdom
Dates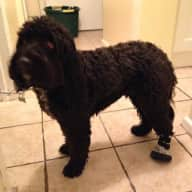 Currently no sitter needed
Currently no sitter needed
Introduction
Debbie and Tony we are a couple in our mid fifties living in the village of East Leake near Loughborough. Our dog is a 6 year old Springerdo that hates kennels.
Home & location
We live in a four bedroom detached house in the village of East Leake with good public transport into both Loughborough and Nottingham, which boasts excellent shopping and dining opportunities. It is a short drive to the peak district and…
House
High-speed WiFi
Family friendly
City
Countryside
Suitable for couples
Responsibilities
Only required duties are around Ziggy, he needs 2 walks a day one of about an hour the other can be shorter and lot of cuddles. He is fine to be left in the house alone for up to 7 hours, he sleeps on the floor in our bedroom.
Meet the pets
dog