Elegant (if daft) whippet seeks companionship whilst owners abandon him to holiday abroad...
Blandford Forum, United Kingdom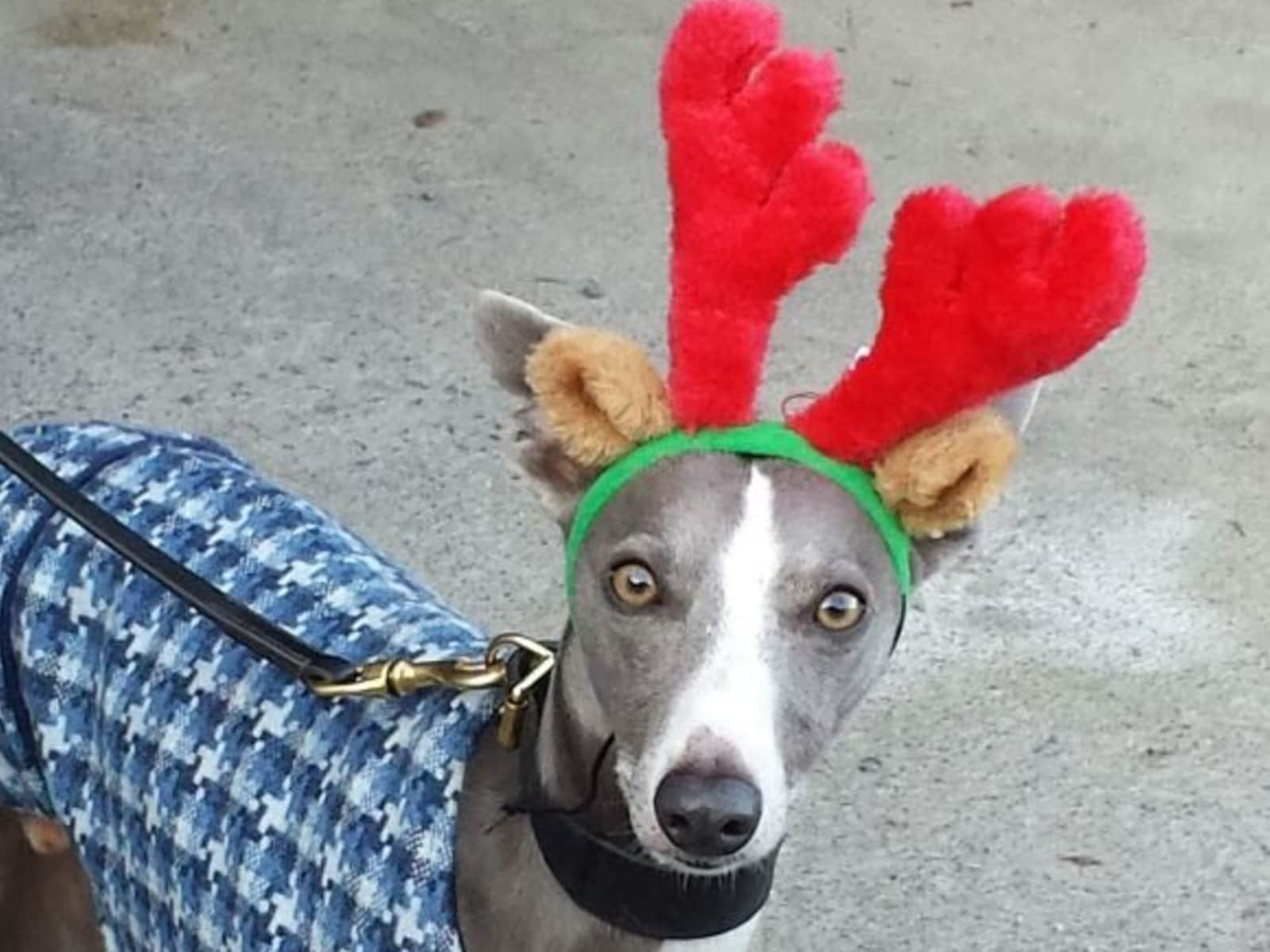 Pets
Dogs
Cat
Fish
Introduction
We live in glorious isolation in the Dorset countryside. We're at the end of farm track with not another house in sight and wonderful walking all around but only 10 minutes drive from Blandford Forum.

Our lovely, 7-year old whippet, in common with most whippets, hates being left alone and so normally travels everywhere with us - except when we fly. Kennels would, obviously, be akin to a prison sentence. Hence our appeal on here. Oh and we have a goldfish. He isn't so bothered by company but does require feeding....

Update - Autumn 2017
We have been adopted. Upon attaining her majority (well, 3 months) Reina Tabasca di Rezzo decided that we should feed her. And house her. And amuse her. And so we have. Sadly no one has (yet) taught her not to bite the hand(s) that feed her. She is what might be termed "feisty". Or less charitably, "a little bit mad". However she is also highly amusing.

Update - Autumn 2018
We now have a second whippet - she's just 6-months old right now and far more "dog" than the il Principe. She'll sit on a hard floor or pavement without a rug; troughs her food and loves trying to eat poo. But she is beautiful, travels in the car without a worry and wants to play with everyone. Even the cat. Who is calming down somewhat - we only occasionally get bitten now that she has us trained. + More info
Our Home & Location
A two-bed 19th century farm cottage in the middle of a large estate with great walks all around. Up a track so a car is required.

No other neighbours so you need to be happy with seclusion....

We have central heating, TV, DVD player, even wifi. Two woodburners and plenty of logs. + More info
House
Sitters need a car
Basic Wifi
Countryside
Responsibilities & Pets
Love our daft hound. Feed him. Stroke him. Walk him. Never leave him alone (except at night when he sleeps in a crate). Laugh at him as he is very amusing. Let him snuggle up on the sofa next to you. Did we mention loving him? Feed Tabasca. Play with her when she demands it. Keep out of her way otherwise.
Feed the fish once a day. Feed the puppy. Often. Try and train her?

We have a cleaner who comes in weekly so you only need to keep the house tidy please. If you like gardening you can knock yourself out - there's loads to do.
Fish: Indoors, 1 Goldfish
Cat: Tabasca is 1 year old
Dog(s): Zephyr is 8 years old (Whippet), Zander (Whippet)