Sitter needed for 2 labs and a German shepherd
Great Clacton, United Kingdom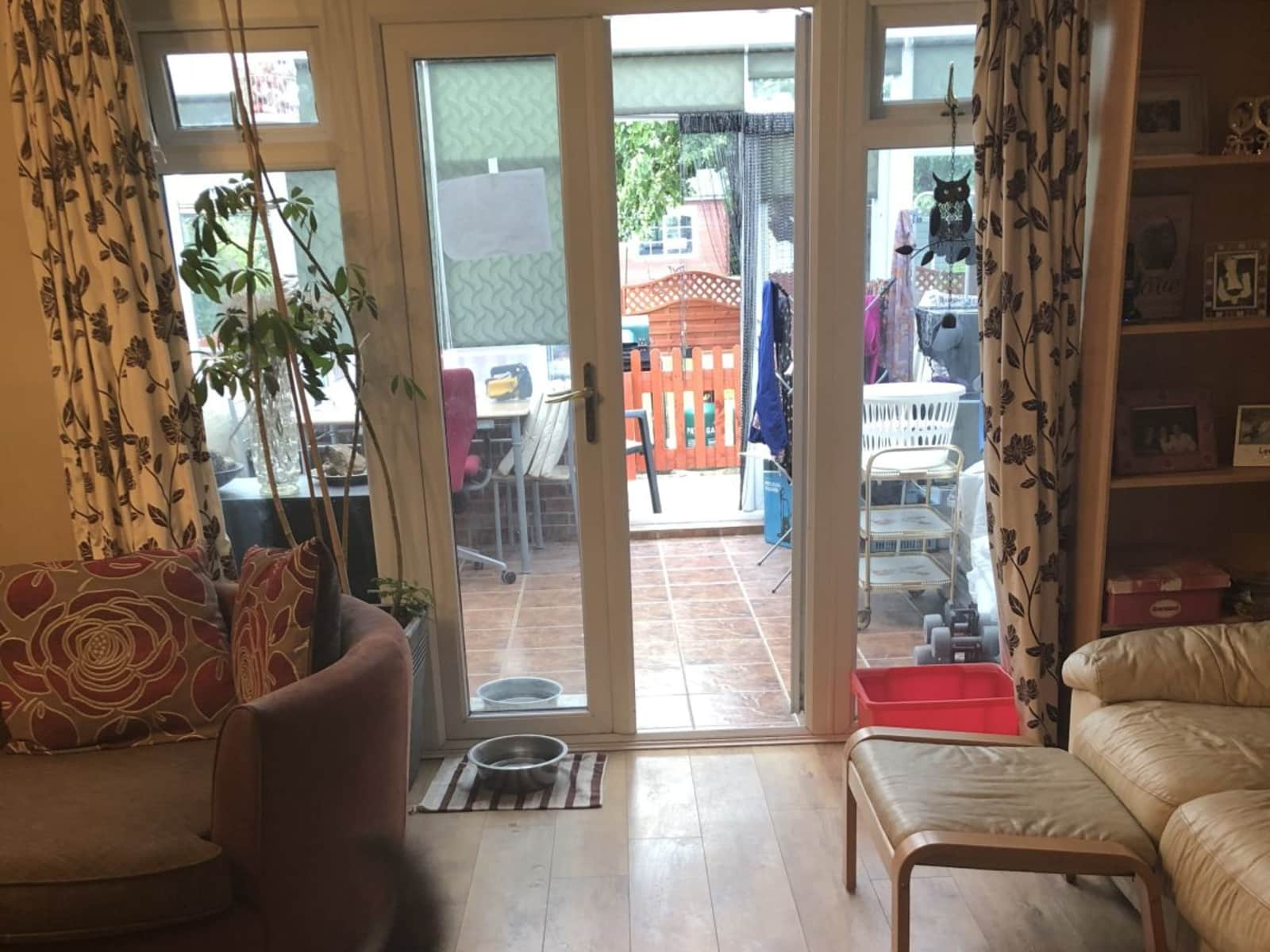 Pets
Dogs
Birds
Introduction
Hi, we are big animal lovers and have a big furry and feathered family. 7 dogs and 6 owls. We are seeking very kind, patient and dog wise sitters to care for our home and 3 of our dogs, Harry, Lilly and Leo.

Our furries are Harry (6) a choc lab, Lilly (5) a black lab Maya (5) a med size cross breed rescue from Romania and her sister Willow, same age and size. Leo our super laid back GSD (3) a rescue from Romania, and Boone (3) a small scruffy bundle of fun also a rescue from Romania. And lastly doodle Cooper (5) a small bundle of energy we fell in love with whilst volunteering with elephants in Thailand.
The 3dogs we need sitting are loving, affectionate and easy going....

The owls need feeding once daily. A case of throwing 12 defrosted chicks into their aviary at about 5pm each evening

We live in Great Clacton, 10 mins from the beach. We have a huge garden, a hot tub and lots of room, it's a lovely place to relax. Once the dogs are settled at night they can be left quite easily, so visiting the pier, arcades etc is fun to do in the evening. They can be left during the day also with no problems.

The only gardening requirement is watering. We have a small vegetable patch and a small dog free area with some some flowers, The rest is pretty much left to its own devices and the dogs ! + More info
Our Home & Location
Great Clacton is ideally located close to several beautiful beaches. The closest is less than 10mins away. But if you fancy a nights viewing we have BT TV, Netflix and a king size tv bed! We are near the shops, several restaurants and supermarkets and only 30 mins from historic Colchester. There is a zoo and much more to be seen.
House
Sitters need a car
Car included
Disabled access
High Speed Wifi
Family-friendly
Beach
City
Countryside
Responsibilities & Pets
The dogs love their walks, especially the labs. We have woods and fields very close by. The big guys are equally happy to play fetch in the garden, they are easily pleased.
The 6 owls just need feeding each evening, there is no need to enter the aviary.
Dog(s): Harry is 8 years old, Lilly is 6 years old, Maya is 5 years old, Willow is 5 years old, Leo is 4 years old (German Shepherd Dog), Boone is 4 years old, Cooper is 6 years old
Bird(s): Juppy is 5 years old (Barn Owl), Logan is 5 years old (Barn Owl), Quinn is 5 years old (Barn Owl), Izzy is 5 years old (Barn Owl), Milo is 3 years old (Barn Owl), Georgie is 3 years old (Barn Owl)