Christmas in London right by the Thames and Big Ben
London, United Kingdom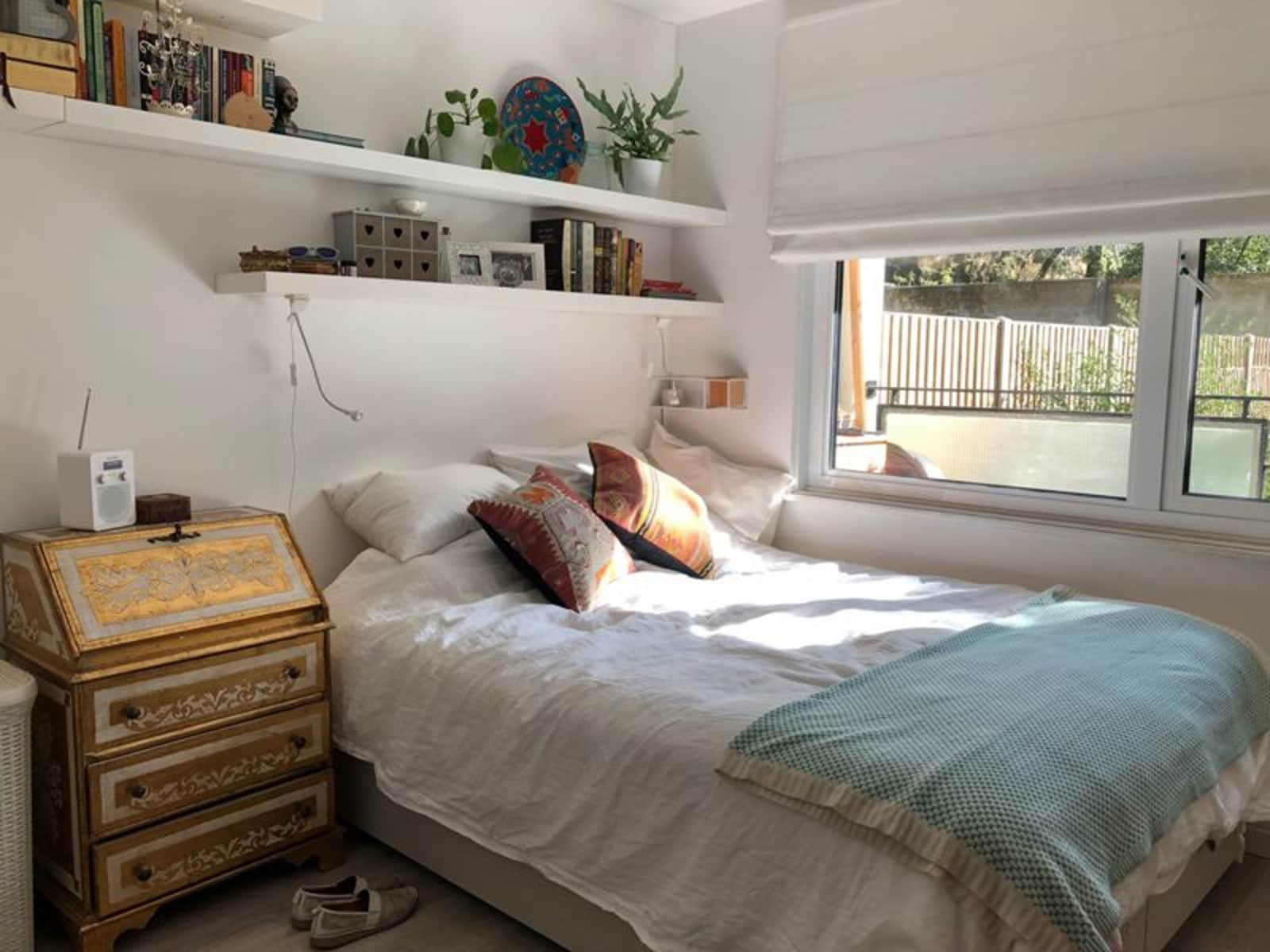 Pets
Cat
Introduction
My husband and I have been living in our little flat in London right by the Thames and Big Ben for just over a year now, and we love it. We keep thinking how lucky we were to find it and make it our own. I work for a children in conflict charity and am currently doing my Masters part-time, Denis, my husband, works as a business process manager for a firm in the City. We have a 10 year old silver tabby Theo and she runs the house, she is very sociable and hates it when we leave her, so we don't go away too often. We hope to find someone who could help make our absence less stressful for her...and to keep our plants alive.
Our Home & Location
Our flat is on the ground floor of a block of flats, tucked away down a quiet street and backing on to a park, which is all just behind the upmarket apartments that sit between us and the Thames at Lambeth Bridge (the next one up from Westminster Bridge). We have a garden in the back, and if you looked out the bedroom and living room windows to the garden and the trees in the park behind it, you would not know you were in central London Zone 1! The flat is around the corner from Lambeth Palace (the home of the Archbishop of Canterbury) and walking distance from Big Ben and Houses of Parliament, also virtually opposite from the Tate Britain art museum which is a short stroll over the river. Damien Hirst's gallery, the Newport Street Gallery is virtually next door. Our Saturday or Sunday morning outings are either a walk to St James Park and Buckingham Palace, even through Green Park to Hyde Park on occasion, or along Albert Embankment opposite the Houses of Parliament, and further past the London Eye and along the Southbank with its vibrant bars and restaurants and one of our favourite buildings, the National Theatre. Trafalgar Square with the National Gallery, is a short bus ride away from the flat on Bus no. 3 if you don't feel like the walk. The West End, Covent Garden and Soho as well as Leicester Square, Piccadilly Circus and Regent Street are all easily accessible, virtually on your doorstep. On the south side of the river, we've also walked to Borough Market which is about 30min walk away (but also an easy bus ride from the flat on the 344), past the Imperial War Museum and skirting the very trendy Mercato Metropolitano near Elephant and Castle, and also Flat Iron Square another foodie venue, all must visit spots if you're a fan of good casual food and a vibey atmosphere.
Apartment
High Speed Wifi
City
Responsibilities & Pets
Our Lady Theo, as we call her, is pretty easy to live with (except when you're trying to get work done at the computer or the dining table when she insists on laying on your keyboard or papers :D ). Responsibilities are feeding her and being a lap for her to sit on. She gets one pouch of wet food every morning and evening, along with filling up her dry kibble when it's empty. In the winter when she doesn't venture outside much and will use her cat litter, so this will need emptying every day (she gets upset when its not). At bed time she will ask for her goodnight treats which she gets few of every night. She will love anyone who gives her gentle, considerate attention. She might try to rouse you if you're having a lie-in, to let you know she needs breakfast.
Cat: Theo is 10 years old (Rescue cat)
Previous sitters
December 2018 | Anne Karen